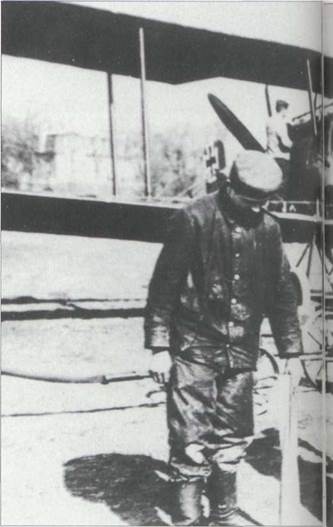 In the months immediately preceding August 1914, both the German Army and Navy were planning the use of aerial bombing as part of their offensive capa­bility, but, as previously mentioned, in both cases these plans centred on the use of airships. The Navy's adher­ence to their Zeppelins has been dealt with earlier, as has the punitive airship losses experienced by the Army in the month following the start of the war. This short, sharp shock to the Army's prestige and bombing assets was reinforceded on 8 October 1914, when a solitary Sopwoith Tabloid of the RNAS audaciously destroyed a Zeppelin in its Dusseldorf shed. These events led the Army speedily to review the relative merits of the airship versus the aeroplane with regards to bombing. Although time would clearly pass before aeroplanes of sufFicent load carrying capability to lift both sufFicent fuel and bombs could be developed to hurt the enemies in their heart­lands, an embryo aeroplane bombing organisation, based at Ostende and misleadingly called the Ostende Carrier Pigeon Section, or Brieftauben Abteilung Ostende, was set up during November 1914. For the moment, the Ostende bomber aeroplane activities were conFined to relatively local excursions made by one-man B and C Type aircraft, the observer replaced by a similar weight of bombs. Longer ranged bombing raids were necessarily left to airships, whose first raids on Paris and London took place on 21 March 1915 and 31 May 1915, respectively. During this period and, indeed, up to June 1917 when the Army abandoned the use of airships, the two services would sometimes send their dirigibles against the same target at the same time without any thought of co-ordina­tion, thus wasting any benefits of integrated planning.
This state of affairs remained very much unchanged into the early part of 1916, when the first of the Army's giant, long ranged R-planes, or Riesenflugzeug, were delivered to the Eastern Front, where they could undergo operational evaluation in a kinder environment than that in the west. At almost exactly the same time in the west, the Germans opened their Verdun Offensive, on 21 February 1916, an event that was to see the emergence of the G Type, or armed, multi-engined biplane bomber being used in effective strength to probe far behind the lines striking at logistical targets such as rail marshalling yards and road choke points. Such examples of the extended use of tactical air power tended to evaporate from April 1916 onwards, as first the French regained air superiority and then the British opened their Somme
Four German armourers display the range of bombs that could be carried by the Gotha G V in the background. The weights of these weapons, from left to right, are 10, 30, 100, 5 and 300kg, or 22, 66, 220, 11 and 660lb, respectively.
Offensive, on 1 July 1916. Ever more pressed, the German Army redeployed their G types in direct support of their troops at the front.
The fortunes of the German bomber forces took a turn for the better in October 1916, when, under a broader reorganisation of the Army Air Service, the three existing Kagohls, short for Kampfgeschwader der Obersten Heersleitung, or Fighting Wing of the Army High Command, that had previously operated with a mix of C, D and G types, were transformed into all G type wings, freeing them up to do the job for which the original Ostende Carrier Pigeon Section had been envisaged. One particular wing, KG 3, was tasked exclusively with the bombing of England.
However, despite this apparent realisation of the poten­tial benefits of establishing a bomber arm capable of operating semi-independently against medium and longer ranged targets, two obstacles soon arose to interfere with the planned use of these bomber assets. Initially from the spring of 1917, the broader Army tactical priorities saw progressively mounting diversion of these G types into direct support at the front, as had happened the previous year. Indeed, on 24 April 1917, in what may have been the first, but certainly not only instance, aircraft of KG 1 were used as trench strafers. The second hurdle put in the way of organic bomber force development was the America Programme, the German Army and its Air Service's response to America's entry into the war in April 1917. As far as the Air Service was concerned, America's intervention promised to bring massive support to the Allies fighting on the Western Front, not only in terms of manpower, but also in machines. Almost instantly, plans were made to double aircraft and aero-engine production of the vitally needed C and D types. The G type bombers would, necessarily, have to take a lower priority.
Nevertheless, less than two months later, on 13 June 1917, Hauptmann Ernst Brandenburg was to lead his Gothas of KG 3 in the first aeroplane bombing of London, carried out at mid-day and with no losses to enemy action. 162 civilians were killed and there were a further 432 casual­ties in the follow-up raid the next day. If this was a vindication of the bomber's effectiveness, it contrasts starkly with the demise of Brandenburg's successor, Hauptmann Rudolf Kleine, along with his crew, on 12 December 1917, when their bomber was shot down over France while attempting to carry out a daylight raid against a heavily defended tactical target. At the beginning of December 1917, the former Kagohl designation was replaced by Bombengeschwader der Obersten Heersleitung, abbrievated to BG, which on 1 August 1918 had a total operational strength of 8 BGs with 162 G types, plus 2 R-plane sections, with between 8 to 10 aircraft in all. At the time of the Armistice, on 11 November 1918, the operational strength of German Army bomber forces was identical in terms of G types, plus an additional 2 R-planes.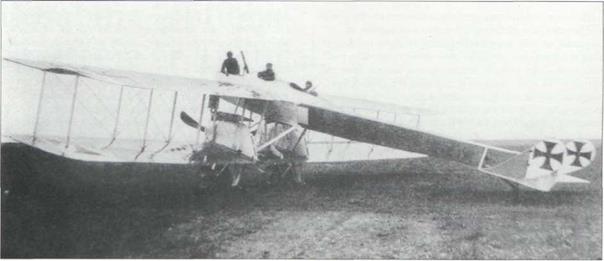 Above Completed and first flown at the beginning of 1915, the prototype Gotha G I bomber/long range reconnaissance type, 9/15, was followed by a further 17 of these three seater machines. While the prototype used two 160hp Mercedes D Ills, the production aircraft employed two 150hp Benz Bz Ills. Top level speed of the production G Is was 80.6mph at sea level, while optimum range was given as 335 miles. (Cowin Collection)
Bottom A rare image of what is believed to be the sole Friedrichshafen G I of 1915, sire to an illustrious, if largely unsung series of bombers, that largely preceded the Gothas, were easier to fly and were built in comparable numbers. Little has survived concerning the G I other than that it used two 150hp Benz Bz Ills and pre-dates the debut of the rival Gotha G II by the best part of a year. (Cowin Collection)
Below Friedrichshafen G II, 13 1/15, seen here, was powered by two 215hp pusher-mounted Benz Bz IVs and carried a three man crew. The G II became operational in early 1916, but was only built in small numbers, being succeeded by the much larg­er Friedrichshafen G III, of which nearly 350 were built. (Cowin Collection)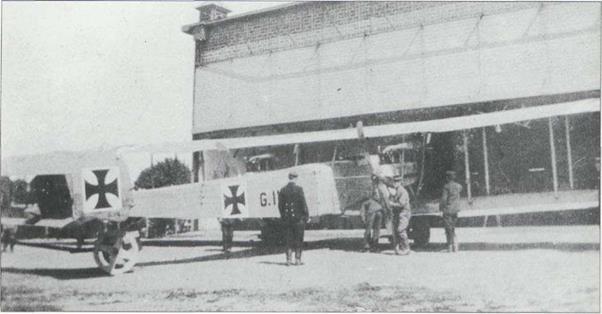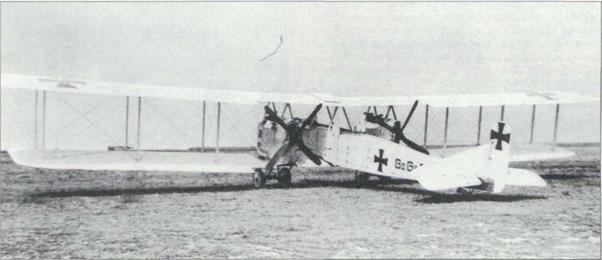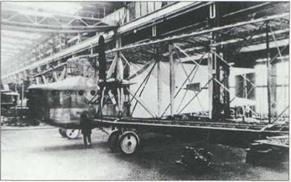 Above Including the sole prototype, first flown in March 1916, Gotha built 14 examples of their G II three-man bomber. Powered by two 220hpMercedes D IVs, the G II had a top level speed of 91.8mph, a cruising speed of 83.7mph, along with an optimum range of 310 miles. (Cowin Collection)
The sole giant Zeppelin-Staaken VGO III, 10/15, went into service with RfAbt 500 based near Riga in Latvia in 1916, making its first operational sortie on 13 August 1916. Power for the VGO III was provided by six 160hp Mercedes D Ills, paired to drive the nose-mounted tractor propeller, plus the two outboard pusher propellers. With a wingspan of 42m, or 137.8 feet, the VGO positively meandered along with a top level speed of 75mph. Sadly, the pilot responsible for coaxing the VGO III through her teething troubles, Oblt Hallen, Baron von Hallerstein was to be killed exactly three months after taking theVGO III on its first operational mission, while flight testing the lethally tail-heavy Zeppelin-Lindau V. I fighter. (Cowin Collection)
Below The only Siemens Schuckert-Werken R VI, 6/15, was delivered to the giant bomber operating RfAbt 501, flying out of Vilna on the Eastern Front in late 1916. Powered by three 222hp Benz Bz IVs burried in the fuselage, these drove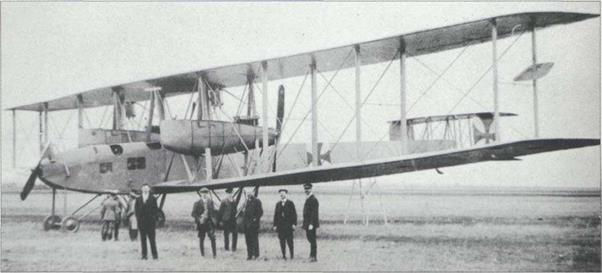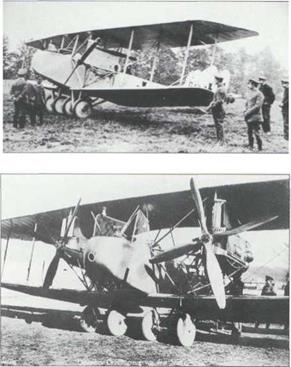 two oppositely rotating propellers via a complex web of right­angled power take-offs and transmission drives. A key characteristic of this six-man machine was that its twin boom fuselage was arranged with the booms one on top of the other, rather than being set out side by side in the normal fashion. The top level speed of the R VI was 80.8mph, while its optimum range was 323 miles. (Cowin Collection)
Bottom The Imperial Army Air Service's Schutte-Lanz SL 13 rides in its shed at Wittmund, near Leipzig. Note the row of buoyancy-countering weights, just visible immediately below the airship's forward section. First flown on 29 October 1916, SL 13 was deemed unfit for active duty and relegated to trials flying. However even this career was short-lived, SL 13 being damaged beyond economic repair on 8 February 1917, when the shed roof, laden with snow, collapsed on the airship. Unlike the Zeppelin dirigibles, which took full advantage of light alloy construction as soon as it became available, Schuute-Lanz clung to wood as their basic material right up until their last two airships, SL 23 and SL 24. (Cowin Collection)
Right, above and below Two interesting views of the three-man AEG G III bomber that made its prototype debut in December 1916. Only built in small numbers, the twin 220hp Mercedes D IV powered machine carried a maximum bomb load of 770lb and had a top level speed of 103mph at sea level.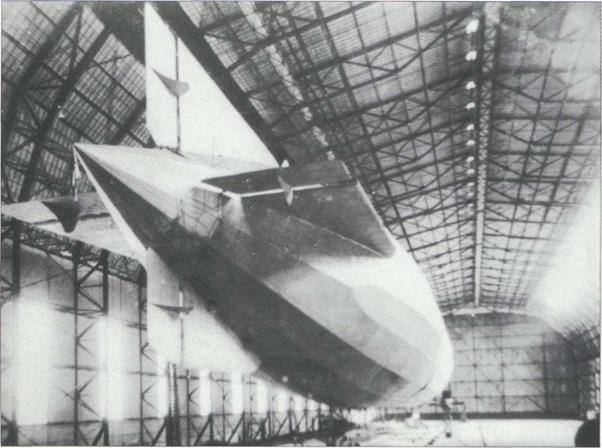 Armed with two flexibly-mounted 7.92mm Parabellums, the G III was delivered to KG I during the spring of 1917. The first image shows a newly arrived, pristine-looking G III being inspected by unit personnel. In the second picture is evidence of the impact of operational experience, with protective mesh guards added to prevent the nose gunner from inadvertently shooting his own propellers or engines. (Cowin Collection)
Bottom First flown in mid-1917, the Zeppelin-Staaken R VI, with 18 examples built, was to be by far the most numerous of the giant, long ranged R-planes. Powered either by four 245hp Maybach Mb IVs, or four 260hp Mercedes D IVa engines, mounted back to back in twin nacelles to drive two pusher and two tractor propellers, the R VI's top level speed was 84.4mph, while its normal range with a 2,200lb bomb load was around 550 miles. Delivered to Rf Abt 501, by now transferred to the Western Front, the RVIs sometimes operated alongside their smaller G type bretheren in raids against the English mainland and more distant French ports and cities. The Navy operated a sole, float-equipped example of this bomber under the desig­nation Zeppelin-Staaken Type L, serialled 1432. (Cowin Collection)
Right, above and below Better known for their single engined reconnaissance and fighter types, the Albatros concern did venture into bomber design, but not with the success associat­ed with their lighter machines. The close-up image shows the sole Albatros G II 3-man machine of 1916. This twin 150hp Benz Bz III powered machine led to the generally cleaner and more powerful Albatfos G III that used two 220hp Benz Bz Iva engines. Capable of carrying up to 660lb of bombs, the G III
had a top level speed of 93.8mph. With the prototype of the G III completed at the end of 1916, only a small number of G Ills were built and delivered to a section of KG 6 in 1917, the wing, at that time, operating in Macedonia. (Cowin Collection)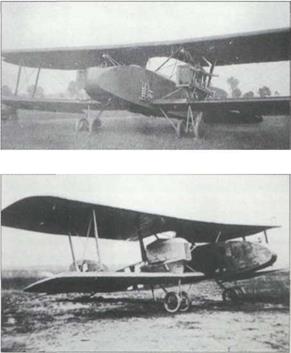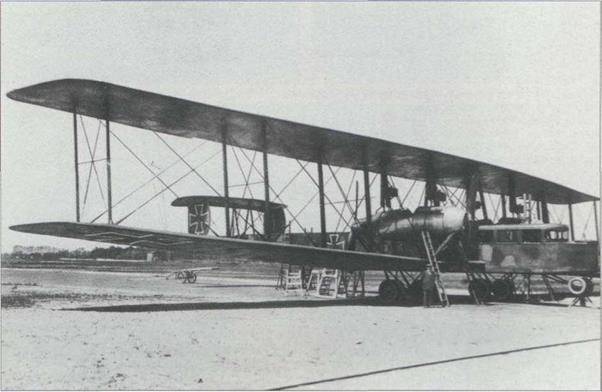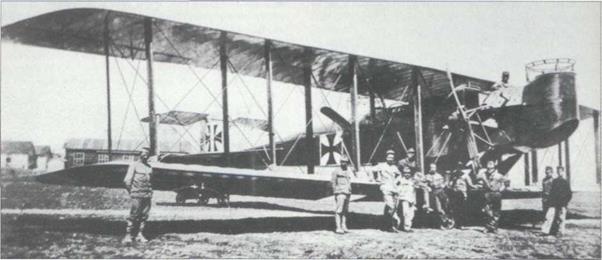 Above and below Front and rear aspects of the intriguing sole Austrian Aviatik G II completed in July 1917.The brainchild of Prof von Mises, the 3-man bomber had its twin 300hp Austro-Daimlers buried in the fuselage to drive tandem – arranged tractor and pusher propellers mounted inboard between the wings. (Cowin Collection)
Below and bottom These two images lend scale and substance to Friedrichshafen's G Ilia. Operationally deployed for the first time during the spring of 1918, the G IlIa used the same engines as the G III, differing only in the adoption of a biplane tail unit. Production of the 345 G III and G IlIa aircraft was shared between the parent company, Hanseatische and Daimler. (Cowin Collection)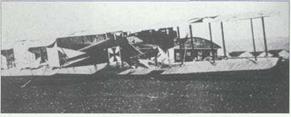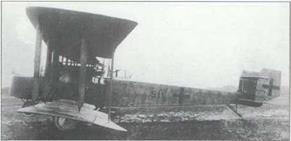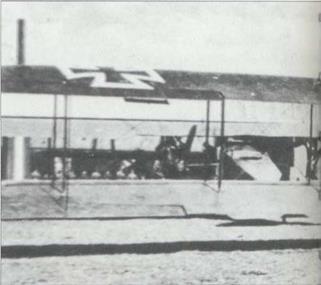 Although always overshadowed in the public eye by the Gotha name, the Fnedrichshafen G III equipped three of the eight German bomber wings at the time of the Armistice. Larger and heavier than the contemporary Gotha G IV, the G III carried a far heavier bomb load and seemed far less susceptible to the landing gear failures that constantly beset the Gothas. With a 3- man crew, the G III was powered by two 260hp Mercedes D IVs and could carry up to 3,300 Ib of bombs. Armed with two or three 7.92mm Parabellums, the G III had a top level speed of 87mph at 3,280 feet, along with a duration of 5 hours, imply­ing a tactical radius of action, with full bomb load, of around 140 to 145 miles. Deployed initially in mid-1917, the G III and G IlIa went on to equip KG 1, KG 2 and KG 4 during 1917 and 1918. (Cowin Collection)

Left Hauptmann Ernst Brandenburg was aged 34 when he was selected to lead KG 3, 'The England Raiders' by General von Hoeppner in October 1916. For the next five months, Brandenburg's time was fully occupied selecting vital personnel in between visits to the Gotha factory and the myriad other tasks that come with forming a new unit with a new aircraft type. Assembled by March 1917, Brandenburg's KG 3 was fully operational less than two months later. Brandenburg was already a serving infantry officer at the outbreak of war and was injured in action before transferring to the air service as an observer. Gifted with the analytical mind of a chess player, Brandenburg's demonstrated bravery was matched by his administrative skills. Brandenburg's tenure as commander of the operational KG 3 was to prove brief, lasting from his lead­ing their first raid against English-based targets on 25 May 1917, to 19 June 1917, when badly injured in a non-operational flying accident. It was during this time that with Brandenburg again leading them, KG 3 carried out the first aeroplane raid against London, on 13 June 1917. Brandenburg was to survive the war and the fate of his successor, Rudolf Kleine, who, along with others from KG 3 were to lose their lives when the wing's operations were switched from raiding England, to hitting more tactical French targets later in 1917. (Cowin Collection)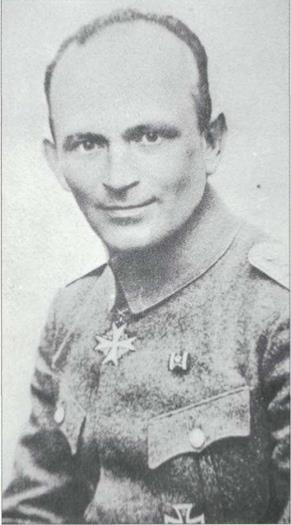 The prototype Gotha G IV took to the air for the first time during December 1916. Larger than the preceding Gotha G III,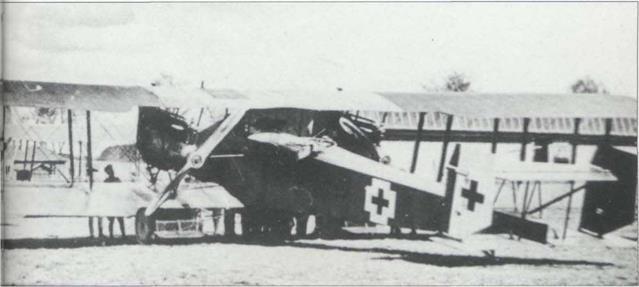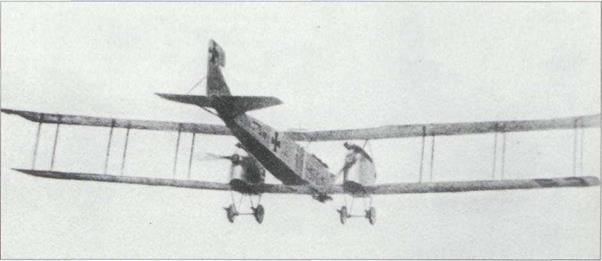 the G IV was powered by two 260hp Mercedes D IVa engines that propelled it along at 87mph at 11,880 feet. With a full 1,100 Ib bomb load, the range of the 3-man G IV was 304 miles, extending further as bomb load was reduced and traded for additional fuel. Armed with three 7.92mm Parabellums, one of these was positioned in the aircraft's belly to catch the unwary attacker. Discernibly in the in-flight image of a G IV, shown here, are two bombs being carried under the nose of the machine., positioned to compensate for the extreme tail-heaviness of the G IV. This inherent design flaw led to many G IVs surviving combat only to crash during the attempt to land back at base. In all, production was reported to have totalled 142 machines, 52 built by the parent company, plus 50 by LVG and 40 from Siemens Schuckert. (Cowin Collection)
BelowThe Gotha G V used the same engines as the Gotha G IV, following it into operational service in1918.Top level speed of the G V was 87mph, while cruising speed was 80.8mph. Range of the GV was quoted as 522 miles, but this figure clear­ly reflects operations with a reduced bomb load. 120 G Vs are
reported to have been built, plus 25 G Va and 55 G Vb, the latter two variants being equipped with biplane tail units. (Cowin Collection)
Right Hauptmann Rudolf Kleine was a 31 year old pilot when chosen to succeed Ernst Brandenburg as commander of KG 3 in late June 1917. Kleine had learned to fly in 1913 and had been a reconnaissance two seater pilot overflying the first battle of the war. While brave, Kleine, as leader of KG 3 was, perhaps, somewhat less effective than his predecessor, being rather more impulsive, particularly in his willingness to fly into adverse weather. Kleine and his crew met their end near Ypern on 12 December 1917, during at attempt to explore the feasi­bility of daylight bombing. Interestingly, Kleine's selection to command KG 3 was, in itself, unusual, as the vast majority of bomber squadron and wing leaders posts were filled by those who had been observers, rather than pilots, the latter being viewed, as pointed out earlier, more as chauffeurs than leaders within both the bombing and reconnaissance communities. (Cowin Collection)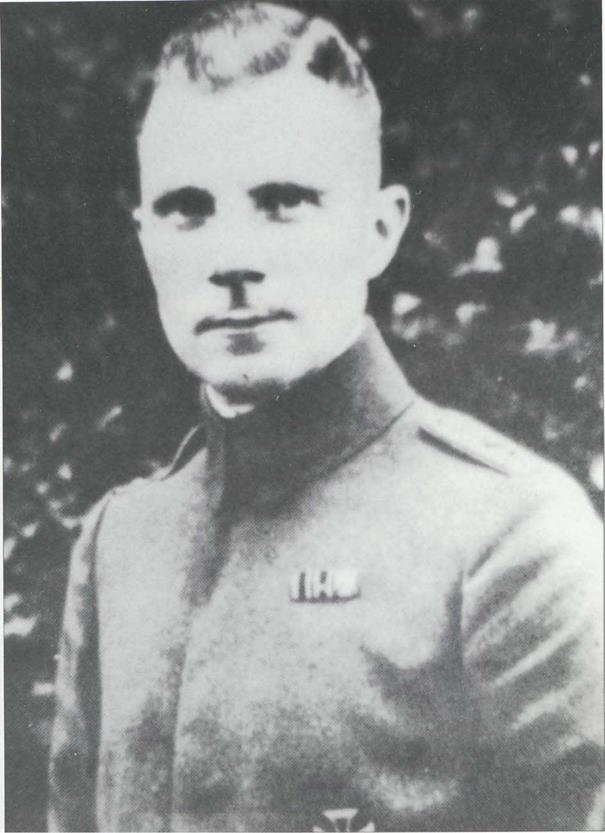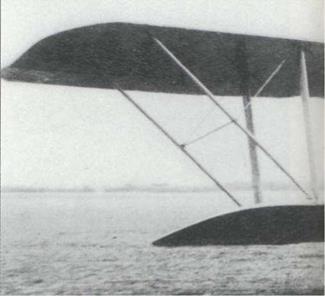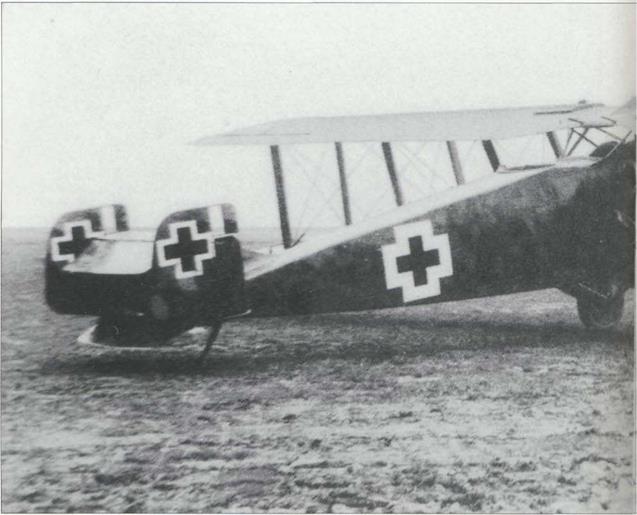 Too late to take an active part in combat, the 3-man Gotha G VII bomber/long range reconnaissance type of mid-1918 (below) had a top level speed of 112mph thanks to its twin 260hp Maybach Mb IVa engines. The G VII's operational ceiling was 19,685 feet, while the range, with bomb load, of 335 miles was clearly capable of significant extension for photo-recon­naissance work. Plans had been put underway to build this type in quantity, with contracts placed with Gotha for 55, plus a further 100 from Aviatik in Leipzig. As it was, only 11 had been completed at the time of the Armistice, three of which found their way into Soviet hands. A developed version, the Gotha G VIM (right), similar in all major aspects except for a longer span top wing to further increase climb and improve high altitude handling, had flown prior to war's end. (Cowin Collection)