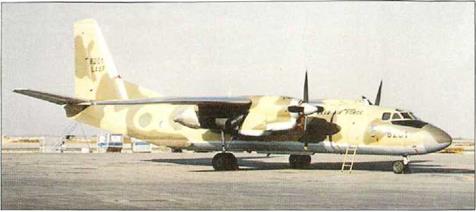 Libya has a small number of An-26 transports. The rear ramp of the 'Curl' slides down and then forward along tracks, to lie directly under the fuselage.
he twin-turboprop Antonov An-24 (NATO code – name 'Coke') made its maiden flight on 20 December 1959, and was aimed at an Aeroflot requirement to replace piston-engined 11-14s and 11-12s. Its robustness, strength and performance appealed to military customers, and approximately 1,200 were built by the time production finished in 1978, The major production An-24V variant has seat­ing for 28-40. a side freight door and a convertible cabin.
Although derived from the An-24, the An-26 ('Curl-A') is a new design with a fully-pressurised cargo hold, uprated engines and a new rear-loading ramp to facilitate loading from trucks. All An-26s are fitted with an RU-19 turbojet in the rear of the star­board engine nacelle. As well as actirg as an APU, this can be useo as a take-off booster.
A small number of An-26s have been converted as Elint/Sigint/EW platforms. These bear the NATO reporting name 'Curl-B'. and have a profusion of swept blade antennas above and below the cabin. Some An-26s delivered to Angola and Mozambique were fitted with exterior bomb-racks along the fuselage.
Along with Russia, Ukraine and most CIS states, current An-26 operators include Afghanistan, Benin, Bangladesh, Bulgaria. Cape Verde, China, Cuba,
Congo, Czech Republic, Germany, Ethiopia, Guinea Bissau, Hungary, Iraq, Laos, Libya, Madagascar, Mali, Mongolia, Mozambique, Nicaragua, Poland, Romania, Russia, Serbia, Slovakia, Vietnam, Yemen and Zambia.
The An-32 'Cline' replaced the An-26 in production, and offers dramatically improved take-off performance, ceiling and payload, especially under 'hot-and-high' conditions. The cabin can accommo­date up to 50 passengers, 42 paratroops, or 24 stretcher patients and three attendants. The basic production aircraft are fitted with 3812-kW (5,112-hp) AI-20D turboprops. These are mounted above the wing in very deep nacelles to give greater clearance for the incrcased-diameter propellers The An-32B offers uprated engines and Antonov has also devel­oped a water-bomber version (fitted with external water tanks), the An-32P Firekiller, In addition to the air forces of Russia, Ukraine and some CIS states, the An-32 has attracted several military customers including Afghanistan, Bangladesh, Cuba, India, Mongolia and Peru and Tanzania.
China builds ts own military transport version of the An-26 as the Xian Y-7H-500 – while also the building a family of other Y-7 airliner variants based on the civil-standard An-24 airframe.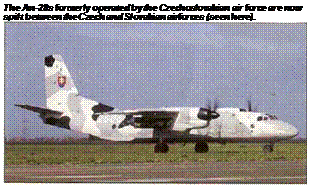 Specification: Antonov An-26B Curl-A' Powerplant two 2103-kW (2,820-hp) ZMDB Progress (Ivchenko) AI-24VT turboprops, and
one 7.8b-kN (1,765-lb) Soyuz (Turmanskii) RU-19A-3G0 turbojet
Dimensions: w rig span 29.2C m (95 ft 9.5 in); length 23 80 m (78 ft 1 in), height 8 58 m (28 ft 15 in)
Weights: empty 15400 kg (33,957 Ih); maximum take-off 24400 kg (53,790 lb): maximum payload 5500 kg (12.125 lb) Performance: maximum level speed 540 kmh, (336 mph); range 2550 km (1,585 miles) with maximum fuel or 1100 km (683 miles) with maximum payload

South Africa Multi-role combat aircraft
uring the 1980s South Africa embarked on an extremely ambitious, and extremely secret, transformation of its Dassault Mirage Ills into a highly-modified and improved family of combat aircraft The international arms embargo against the Apartheid regime made the acquisition of any now aircraft impossible, at a time when South Africa felt it was facing an increasing threat from neighbouring, hostile African nations~The state-owned firm of Atlas Aviation, with considerable help from Israel's IAI, began to adapt the modified airframe and the improved avionics suite of the IAI Kfir to the South African Air Force's own aircraft, to produce the Cheetah – in several distinct versions.
The most important of these was the two-seat Cheetah D attack aircraft, based on the Mirage IIIDZ airframe (though a few single-seat Mirage IIIEZs were also converted). Atlas modified approxi­mately 16 aircraft to Cheetah D standard. They resemble the IAI Kfir TC-7, with their distinctive extended cranked noses and canard foreplanes. The nose houses an Elta EL/M-2001В ranging radar and the Cheetah Ds are fitted with refuelling probes. The first converted aircraft was rolled out in 1986 and entered service almost immediately.
Cheetah D development paralleled the single­seat Cheetah E conversions, based on the SAAF's Mirage INEZ fighters. The Cheetah E had much the same systems fit as the Cheetah D (including an advanced RWR, EW jamming suite and chaff/flare
The Cheetah C is now the sole air superiority fighter in SAAF service, but the aircraft also has a formidable attack capability.
dispensers, and bore a strong resemblance to the Israeli Kfir C7. Both the Cheetah E and Cheetah D were fitted with a new, reprofiled wing with a 'dog­tooth' leading edge. Sixteen Cheetah Es were built, but they were retired in the early 1990s when a radically superior Cheetah fighter was introduced.
This was the Cheetah СГ which entered service in January 1993. Until then not a single fact about the programme had emerged – this secrecy was doubtless due to the fact that the 38 aircraft used in the Cheetah C conversions were acquired from a source outside South Africa (almost certainly Israel). The Cheetah C was a major step forward because it was fitted with an Elta EL/M-2001 multi – mode radar, and was powered by the more powerful Atar 09K50 engine. The Cheetah C is also stretched, with a plug measuring approximately 58 cm (23 in) inserted between the cockpit and engine intakes The new radar allows the Cheetah C to be armed with the Kentron R-Darter BVR missile, as well as the agile, IR-guided U-Darter dogfight missile, used in conjunction with a helmet-mounted sight.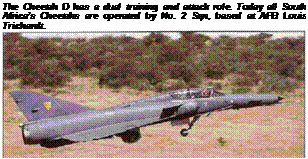 Specification: Atlas Cheetah C Powerplant: one SNECMA Atar 09K50 turbojet rated at 49,03 kN (11,923 lb st| dry and 70.82 kM (1b.873 lb st) with afterburning Dimensions: wing span B.22 in (26 ft 1Ш in); canard foreplaae span 3.73 mil7 It3 in); length including probe 15.65 m (51 ft 4K in): height 4.5 m (14 ft 11 in)
Performance: maximum level speed 'clean' at 12000 m (39.370 ft). 233Й kmh [1,453 mph); maximum cruising speed at 11000 rn (35,090 ft) 956 kmh (594 mph): service ceiling 17000 m 155.775 ft)
Armament: two internal DEFA 30-тгп cannon plus up to 4000 ky (8,818 lb) of ordnance