In the wake of President Kennedy's pressure, a new name was suggested, apparently to Lyndon Johnson by Senator Kerr and independently to President Kennedy by Wiesner. Wiesner later argued that his suggestion was the one that was decisive, although other accounts suggest that it was Lyndon Johnson who first brought Webb's name to White House attention. The new candidate was James E. Webb, a businessman and lawyer with prior experience in high-level government posts. During the Truman administra­tion, Webb had been head of the Bureau of the Budget (BOB) and then the number two person under Dean Acheson at the Department of State. Webb also had experience in managing large organizations; he had worked in Oklahoma heading one of Robert Kerr's companies from 1953 to 1958. After leaving Kerr's employ, Webb had been active on issues of science and engineering education, in the process becoming well known to many of the leaders of the scientific community, including Wiesner.
According to Wiesner, Kennedy asked him to check whether Johnson agreed that Webb would be a good choice. Johnson did agree, and because he had had such little success with the people he had contacted, asked Wiesner to call Webb. On Friday, January 27, after clearing the contact with the presi­dent, Wiesner telephoned Webb, who was at a luncheon in Oklahoma City, and asked him to be in Washington the following Monday to meet with the vice president to discuss the NASA position.
Webb left Oklahoma City on Friday and spent the weekend in Washington discussing the prospects for space under Kennedy with several former associ­ates in the BOB and the Kennedy White House staff and with others whose views he valued. One of them was Webb's longtime friend Lloyd Berkner, who was the current chair of the Space Science Board of the National Academy of Sciences, NASA's primary source of scientific advice; Berkner had himself been approached for the NASA job and had said that he was not interested. By Monday morning, January 30, as he arrived at Johnson's Capitol office, Webb felt that he had a fairly good idea of what was going on with respect to space and had concluded that "I would not take the job if I could honorably and properly not take it."
Before meeting with Lyndon Johnson (whom he did not know well), Webb chatted with acting NASA administrator Hugh Dryden, who was there for the meeting, and Frank Pace, who had been Webb's successor as director of the BOB in the Truman administration. Webb had also known Dryden since the late 1940s. Both Pace and Dryden agreed with Webb that he was not the right man for the job, and Webb asked Pace to convey that view to Johnson. Pace tried to do so, but Johnson was unwilling to listen and in essence threw Pace out of his office. Webb then met with Johnson, who, Webb says, was "very anxious" for Webb to accept the NASA job. Webb made it clear that he would only accept the position on the basis of a direct offer from the president. Arrangements were quickly made for Webb to meet with Kennedy, whom Webb previously had met only once or twice on social occasions.
After lunch with Dryden, Webb met with Kennedy one-on-one in the Oval Office. Kennedy told him that he did not want a technical person for the NASA job, saying that "there are great issues of national and interna­tional policy" related to NASA, and that Webb, with his previous govern­ment experience, was well qualified to address such issues. Webb felt he could not refuse the president's direct invitation, and so accepted the nomination.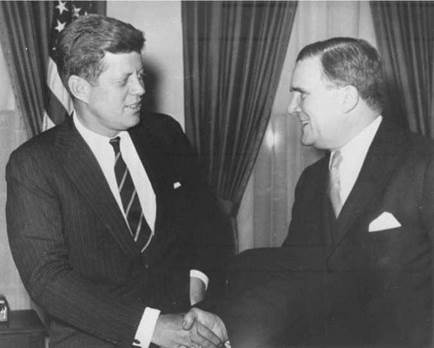 President Kennedy and James Webb on January 30, 1961, as Webb accepted the president's offer to become the second NASA administrator (JFK Library photograph).
He asked Kennedy to keep Hugh Dryden as deputy administrator, and he also asked the president whether he was being hired to implement a prede­termined policy. Kennedy assured him that this was not the case and that he was looking to Webb to propose the best direction for NASA. Kennedy then escorted Webb from the Oval Office to the office of press secretary Pierre Salinger, who took Webb to the press room to announce his nomination. Only then could Webb call his wife to tell her what had happened; she had already heard the news on the radio.16
Webb's confirmation hearing before the Senate Committee on Aeronautical and Space Sciences, with Robert Kerr in the chair, was held three days later, even before Webb's formal nomination papers reached Capitol Hill; there were no questions after Webb's opening statement. The committee voted unanimously to support the nomination; the Senate followed suit on February 9. Lyndon Johnson swore in Webb as NASA's second administrator on February 14, and Webb set to work with the goal "to end uncertainty, to make unmistakably clear . . . support for manned space flight, to define necessary additions to the budget for Fiscal Year 1962 . . . and to establish personal and official relationships conducive to effective leadership."17 It was thus clear from the start of his tenure that James Webb had a different, more ambitious, vision for the future of NASA than his predecessor. Getting this vision accepted would not be an easy task. In preparation for Webb's first meeting with the new director of the BOB, David Bell, on February 16, the BOB staff suggested that "we are pretty much still in the dark as to what position the [Kennedy] administration desires to take in the space field, or whether any general direction has been decided upon."18
In addition to getting President Kennedy's agreement to continue Hugh Dryden as deputy administrator, Webb also asked Robert Seamans to stay on as associate administrator. He was happy to learn that Seamans was a Republican, since that would give a bipartisan appearance to the top NASA management team. Webb told Dryden and Seamans that he wanted NASA to be managed jointly by the three of them as a "triad," hammering out the major decisions together. Webb would handle NASA's external political and public relations, Dryden would be the primary link to the U. S. and interna­tional science communities, and Seamans would act as NASA's general man­ager. Seamans describes the arrangement: "Jim was the charismatic leader with long-range vision and a great knack for understanding how policy and politics interacted in Washington. Hugh. . . possessed a quiet, invaluable sense of practicality. . . I managed NASA's programs while Jim lined up out­side support and Hugh provided sound guidance on our goals."19
As he took on the NASA job, Webb was fifty-four years old. He was "stocky and voluble, vigorous, noisily garrulous, and with a broad North Carolina accent." He had a strong physical presence; "though not a tall man, his strong, square head and bullish neck, his sturdy chest, an obsti­nate jaw and narrowed grey-blue eyes lent him a dominant demeanor." Sorensen notes that "Webb was not. . . a Kennedy type individual. He was inclined to talk at great length, and the President preferred those who were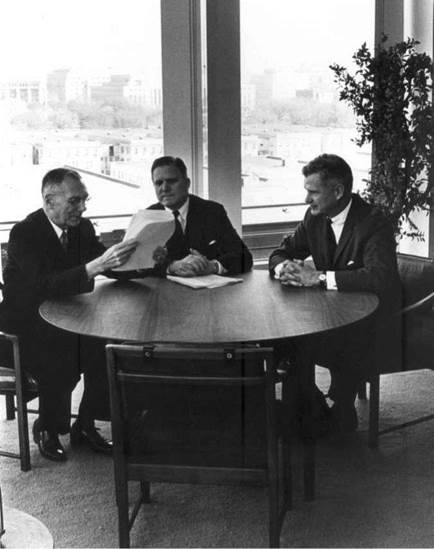 The "triad" of men who managed NASA during the Kennedy administration: Deputy Administrator Hugh Dryden (left); Administrator James Webb (center); and Associate Administrator Robert Seamans, Jr. (left) (NASA photograph).
more precise." He adds, however, that "I don't know that the President ever regretted his appointment of Webb." Wiesner remembers that Kennedy "understood that he had somebody with real ability in Webb" and adds that he never heard Kennedy say anything "snide or negative" about him. One account of Project Apollo, however, comments that "only because Kennedy was indifferent to space did Jim Webb end up in the administrator's position." While a number of other men had turned down the job because of NASA's uncertain future, if they had "known that four months later NASA would become a custodian of the nation's honor, most of them would have snapped up the job. If the men in the White House had known, they would not have chosen anyone like Jim Webb." The president's brother Robert Kennedy agreed with this view. He commented in 1964 that if his brother "had realized how much money would be involved and how impor­tant it [the space program] was going to be, he never would have made Jim Webb the head of it." Robert Kennedy added that Webb "talked all the time and was rather a blabbermouth. . . The President was very dissatisfied with him."20