As early as 1942, the Army Air Force was inter­ested in a cargo version of the Convair XB-36 bomber, and let a contract for one aircraft in December of that year. This airplane was to share the wings, engines, tail surfaces, and landing gear of the bomber, but have an entirely new two-deck fuselage to accommodate troops and cargo. The same aircraft configured for commercial passenger carriage was an obvious spin-off and was offered to the airlines dur­ing the war.
In February 1945, Pan American World Airways ordered 15 of the commercial transports for construc­tion and delivery following war's end. The airplanes were to be configured to carry 204 passengers and 15,300 pounds of mail, cargo, and luggage. Airspeed at cruise was forecast to come in at just under 300 mph, and range could be assumed to easily cover a 4,000-mile trip. The seating in the upper cabin was five abreast, intermixed with sleeping berths and day airplane seats. Lounges were to be located on each deck, and a spiral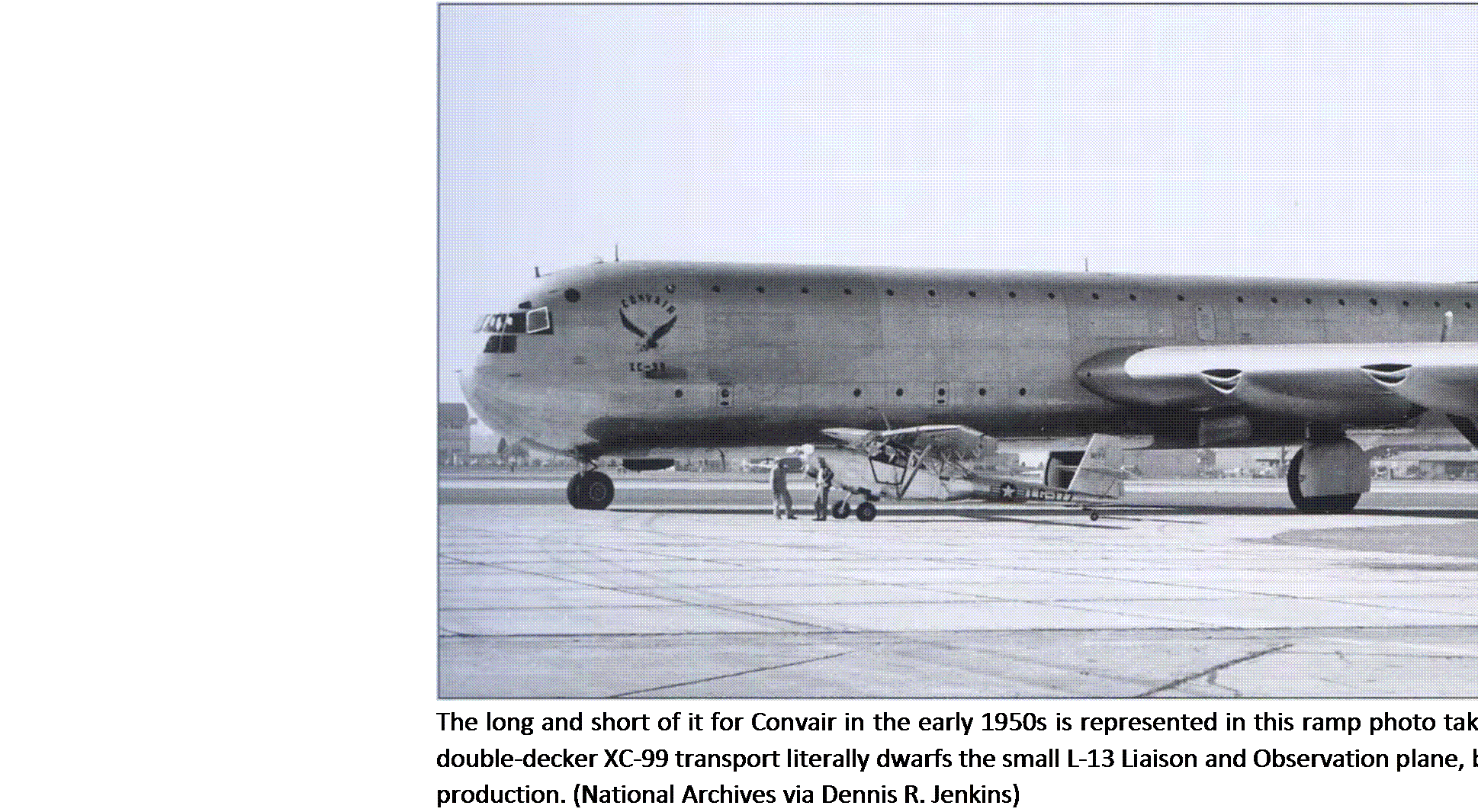 staircase stood at the fore and aft ends of the cabin to connect these decks. A large galley was also planned for the airplane, and spa-like lavatories would cater to the needs of passengers.
Interestingly enough, even at this early date in the worlds advancement of aviation, the Model 37 was envi­sioned as being powered by Wright T-35 turboprop engines. Unfortunately, that powerplant did not come to fruition, and the standard Pratt & Whitney R-4360 pis­ton engines were left in place, as with the B-36 installa­tion. In the end, this design element allowed the XC-99 to be forever known as the world's largest piston – powered cargo aircraft. As an airliner, the airplane would have been the first of the 747 style jumbo aircraft winging over the globe. The world would wait another 25 years to experience such an aircraft, however, as Pan American once again realized that bigger wasn't neces­sarily better in the postwar environment. In the mean­time, the airline contented itself with the less ambitious Boeing Stratocruiser as its premier Clipper to span the oceans.