By May 1945, Lockheed had begun updating the basic Constellation design, with a weight increase as the number-one attribute of this "new" airplane. Over the ensuing years Lockheed basically pioneered the use of step-increases in overall weight capabilities, thus allowing expanded roles for the airframe in a larger market. Through the redesign effort the "new type" Constellation, as Eastern Airlines referred to it (649/749), was actually a 50-percent-change baseline airplane. Now that the Wright 3350 "BD-1 " version of the engine was available at 300 bhp more than the orig­inal installed in the 049s, the airplane could be enhanced noticeably. Faster airspeed and greater pay – load performance, plus better inside soundproofing (to match the DC-6), better heating, ventilation, and cooling set the new-series Constellations apart from the originals.
One of the more interesting aspects to the added utility of the 649/749 series was the use of an external
cargo-carrying pod, which was slung under the center – line of the fuselage at mid-wing. This was known as the "Speedpak" and could carry 8,000 pounds of additional cargo. Lockheed sold 75 Speedpaks, mainly to Eastern, KLM (Royal Dutch Airlines), and TWA, for use on 049, 649, and 749 airframes. (As an aside, Eastern paid $850,000 for each 649 it purchased —quite a hefty amount in 1948!)
The first of the 749s went to Air France in April 1947. The 749 had additional 565-gallon fuel tanks installed in the outboard wings, which increased its range by 1,000 miles while allowing it to carry the same payload as the 649. This was the overwater version of the Constellation that became the gold standard of the short bodies, which allowed it to find wide acceptance with far-flung overseas airlines such as BOAC, Qantas, and South African. The 749/749A was also the model of the Constellation that remained in service the longest, on routes both around the world and in the United States.
Air France also provided its passengers flying between Paris and New York the unique Golden Parisian service on 749 sleeper aircraft. The usual 24-passenger sleeper seating eventually gave way to a
16-passenger layout, which provided the kind of legroom one could only find on a ship, or in one's own living room! Such was intercontinental air travel during the early postwar years.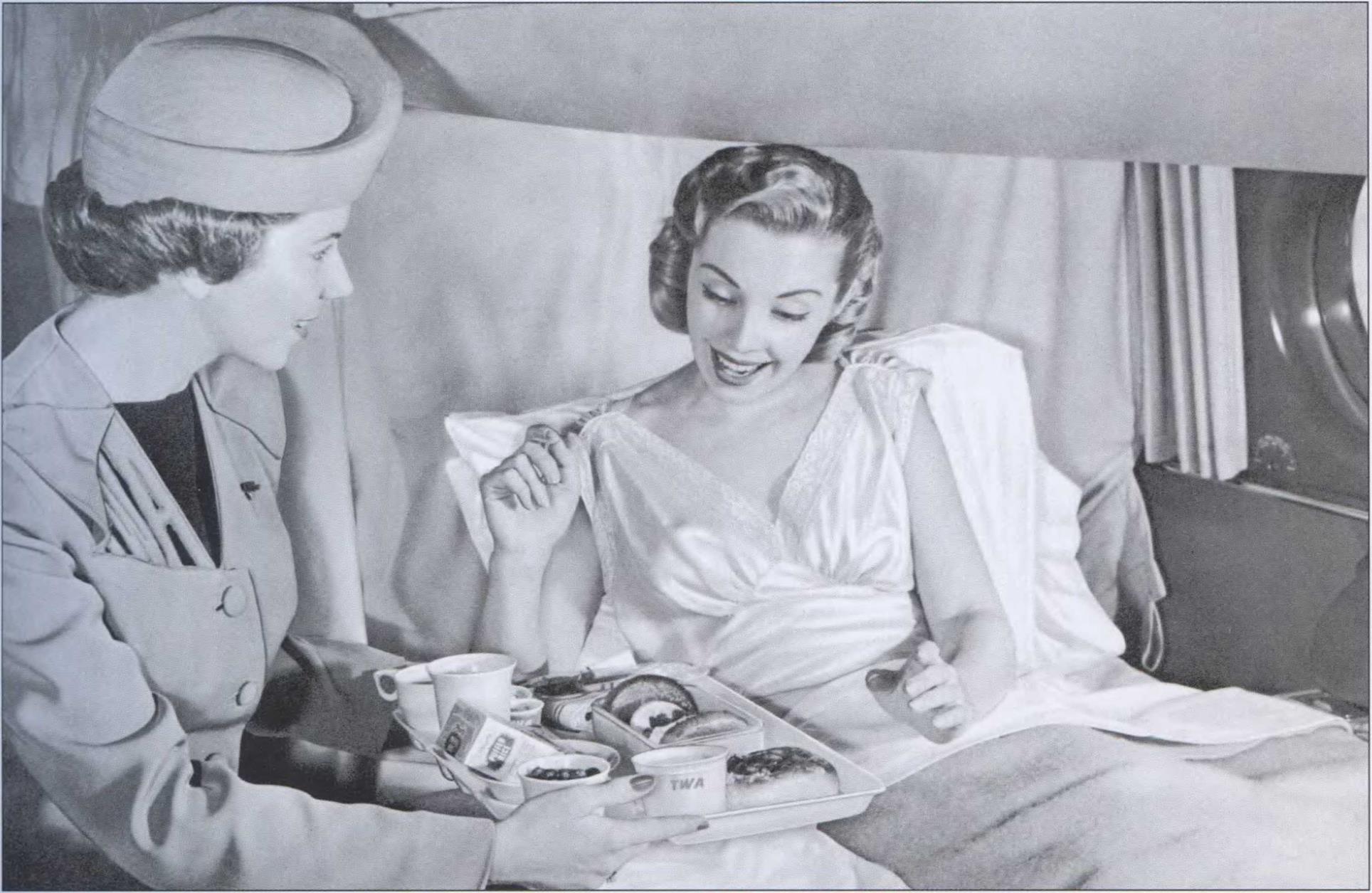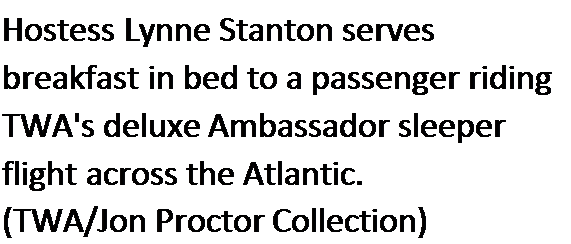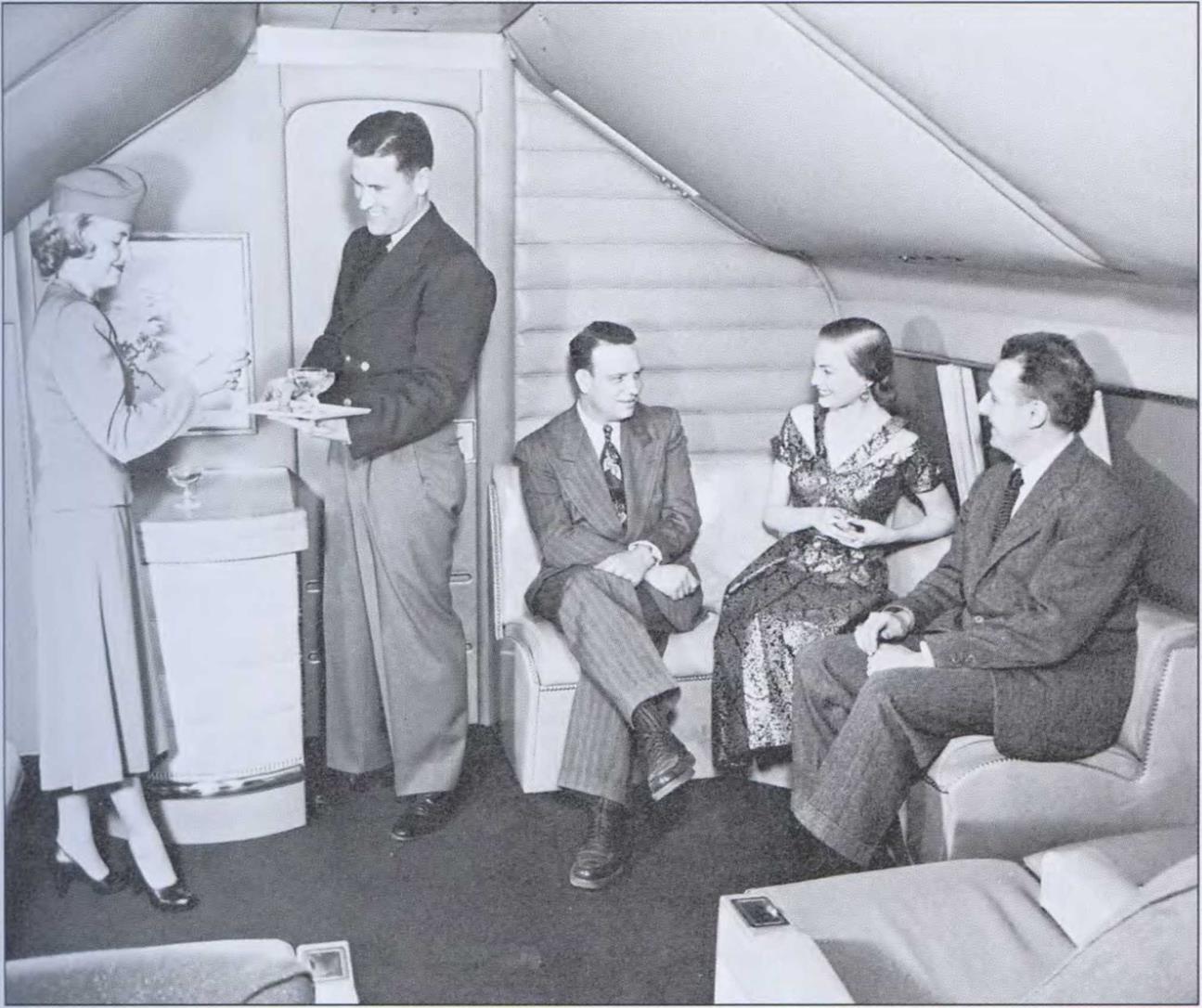 A cocktail lounge located at the front of the 749A Constellation passenger cabin provided a casual atmosphere for passengers awaiting dinner, or makeup of their sleeping berths, on TWA's nonstop Ambassador Service from New York to London.
Purser Russ Robins and a hostess prepare to offer champagne to their guests. (TWA/Jon Proctor Collection)