Before a booster leaves Michoud for test firing, its electrical and mechanical systems are tested ex­tensively by Boeing technicians and engineers. The Stage Test Building with four giant test cells provides the facility. Inside the building are four control rooms, four computer rooms, and two telem­etry rooms. These rooms house equipment that demonstrates the acceptability of the integrated systems of the booster. This includes telemeter calibration, continuity checks, and discrete-function monitoring. RF (radio frequency) also is evaluated.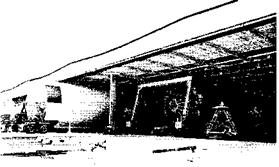 8-7733-10
Moving—A'completed first stage is readied for post-manufactur­ing checkout.
Mechanical, hydraulic, and pneumatic systems tests are conducted to leak-check and functionally check the propellant systems and the engine complex. Checks then are performed to demonstrate the pro­per operation of the electrical and instrumentation systems. All systems are operated and checked in­dividually and then checked as an integrated system in the automatic all-systems checkout.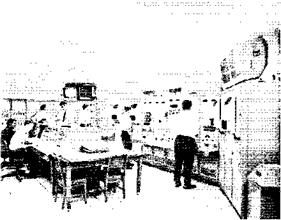 B-9964-2
Monitoring—Technicians check booster performance during a simulated flight from a stage test control room.
After the operation of the test and checkout equip­ment is verified, all electrical, pneumatic, and hy­draulic connections are made to the stage, resis­tance checks are run, and the stage undergoes physical examination.
The environmental control system is connected and checked for proper operation, and the stage's elec­trical circuits are physically checked for resistance. Stage electrical power із applied in sequential steps and the distribution monitored. The stage instru­mentation transmission system is checked out on both coaxial hardwire and RF links. The electrical systems checkout includes checks of the power distribution circuits, heater power subsystems, destruct system, sequencing subsystem, separa­tion subsystem, and emergency detection system.
The range safety systems undergo a complete end – to-end checkout including transmittal of RF com­mands to the range safety command receiver and monitoring the arm, cutoff, and destruct signals generated by the system.
Instrumentation system testing during stage check­out includes: identification of data channels, gain adjustment of signal conditioners, and checks of measurement systems, telemetry systems, and op­erational RF systems.
SATURN V NEWS REFERENCE
First Stage in Test Cell
Pressure and leak checks are conducted on fuel and LOX tanks and associated lines, engines, fuel and LOX delivery systems, fuel and LOX pressuriza­tion systems, and the control pressure system. Checks are made of the calibration pressure switch simulation, fill and drain operation, and prevalve operation on both fuel and LOX systems.
Propulsion system checks include checks of firing command preparation and execution, engine shut­down prior to "launch commit," malfunction cutoff, and normal propulsion sequences.
Most of the above-mentioned tests are run for a second time prior to static testing and again during post-static checkout.