Jordan wants to buy the SSJ 100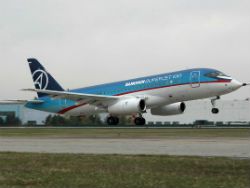 During the Moscow international air show MAX-2015 the head of the Dzhadzhara company, the adviser of the king of Jordan Abdalla II for questions of military and technical cooperation with Russia Mark Voloshin declared that Jordan considers possibility of acquisition of the Russian regional SSJ 100 airliners.
«I will tell in confidence that negotiations in this respect are already carried on, and at the desire of the Jordanian party the Sukhoi Civil Aircraft Company company prepared the corresponding contract of intent. Now this document is considered, and after approval from king Abdalla II practical work on contract preparation» will begin – Voloshin noted.
Answering a question of possible number of bought planes, Voloshin noticed that the contract is not signed yet, and to speak about it while is premature. «In the contract of intent it is a question of eight cars, four of which – the firm contract, and as much again – an option. Well and how many as a result it will be bought planes – will show time» – Mark Voloshin noted.
At the same time the adviser of king Abdalla II emphasized that a question of the conclusion of the contract difficult as Jordan aspires to take SSJ 100 planes in leasing and to maintain them in a bonded economic area where certain tax privileges operate. In case of the conclusion of the contract, reports 365news.biz airliners will be based and carry out flights from city airport Aqaba.