As mentioned above, the need to train pilots for the MiG-9 forced the OKB to design a two-seat version of the aircraft. An UTI MiG-9 (Ucheb no-trenirovochniy istrebityel: fighter-trainer) became a priority as soon as the WS adopted the single-seater—there was no other dedicated air­craft available.
Design of the two-seater MiG-9 was started at the OKB during the summer of 1946, and on 30 October the preliminary design was agreed upon. It was a tandem two-seater, and to make room for the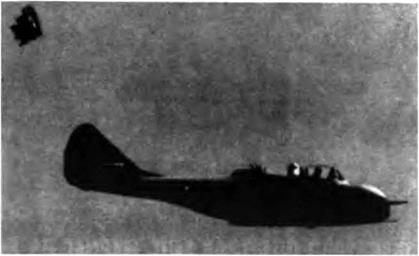 The earliest Soviet ejection seats, developed by MiG, were tested on the FT-2 by the use of mannequins at first.
second seat in the airframe one of the two fuel tanks in the fuselage had to be removed and the capacity of the other one had to be reduced by one-third.
The front student-pilot cockpit and the rear instructor cockpit were separate and had their own sliding canopies. The aircraft had dual controls, and the instructor could use an intercom system to communicate with the student The I-301T no. 01 (or FT-1) was assembled with two German BMW 003 engines, a German K-2000 generator, and the wheels and shimmy-damper of an American Bell P-63 Kingcobra fighter.
The first ejection seats developed by the MiG ОКБ were due to be installed in this prototype. An emergency escape was supposed to work this way: (1) front canopy jettisoned, (2) rear canopy jettisoned, (3) rear pilot ejected, and (4) front pilot ejected. The prototype was also equipped with a new instrument, a Mach indicator (also called a Mach – meter). The two-seater had the same armament as the single-seater: one N-37 cannon whose muzzle was 1 16 m (3 feet, 4.6 inches) away from the engine air intake, and two NS-23 cannons whose muzzles were 0.5 m (1 foot, 7.7 inches) away from that spot.
The FT-1 left the factory in June 1947 and was flown by Gallai in July. In August it underwent its certification tests but failed because of the restricted view from the instructor's cockpit in the rear. The air­craft could not meet the requirement for which it was designed, pilot training. The prototype was later used for improving various MiG-9 sys­tems and developing underwing fuel tanks.
Specifications
Span, 10 m (32 ft 9.7 in); length, 9.83 m (32 ft 3 in); height, 3.225 m (10 ft 6.7 in); wheel track, 1.95 m (6 ft 4.8 in); wheel base, 3.072 m (10 ft 0.9 in); wing area, 18.2 m2 (195.9 sq ft); empty weight, 3,584 kg (7,900 lb); takeoff weight, 4,762 kg (10,495 lb); fuel, 840 kg (1,851 lb); oil, 35 kg (77 lb); gas, 7 kg (15.5 lb); wing loading, 261.7 kg/m2 (53.6 lb/sq ft).
Performance
Max speed, 900 km/h at 4,500 m (486 kt at 14,760 ft); max ground speed, 830 km/h (448 kt); climb to 5,000 m (16,400 ft) in 5 min; to 10,000 m (32,800 ft) in 10 min; service ceiling, 12,500 m (41,000 ft); landing speed, 190 km/h (103 kt); endurance, 50 min; landing roll, 780 m (2,560 ft).