The second UTI MiG-9, rolled out in August 1947, was a version of the FT-1 modified to answer the objections raised in its certification tests. The FT-2 was powered by two 784 daN (800 kg st) RD-20 turbojets. Other modifications included the following:
—visibility was improved for the pilot seated in the rear —airbrakes were set in the wing trailing edge —a FKP S-13 camera gun was positioned in the air intake lip —wing was piped for two underslung tanks
—the bulletproof windshield panel in front was replaced by a larger one with thinner glazing
—the curvature of the lateral glazed panels was modified to improve visibility
—the glazed partition between the student and instructor cockpits was removed
The FT-2 made its first flight on 25 August 1947. During the second test phase the rear cockpit was modified to try out the first Soviet ejec­tion seat.
After completing its factory tests the FT-2 was moved to the Shchelkovo airfield for its state acceptance trials from 4 to 17 Septem­ber 1947 at the Nil WS. The aircraft made forty-seven flights and was airborne for fifteen hours and thirty-two minutes. The chief test pilot was Capt. V. G. Ivanov; he was assisted by A. S. Rozanov, captain-engi­neer. Other GK Nil VVS pilots who took part in these tests included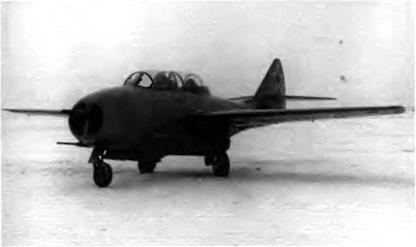 After an important modification to the canopies, the FT-2 was certified as the UTI MiG-9.
Proshakov, Khomyakov, Antipov, Kuvshinov, Skupchenko, Piku – lyenko, Suprun, Teryentyev, Sedov, Alekseyenko, and Trofimov. The UTI MiG-9 no. 02 (FT-2) received its type certification. The panel also recommended the installation of airbrakes and underwing tanks on all versions of the MiG-9.
Operational MiG-9s flew at 900 km/h (486 kt) without a pilot res­cue system; to remedy that situation—and as part of the WS experi­mental construction program approved by the council of ministers held on 11 March 1947—the MiG ОКБ was instructed to install an ejec­tion seat on the FT-2 and to subject it to official tests. The ejection seat was developed and installed in 1947-48. In one factory test, a man was ejected at nearly 700 km/h (378 kt).
On 29 September 1948 the FT-2 prototype equipped with the ejec­tion seat was handed over to military test pilots. The seat was placed at an angle of 22.5 degrees in the front cockpit and 18.5 degrees in the rear cockpit. It weighed 128.5 kg (238 pounds). During the first two flights, one at 596 km/h (322 kt) and the other at 695 km/h (375 kt), a mannequin was used. During the third flight on 7 October at 517 km/h (279 kt), the fourth flight on 26 October at 612 km/h (330 kt), and the fifth flight on 13 November at 695 km/h (375 kt), Flight Lt. A. V. Bistrov and his substitute, N. Ya. Gladkov, were ejected. The FT-2 was flown by Capt. V. G. Ivanov. Before these tests started, ten ejections had been carried out on the ground whose accelerations ranged from 8 to 15 g.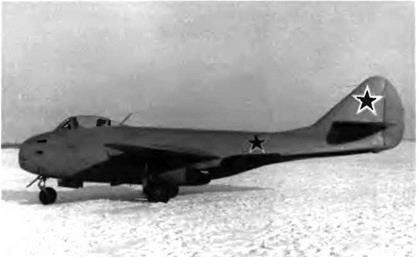 On the MiG-9M the location of the three guns was completely revamped. Their muz­zles were set back from the air intake plane.
Specifications
Span, 10 m (32 ft 9.7 in); length, 9.83 m (32 ft 3 in); height, 3.225 m (10 ft 6.7 in); wheel track, 1.95 m (6 ft 4.8 in); wheel base, 3.072 m (10 ft 0.9 in); wing area, 18.2 m2 (195.9 sq ft); empty weight, 3,460 kg (7,626 lb); takeoff weight, 4,895 kg (10,788 lb); crew, 180 kg (397 lb); fuel, 862 kg (1,900 lb); gas, 14 kg (31 lb); oil, 22 kg (49 lb); armament, 205 kg (452 lb); ammunition, 116 kg (256 lb); removable equipment, 36 kg (79 lb); wing loading, 269 kg/m2 (55 1 lb/sq ft).
Performance
Max ground speed, 810 km/h (437 kt); climb to 5,000 m (16,400 ft) in 5.3 min; service ceiling, 12,000 m (39,360 ft); landing speed, 180 km/h (97 kt); range, 775 km (480 mi); design range with two 235-1 (62-US gal) drop tanks, 920 km (571 mi); takeoff roll, 835 m (2,740 ft); landing roll, 775 m (2,540 ft).