Meanwhile, even as NASA was still preparing to land the first Apollo astronauts on the Moon, the space agency was drawing up plans for the post-Apollo era. In January 1969 NASA appointed four aerospace companies to study possible configurations for what it called an "Integrated Launch and Re-entry Vehicle'' (ILRV), what would eventually become the Space Shuttle. As these studies got underway, a Space Task Group (STG) headed by Vice President Spiro Agnew recommended that America embark on a manned flight to Mars and devised three options to achieve this goal, each of which would need the logistical support of a reusable spacecraft shuttling back and forth between Earth and low orbit. Also part of the space infrastructure would be a low-orbiting space station, a space tug, a lunar base, and a nuclear propulsion system for interplanetary missions. The most modest of the three options was to develop only a shuttle and a space station and defer a decision on a manned Mars flight until after 1990.
However, when the STG released its report in September 1969, waning public interest in the space program and the escalating cost of the Vietnam War were about to take their toll on America's ambitious space plans. NASA's budget was drastically cut back, dashing any hopes of turning the STG's plans into reality anytime soon. It turned out that even the cheapest of the three options (requiring $5 billion per year until 1980) cost more than the nation could afford. When President Nixon officially reacted to the STG report in March 1970, all he left standing of the STG plan was a shuttle vehicle "designed so that it will be suitable for a wide range of scientific, defense and commercial uses [and] help us realize important economies in all aspects of our space program.''
If the Shuttle was going to be turned into a satellite-carrying truck, it would only be economically effective if it achieved an extremely high launch rate and placed all government, commercial, and military payloads into orbit. In other words, it had to replace all existing expendable launch vehicles. Therefore, it was crucial for NASA to gain agreement from the military community to use the Space Shuttle to launch all military and intelligence payloads, which were projected to constitute one-third of all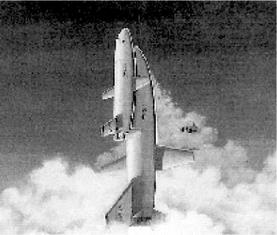 Early concept for a shuttle with flyback booster (source: NASA).
future space traffic. For the military this was not a bad deal, because they would acquire a launch vehicle built at NASA's expense. Their only major investment in the Shuttle would be the construction of a launch pad at Vandenberg Air Force Base in California to enable launches of military payloads into polar orbits. At the same time, Defense Department (DoD) requirements also had a very serious impact on the Shuttle's design.
Until then the favored option within NASA had been to develop a completely reusable vertically launched system consisting of a relatively small spaceplane and a flyback booster, mated either belly-to-belly or piggyback. The flyback booster (either manned or unmanned) would act as the first stage, carrying the shuttle to a significant altitude before separating and returning to the launch site to make a horizontal runway landing. The shuttle would then use its on-board fuel supply to complete the trip to orbit. The preferred design for the spaceplane was a vehicle with stubby straight wings. This was designed to re-enter the Earth's atmosphere at a high angle of attack, which would reduce frictional heating. It would make only minor hyper­sonic maneuvers and have excellent subsonic glide characteristics.
The Defense Department requirements, first of all, changed the dimensions of the orbiter. The DoD needed an orbiter that could handle payloads up to 18 m long and launch 18 tons into polar orbit from Vandenberg and over 27 tons into a due-east orbit from Cape Canaveral. This was significantly more than what NASA had asked for in its original request for proposals in 1969. Even more significantly, the DoD required a much higher cross-range capability, the ability to maneuver to either side of the vehicle's ground track during re-entry. The Air Force wanted a cross-range capability of about 2,000 km, which would allow the Shuttle to quickly return to its secure launch site runway at Vandenberg after a single revolution while the Earth rotates to the east under it. However, this requirement dictated a delta-wing vehicle with a much higher hypersonic lift-to-drag ratio as well as a much more robust thermal protection system. This is because most of the cross-range maneuvering is performed at extremely high speeds, exposing large portions of the airframe to the thermal effects of re-entry. Also, the delta-shaped wings entail a much worse per­formance at subsonic speeds, with the orbiter making a very steep descent and coming down at a much higher speed.
The net result was that the orbiter was going to be much bigger and heavier than originally anticipated, making it impossible to retain the spaceplane/flyback booster concept. Instead, the orbiter's propellant would now have to be carried in an expend­able external fuel tank and the flyback booster was replaced by two solid rocket boosters, which is the Space Shuttle configuration as we know it today. On 5 January 1972 President Nixon gave his final go-ahead for the development of the Space Shuttle, but it would take another two years for the design to be frozen. One of the last changes was the deletion of an air-breathing propulsion system in early 1974 [1].