1924-2010
The Air Force entered the X-15 flight program when, on April 13, 1960, Maj. Bob White hoisted himself into the X-15 cockpit for a pilot- familiarization flight. It was the twelfth flight of the X-15, and on this flight White accelerated to Mach 1.9 and 48,000 feet, about the same as the previous flights. White, however, was to eventually set the formal FAI world altitude record of 314,750 feet on July 17, 1962; this record still stands. For this feat, he won the first Air Force rating of winged astronaut. He also set a series of speed records. On March 7, 1961, during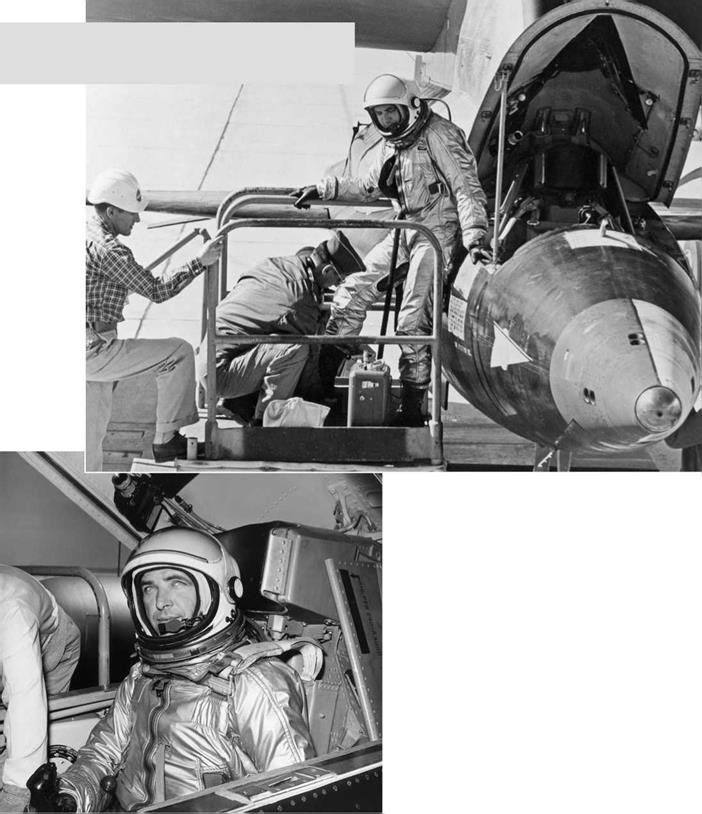 White entering the X-15 under the wing of the B-52. USAF, Air Force Flight Test Center History Office, Edwards Air Force Base
White in the cockpit of the X-15. USAF, Air Force Flight Test Center History Office, Edwards Air Force Base
the thirty-fourth flight, he achieved Mach 4.43, becoming the first pilot to exceed Mach 4. On June, 23, 1961, during the thirty-eighth flight of the X-15, he achieved Mach 5.27, becoming the first pilot to fly faster than Mach 5. Five months later on November 9, 1961, on the forty-fifth flight, he became the first to fly faster than Mach 6, reaching a speed of Mach 6.04.
Bob White was born on July 6, 1924, in the city of New York. He joined the Army Air Force in November 1942 at the age of eighteen and received his wings and commission as a second lieutenant in February 1944. White was the only X-15 pilot to be a prisoner of war. Flying a P-51 over Europe, he was shot down and captured in February 1945. He was not liberated until April. After the war, he studied at New York University, where he earned a bachelor's degree in electrical engineering. The
Korean War brought him back to active duty, and he remained with the Air Force for the rest of his career. He became a pilot and engineering officer, serving at Mitchell Air Force Base, and then served as a flight commander with the 40th Fighter Squadron flying F-80s in Japan.
White's road to the X-15 took him first to the Rome Air Development Center as a systems engineer and then to the Air Force's Test Pilot School at Edwards Air Force Base. There, he became the deputy chief of the Flight Test Operations Division and assistant chief of the Manned Spacecraft Operations Branch. It was during this period that he became the third pilot to fly the X-15, serving as the primary Air Force pilot in the program and ultimately finishing sixteen flights in the airplane.
No X-15 test flight occurred without incident. On his flight exceeding Mach 5, the cockpit pressure dropped so much that White's flight suit inflated. On his next flight, where he became the first pilot to exceed the altitude of 200,000 feet, his left windshield shattered during reentry. On his very next X-15 flight, where he exceeded Mach 6, his right outer windshield shattered at about Mach 2.7, during deceleration. White flew his last flight in the X-15 on December 14, 1962, achieving by that time the rather modest performance of Mach 5.65 and altitude of 141,400 feet.
After leaving the X-15 program, White continued his distinguished Air Force career. In 1963, he became the operations officer for the 36th Tactical Fighter Wing at Bitburg, Germany, and he then served as the commanding officer of the 53rd Tactical Fighter Squadron in Germany until August 1965. He returned to the United States, where he graduated from the Industrial College of the Armed Forces and obtained a master of science degree in business administration from George Washington University, both in 1966. From there, he was transferred to the Air Force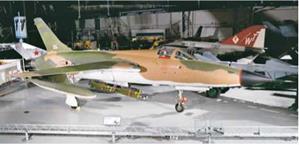 F-105 on display at the National Air and Space Museum's Udvar Hazy Center. NASM
Systems Command at Wright-Patterson Air Force Base as chief of the F-111 systems program.
In May 1967, White went to Southeast Asia, where he flew seventy combat missions over Vietnam in F-105 aircraft. He returned to Wright – Patterson in June 1968 as director of the F-15 systems program. In August 1970, he returned to his familiar surroundings in California, becoming commander of the Flight Test Center at Edwards Air Force Base and brigadier general. He became commandant of the Air Force Reserve Officer Training Corps in October 1972. After receiving his second star, he became chief of staff of the 4th Allied Tactical Air Force in March 1975. He retired from active duty as a major general in February 1981.