Wings over the Water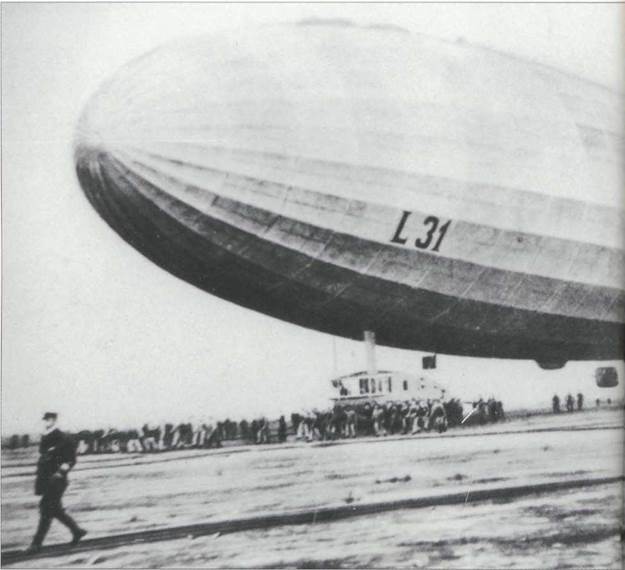 When the German Imperial Naval Air Service went to war on 3 August 1914, it had long been decided that its primary asset would be the airship, with the aeroplane taking a very secondary – place in the overall scheme. The role of the naval airship had also been defined prior to the war, in that it should undertake both strategic and tactical reconnaissance for the fleet, while also being employed for bombing missions. At the time, the navy had lost two of its three airships during the previous year, Zeppelin L 1 to light­ning with the loss of 14 of the 26 aboard, no fatalities being associated with the destruction of Zeppelin L 2. While naval airship crews had flown training missions in commercial Zeppelins for a number of years, operational
experience for the warlike purposes now expected of them was extremely scant, thanks to the two 1913 losses, coupled to the fact that Zeppelin L 3 had only joined the navy in May 1914, less than three months prior to the declaration of war on France.
If this was the somewhat parlous state of naval airship activity, the naval aeroplane community was doing little better, with the 1914 edition of Janes' All The World's Aircraft listing the total German naval aeroplane inventory in early 1914 as consisting of 46, of which 36 were seaplanes. Similarly, to provide further perspective on the scale of German naval aeroplane activity, it should be noted that the same journal lists the total number of naval aviators as just 22 up to 31 March 1914. Further, unlike
the army, who had set aviator training as one of the prior­ities during 1912, the navy had just the one Johannisthal flying school and only expanded training through the use of civilian establishments after 3 August 1914.
Once at war, the Imperial Naval Air Service set about fulfilling the tasks it had been set with an ever growing degree of professionalism. By the time of the Armistice in early November 1918, the Service had grown beyond all recognition. To cite just a few figures showing the degree of expansion, at the close of the war, the aeroplane inven­tory had grown to around 1,500 of which approximately a half were front-line types, these being operated by 2,116 fliers. As for the naval airship community, this had grown to 16 airships and around 6,000 men. Here, however, it is sobering to reflect that these 16 lighter-than-air craft represented exactly a quarter of the 64 airships delivered to the navy during the war, giving some idea of the attri­tion in both men and airships suffered by this branch of the service.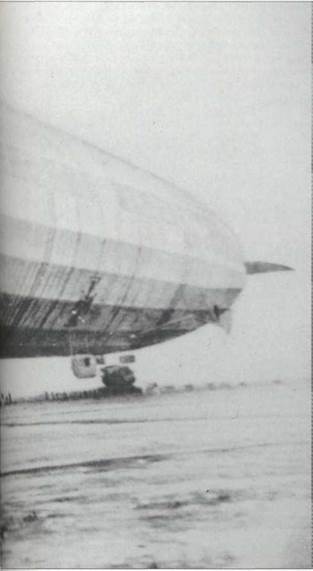 Main picture Perhaps, psychologically it was the sheer affinity in terms of scale of the airship to that of their capital ships that led the German Imperial Naval Air Service to emerge from World War I still championing these goliaths of the skies, long after the German Army had foresaken them as being too cost­ly in terms of manpower and resources, as well as being generally vulnerable. Certainly, the navy and the army's initial operational deployment of airships had provided very different experiences, with the army losing a half of its warworthy diri­gibles within the first month of the conflict. The navy had no such early losses, in part, because they were only to accept their first two operational airships, L 4 and L 5, on 28 August and 22 September 1914. Certainly, by the end of 1916, naval airship losses were matching those of the army. Typical of the fate likely to befall an airship was that of the navy's Zeppelin LZ 72, naval designation L 3 I. The second of the Zeppelin V class, built exclusively for naval operations and deliveries of which had started in May 1916, the L 31 had a crew of 17 and was powered by six 240hp Maybach H-S-Lu petrol engines giving a top level speed of 50mph. The range of the V class was 5,000 miles. First flown on 12 July 1916, L 31 was dispatched to bomb London on 1 October 1916, only to fall in flames near Potters Bar just north of its target, prey to the guns of Lieutenant WJ. Tempest, RFC in his BE 2c. None of L 31's airship – men survived. Equally telling is the fact that L 31 was one of II naval airships sent to bomb English targets that blustery night and of these, only seven managed to cross the enemy coast, six overflying Yorkshire. (Cowin Collection)
Below Five of these two seat Gotha WD-I reconnaissance floatplanes, No. s 285 to 289, were built for the navy in mid – 1914. Fitted with a l00hp Daimler D I, the WD-I had a top level speed of 56mph at sea level. If this seems low, the climb to 3,200 feet took a tedious 24.5 minutes. However, the WD-1 did appear to have, for its day, a useful range of 335 miles. Seen here is the prototype WD, the 100 hp Gnome powered proto­type, first flown in February 1914 and which never seems to have been given a naval serial number. (Cowin Collection)
OverleafThis May 1915 photograph shows an Imperial Naval Air Service NCO observer, armed with rifle, about to take his front seat position in an Albatros B I. This extremely atmospheric image illustrates two important points. First, the aircraft, serial S77, belongs to the the Naval Landplane Section based at
Morseele, showing that the navy were early to establish a pres­ence, alongside their army comrades, at the front, which they maintained until the end of the war. The second point is that prior to the arrival of the armed C types, with their flexibly mounted machine gun for the observer, both observers and pilots of the unarmed B type two seaters armed themselves with a motley range of personal weapons. (Cowin Collection)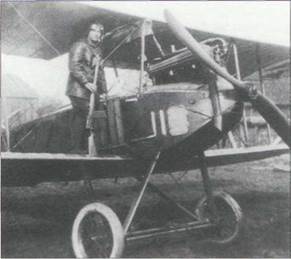 Perpetrator of well over half a million pounds worth of damage to London in a single raid, the L 13 was considered by the Naval Air Service to be its most successful airship. First flown on 23 July 1915, the L 13 was the seventh of the 22 Zeppelin 'p' class dirigibles, deliveries of which started in April 1915. Powered by four 210hp Maybach C-X petrol engines, this class had a top level speed of 60mph, along with a range of 2,672 miles. Crew complement of the 'p' class was 18. Of the 22 airships the army and navy initially each took I I, although the army's LZ 88 was to be subsequently tranferred to the navy. The L 13 survived 159 flights, covering 42,842 miles, to be safely decommissioned on 25 April 1917. (Cowin Collection)
reconnaissance, the WD-2a's top level speed was 59.5mph at sea level, while its range was 415 miles, an 80 mile improvement on that of the earlier WD-1. (Cowin Collection)
This Gotha WD-2 was one of a small number of floatplanes the German navy handed over to its Turkish allies in 1916. Powered by a 150hp Benz Bz III, this machine carries an early, overwing gun mounting for its front seat observer, requiring him to stand when firing. (Cowin Collection)
The sole, experimental long range Zeppelin-Lindau Rs I flying boat was wrecked in a storm on 21 December 1915 before it could be flight tested. This three 240hp Maybach Mb IV-engined craft was the first of a series of one-off giant flying boats made feasible through the extensive use of light alloys, a field in which their creator, Prof Dr Claudius Dornier, one of Count Zeppelin's brighter proteges, had specialised. (Dornier)
The serial 424 on the rear fuselage of this Gotha WD-2a identifies it as being one of the later production 'small wing' version, differentiated by the 'a' suffix. First flown in July 1914, the WD-2 and WD-2a, of which a total of 27 were built, used either a I00hp Benz Bz III, or a 150hp Rapp. Built for long range
The Lohner Type L two seater reconnaissance/bomber flying boat was used to real effect by the Austro-Hungarian Navy during the 1915-1916 period. Based on Jakob Lohner's 1913 Type E, the Type L was powered by various engines rated between
l40hp and 180hp, giving the machine a top level speed of around 65mph. Thanks to its wing design, the Type L showed an impres­sive high altitude capability, having a ceiling of about 16,400 feet. Around 160 Type Ls were built, but such was their operational success that the machine was copied by Macchi in Italy, leading to the Macchi M.3 through M.9 series. (Cowin Collection)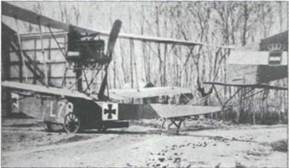 Below The Naval Air Service's sole Gotha WD-4, 120. This three seat bomber owed much to the earlier Gotha G I built for the Army. First flown on 26 January 1916, the WD-4 typifies the seemingly haphazard procurement policy of the navy towards the purchase of aeroplanes for most of the war. Instead of buying a few types of aircraft and engines to meet their mission requirements, the navy bought a large variety of aeroplanes and engines in often very small quantities, making the maintenance crews' and supply people's lives a nightmare. Few performance details survive for the WD-4 other than that it had two l60hp Mercedes D III, giving it atop level speed of 85.5mph. Used spas­modically during 1916, the Zeebrugge-based WD-4, accompanied by five other seaplanes, was reported to have raid­ed several ports in the south east of England, on 19 March 1916, ranging from Dover to Margate. (Cowin Collection)
The single Zeppelin-Lindau Rs II giant, long range flying boat is seen here in its initial form with biplane tail. First flown on 30 June 1916 with its three 240hp Maybach Mb IVs buried within its short, broad-beamed hull, the problem of power losses in the transmission must have been serious, leading to the Rs ll's beaching for modifications. Centred around the engines, this work saw the replacement of the three buried units by four similar engines, now mounted between the hull and the para­sol wing in twin push/pull nacelles, with each engine driving its propeller directly. The opportunity was also taken, at this time, to modify the machine's tail unit. In this later form and known as the Rs IIb, the flying boat got airborne once more on 6 November 1916. (Dornier)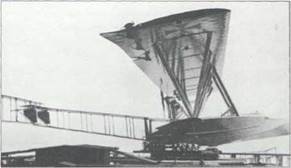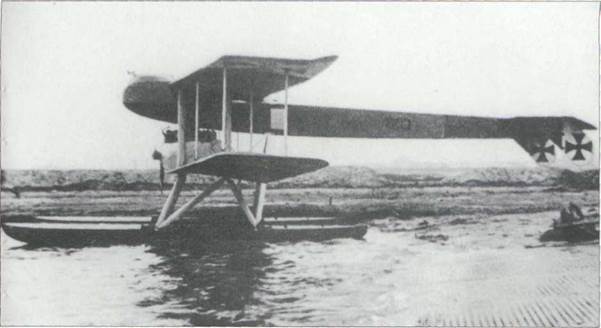 OverleafThe Zeppelin-Lindau Rs IIb, seen here in almost final form and only awaiting its four 240hp Maybachs to be encased in drag-reducing engine nacelles. Capable of reaching 81 mph top level speed at sea level, the Rs lIb had, by now, elicited sufficient naval interest to have been bought and issued with the serial 1433. Following flight testing, the machine was dismantled so that parts could be used in its successor, the Rs III. (Dornier)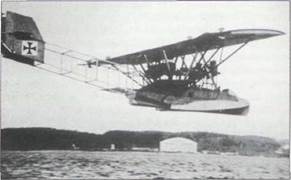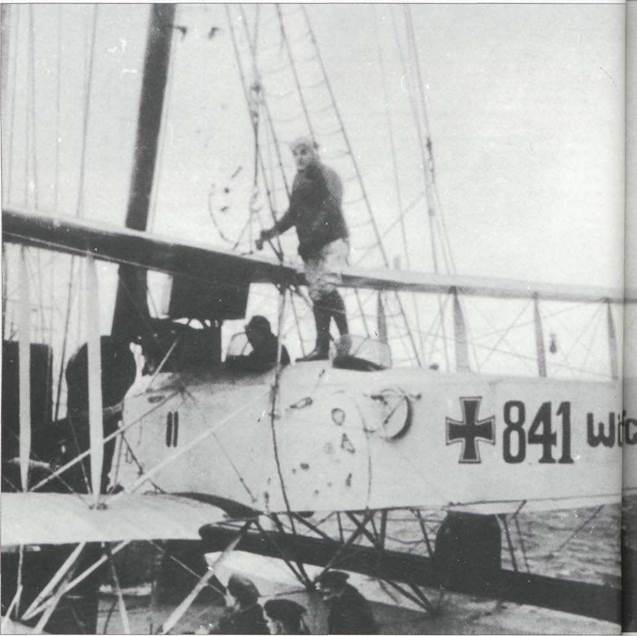 Below Perhaps the best known Friedrichshafen FF 33 of all was 'Wolfchen', or baby wolf, an FF 33E, serial 841, that served as the over-the-horizon eyes of the notorious German merchant raider, SMS Wolf. At sea for fifteen months, from 30 Novermber 1916, Wolf sank, or captured, 28 allied merchant ships, aided by the scouting efforts of 'Wolfchen's' crew, pilot Lt Strein and observer Oberflugmeister Fabeck, who made 50 sorties during the three ocean cruise. Incidentally, while at sea'Wolfchen' flew with none of the national markings seen in this 6 March 1918 image, these only being restored after the Wolf's homecoming. With 162 examples of the FF 33E built, this was the most common version of all. Basic figures for the FF 33E indicate a top level speed of 78mph at sea level, along with a range of 340 miles. (Cowin Collection)
Right Even when the German navy found an aeroplane it liked, as in the case of the Friedrichshafen FF 33 two seater, it seemed that it could not resist vacillating over equipment fit. Take the case of the FF 33 which was bought in larger quantities than any other naval aeroplane, here any economy-of-scale effect was largely dissipated, particularly early on, by buying small batches of differing versions. Thus, for those of a real 'rivet counting' persua­sion, the contract history of the FF 33 makes superb reading, with the purchase of the first 247 aircraft involving 8 variants and no less than 42 contracts, none being larger than for 10 aero­planes. For the record, total FF 33 deliveries amounted to 409 machines between December 1914 and October 1917. Shown here is a 33B being beached at Xanthi on the Black Sea in 1916.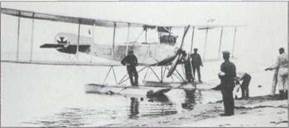 The 33B was an unarmed reconnaissance version powered by a 160hp Maybach, giving it a top level speed of 68mph at sea level. Only five of this variant were ever ordered. (Cowin Collection)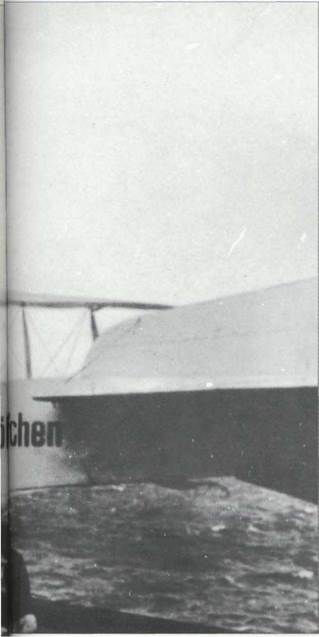 Below True or false? If the original caption to this photograph is to be believed, the crew of this Friedrichshafen FF 33H are busy rescuing the crew of a downed enemy floatplane. There are, however, a number of anomalies if that is the case. First, there is a suspicious total lack of wing debris from the 'enemy' craft; and the distinct similarity of the two machines' floats indi­cates that the whole event was staged at some publicist's behest. An armed version of the FF 33E, some 40 FF 33Hs were built, the variant entering service in January 1916. Using the same 150hp Benz Bz III as that of the FF 33E, the FF 33H had a top level speed of 73 mph at sea level, along with a typical patrol endurance of around 5.5 hours. (Cowin Collection)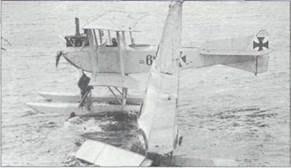 The Hansa-Brandenburg FB is yet another example of buying small numbers of many types. In this case, the navy purchased six only of this 150hp Benz Bz III powered two seat flying boat reconnaissance scout. Essentially a German-built version of the Lohner scouting flying boats, the performance details of the FB are lost, but its overall capability must have been close to that of the Lohner Type L. (Cowin Collection)

A starboard side view of Sablatnig SF 2, serial 580, photographed at Warnemunde on the Germany's Baltic coast. Employed as two seater advanced trainers, 580 was the first of 26 delivered to the German navy between June 1916 and May 1917. The SF 2s power was supplied by a 160hp Mercedes D III, giving the machine a top level speed of 81mph at sea level. (Cowin Collection)
Below Seven of these three seat Gotha WD-7s, 670 to 676, were built as torpedo-dropping trainers during 1916. Powered by two 120hp Mercedes Dlls, the machines had a top level speed of 85mph, while their normal operating range was 295 miles. The aircraft seen here was operated from the Norderney naval seaplane base. (Cowin Collection)
The sole AlbatrosW 3, serial 527, three seat torpedo bomber. Powered by two 160hp Mercedes D Ills, the W 3 had a top level speed of 83mph at sea level. Delivered to the navy in July 1916, the W 3 led to the generally similar W 5 design, of which four were built and delivered between May 1917 and January 1918. (Cowin Collection)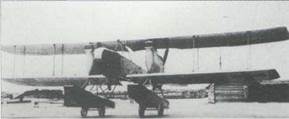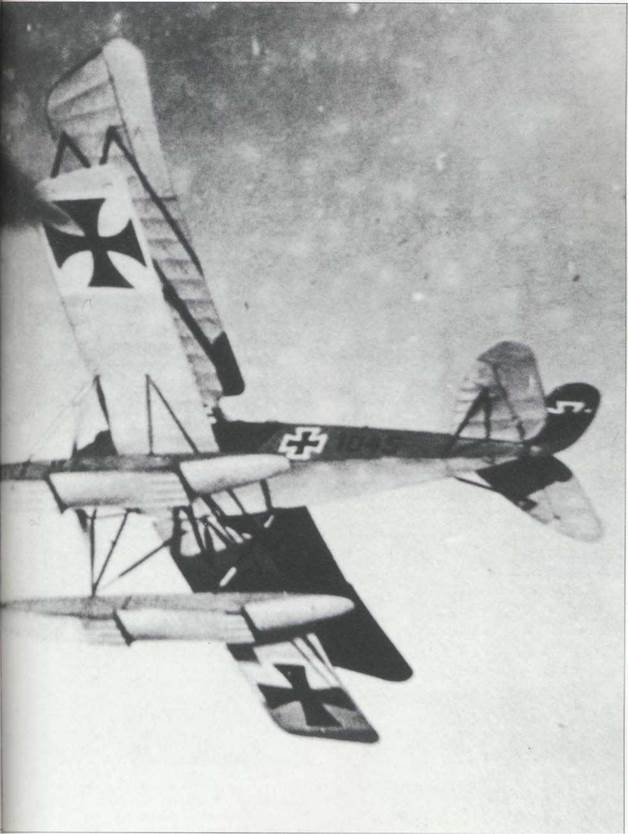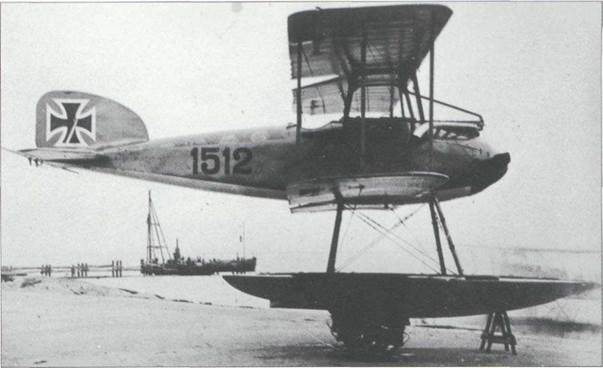 Above Used essentially for the local air defence of naval seaplane bases in the Flanders area, the single seat Albatros W 4 float­plane fighter entered service with the navy in late 1916. Based on the company's successful D II fighter, but slightly scaled up, the W 4 used a 160hp Mercedes D III, giving it a top level speed of 109mph at 6,560 feet, dropping to 99mph at sea level. Armament comprised a single, synchronized 7.92mm Spandau, although some later machines carried a second gun. In all 117 W 4s were delivered, with 3 in 1916 and 114 in 1917. The machine seen here, serial 1512, was the penultimate of a 10 'plane batch delivered during October and November 1917. (Cowin Collection)
An in-flight image of the Albatros W 4, primary defender of the German naval seaplane bases around north west Europe from the end of 1916 through most of 1917, it being super­seded by the Hansa-Brandebburg W 12. (Cowin Collection)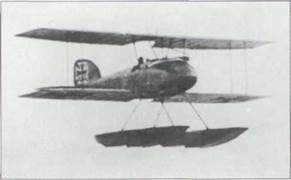 Essentially a float-equipped version of the Ernst Heinkel – designed Hansa-Brandenburg KD/D I of early 1916, with added outboard wing bracing, the first of the navy's 58 Hansa – Brandenburg KDWs was completed in September 1916. Typically, no less than three different engine types were fitted to the KDW, the initial 150hp Benz Bz III to the 13 aircraft, followed by the 160hp Mercedes D III in the next 10, while the last 35 machines received the 160hp Maybach Mb III. In the first 23 of these single seat fighters only one 7.92mm Spandau was fitted, whereas the last 35 mounted twin Spandaus. Top level speed was 106mph for the later fighters and range was cited as 310 miles. From a pilot's viewpoint, the KDW was not highly thought of, having virtually none existent visibility directly forward. (Cowin Collection)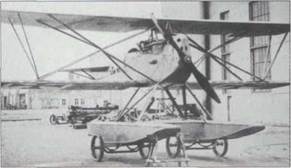 Friedrichshafen FF 41A, serial 676, the first of three of these three-seat torpedo bombers to be built for the navy in late 1916-early 1917. Seen here at Zeebrugge on the Belgian
coast, the FF 41A used two 150hp Benz Bz Ills, giving it a top speed of 77.7mph, with a range of 357 miles. (Cowin Collection)
Little more than a cleaned up, 160hp Benz Bz Illa-engined Gotha WD 9, their two seat WD 13 coastal patroller was bought by the navy in 1917 specifically for Turkish use. Built only in small numbers, the WD 13s top level speed was 87mph, the machine had a useful operational range of 466 miles. (Cowin Collection)
Bottom An excellent air-to-air aspect on a two seat DFW C V of the German Imperial Air Service's 1st Field Service Section. Taken near to the front lines in the autunm of 1917, this view shows the irregular application of dull green and brown with which the majority of German combat types were camouflaged prior to the January 1918 adoption of the multi-colour hexago­nal scheme. Both the 1st and 2nd naval Field Service Sections appear to have used a mixture of DFW C Vs and LVG C Vs with which to carry out their reconnaissance work. (Cowin Collection)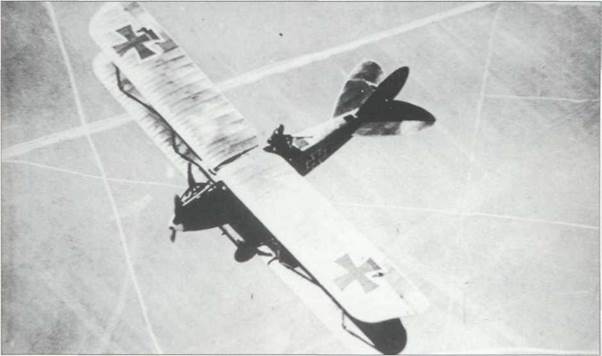 The single seat Hansa-Brandenburg W 16 floatplane fighter was Ernst Heinkel's second fighter design of 1916, the earlier one being the company's KDW/W II. Neat and compact, the W 16 incorporated a number of superior design features to its immediate predecessor, but despite this, orders for only three examples, serials 1077 to 1079, were to be received from the navy. Powered by a 160hp Oberursal rotary, the W 16s top level speed was 106mph at sea level. Seen here is the first of the three W 16s, 1077. (Cowin Collection)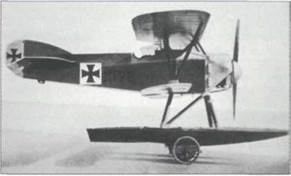 The Hansa-Brandenburg W 12, another of Ernst Heinkel's creations, was a float-equipped, two seat reconnaissance fight­er that first flew in January 1917 and started to replace the single seat Albatros W 4 from April 1917 onwards. Powered by either a 150hp Benz Bz III or 160hp Mercedes D III, the W 12 had a top level speed of 99.4mph and a ceiling of 16,400 feet. The machine seen here, serial 2016, was a Benz-equipped early production example. Armament comprised one, later two fixed, forward-firing 7.92mm Spandaus, plus the observer's flex­ibly mounted 7.92mm Parabellum. W 12 deliveries began in April 1917 and ended in March 1918, totalling 145 machines, excluding the prototype that had been destroyed early in flight testing. (Cowin Collection)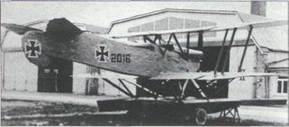 Below Something of an all-rounder, the GothaWD 14 is seen here in prototype form, wearing its naval serial 801. First flown in January 1917, this twin 220hp Benz Bz IV three seater was designed to fulfil the roles of torpedo bomber, minelayer, or long range reconnaissance. Top level speed was 72mph at sea level, while the range was an impressive 806 miles. Following satisfac­tory testing and acceptance of the prototype, a further 68 production WD 14s were delivered with the navy serials 1415­1430, 1617-1631, 1651-62 and 1946-1970. (Cowin Collection)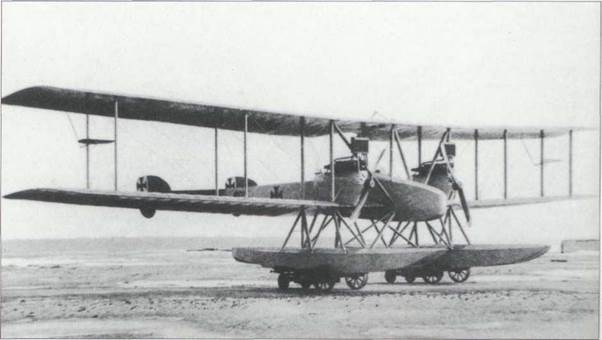 Typifying the perils of being an airshipman, is the all too brief career of navy Zeppelin L 48.The first of five Zeppelin 'u' class dirigibles, L 48 made its first flight on 22 May 1917. Based at Nordholz for its less than one month operational life, L 48 was to fall to the guns of Lt L. P.Watkins near the village ofTheberton in Suffolk on 17 June 1917. Of the 19 crew, 3 were to survive. Powered by five 240hp Maybach H-S-u engines, the 'u' class airships had a top level speed of 71mph. (Cowin Collection)
The twin 150hp Benz Bz III powered Albatros W 5 floatplane torpedo bomber came into naval service in May 1917 Capable of 83mph top level speed at sea level, four of these three man biplanes were built, serials 846 to 849, delivery ending in January 1918.The view of the second aircraft, 847, shows the machine's pusher engine configuration and the torpedo stowed, semi- recessed, within the aircraft's belly. (Cowin Collection)
Two Zeppelins in their lair, with the one on the left being the navy's L 44, the other, an unidentified early army airship. L 44 was the first of the two 't' class Zeppelin built for the navy and which made its maiden flight on 22 February 1917. With their five 240hp Maybach H-S-Lu giving them a top level speed of 64.5mph, these 't' class dirigibles had a range of 7,150 miles. Their crew complement was 23 and none of these survived when, on 20 October 1917, L 44 fell in flames to French artillery fire over Luncville-St Clement. (Cowin Collection)
Initially powered by a 150hp Benz Bz III, later built W 29s had the up-rated 185hp Benz Bz IlIa, giving this two seat reconnaissance fighter a top level speed of 109mph. Climb to 3,280 feet took 5.9 minutes and the W 29's patrol dura­tion was a respectable 4 hours. The twin white diagonal bands on the rear fuselage of this W 29 identify it as belong­ing to the Starboard Watch of the Norderney naval flying station. (Cowin Collection)
Zeppelin L 53 was the last of the Imperial Naval Air Service's airships to fall to enemy action in World War I. Entering service on 21 August 1917, this craft, the first of ten V class Zeppelins, carried a crew of 19 and, under the impetus of its five 240hp Maybach H-S-Lu engines achieved a top level speed of 67mph. The operating range of these V class ships of the sky was 8,390 miles. L 53 was to sortie some 50 times prior to falling victim to the guns of Lt S. D. Culley's Sopwith Camel on 11 August 1918. Headed out over the North Sea, L 53's crew had the misfortune to encounter a totally new form of menace, in the shape of the destroyer-towed, lighter-launched interceptor, a novel range-extending technique first demonstrated by Culley a few days earlier, on 31 July 1918. Using this method, Culley intercepted the Nordholz-based L 53 seawards ofTerschelling, sending the dirigible flaming into the sea. There were no survivors. (Cowin Collection)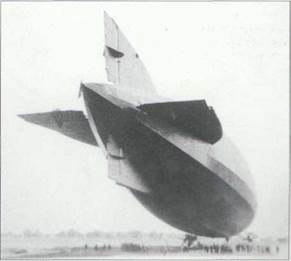 In all, 80 of these Hansa-Brandenburg W 29s were to be delivered to the navy between December 1917 and July 1918, when production switched to the far higher powered W 33.
OverleafTheodore Osterkamp and Gotthard Sachsenberg were to share the honour of being the Imperial Naval Air Service's highest scoring fighter ace and Osterkamp is pictured here sitting on the portside wheel of his Fokker EV, 156/18. It was in this machine that Osterkamp was to score his 25th to 31st 'kills' during the last few months before the Armistice. This, however, was far from the end of Osterkamp's remarkable fighting achievements for he was to continue to fly and fight, alongside his friend Gotthard Sachsenberg in the Baltic campaign until October 1919. This 'unofficial' war in the east was a mobile, messy, disorganised affair and the number of Osterkamp's victories remains unknown. In 1940 and aged 48, Osterkamp, now commanding the Luftwaffe's 51st Fighter 39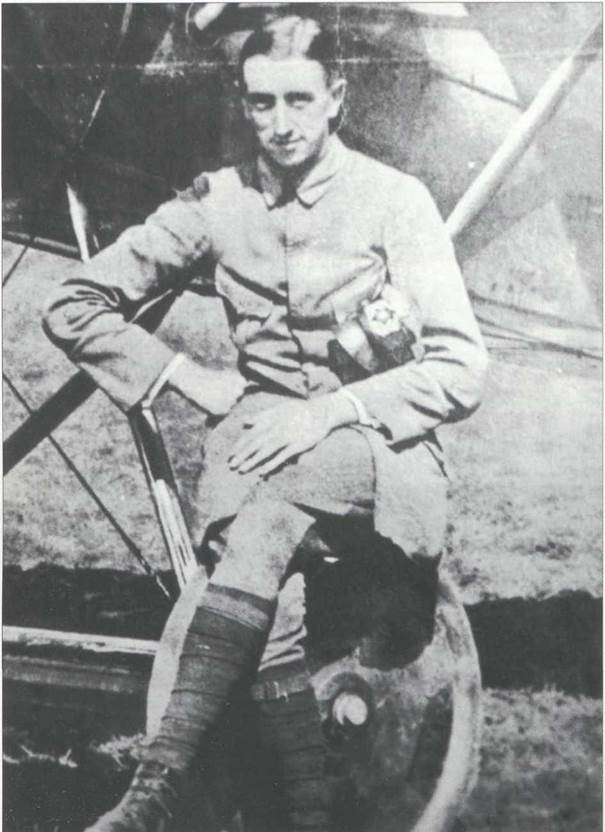 Wing, once again flew into combat, adding a further six 'kills' and taking his total confirmed score to 37 victories. Unfortunately, for 'Uncle Theo' as his men called him, this was all too much for his superiors who insisted that his future activ­ities be of the 'chairborne' variety. Interestingly, as in the case of a surprisingly large number of other future fighter aces, Theodore Osterkamp's career almost never got started. Born on 15 April 1892, he was rejected by the Prussian Army as unfit for military service at the outbreak ofWorld War I, but, happi­ly, found the Imperial Navy more medically tolerant and was accepted for their volunteer naval flying service. After training and flying as an observer for half of the war, Osterkamp gained his pilot's wings at the end of March 1917. In mid-April he joined the 2nd Naval Field Service Section at the front. Here, he promptly crashed his Albatros C I, but retrieved his reputa­tion by defying orders and going back aloft in a single seat scout to score his first confirmed victory by downing an SE 5a. The start of 1918 saw Osterkamp commanding the 2nd Jasta of the newly formed Naval Field Wing. Incidentally, it speaks volumes of that earlier medical decision to classify Osterkamp as unfit to know that during September and October of 1918 he survived a bout of the particularly virulent form of influenza that was to become pandemic and kill millions. Theodore Osterkamp ended his military career as a Generalleutnant, the equivalant of a two-star General, or Air Vice Marshal, commanding the Luftwaffe's fighter forces in Italy. (Cowin Collection)
Below The parasol-wing Fokker EV, later D VIII, was to be the last of the famed line of Fokker fighters to see action in World War I. Winner of the second 1918 fighter competition, held in April, the EV was considered slightly tail-heavy, but otherwise pilots were well disposed towards its agility, excellent climb and well harmonized controls. Deliveries of this 110hp Oberursal rotary powered single seater, 115mph at sea level, commenced in mid-1918, the first six examples being rushed to the army's 1st Fighter Wing, JG I. Next to receive the EV was the crack Naval Field Wing, with examples going to wing leader Gotthard Sachsenberg along with his deputy, Theodore Osterkamp.
These early machines proved to have structural wing flaws and other problems that necessitated their temporary withdrawal from service. Returned to the front in October 1918, the opportunity for this new fighter to make its mark evaporated with the Armistice. Seen here is one of JG I's E Vs, serial 149/18, belonging to Lt Liebig, while that of Lt Osterkamp's was 156/18. (Cowin Collection)
The Dornier-designed Zeppelin-Lindau RS IV turned out to be the ultimate wartime refinement of this series of giant, long – range flying boats. Carrying a crew of six, including a mechanic in each of the twin engined nacelles to tend the parasol winged machine's four 270hp Maybach Mb IVa powerplants. Flight test­ing, commenced on 12 October 1918, had hardly got underway at the time of the Armistice, with the result that much of the RS IV's estimated performance had yet to be explored. At the time flight testing ceased, the machine had achieved a top level speed of 86mph. Significantly, many of the construction prac­tices developed for these wartime designs, along with the characteristic push-pull tandem engine layout were to find their way into the post-war family of very successful Dornier long range flying boats, starting with the 8-tonne Wal and culminat­ing in the elegant, four-engined Do 26. (Dornier)