JANUARY This month the Air Force dis­bands the Trailblazers, a precision flying demonstration team first formed in 1948.
JANUARY 7 At Tan Son Nhut Air Base, South Vietnam, C-123 Providers are assigned to Operation ranch hand, a massive defoliation campaign, to deny communist units cover in the jungle undergrowth. This project lasts nine years and is not finally halted until January 7, 1991.
January 10—11 A B-52H flown by Major clyde P. Evely sets a new unrefu­eled flight distance of 12,532 miles by fly­ing between Okinawa to Madrid, Spain, in 22 hours and 10 minutes.
JANUARY 13 Over South Vietnam, Air Force C-123 Providers fly the first ranch hand defoliation mission.
JANUARY 29 At Cape Canaveral, Florida, the final Titan I ICBM test firing occurs; of 47 tests, 34 are successful while only 3 are complete failures.
FEBRUARY 2 Over South Vietnam, a ranch hand C-123 crashes while on a defoliant training mission, and Captain Fergus C. Groves, Captain Robert D. Larson, and Sergeant Milo B. Coghill become the Air Force's first fatalities in Southeast Asia.
FEBRUARY 11 In Berlin, East Germany, U-2 pilot Francis G. Powers is exchanged for a Soviet agent after serving a year and a half in a Russian prison for spying.
MARCH 5 A B-58 Hustler flown by Captains Robert G. Sowers, Robert MacDonald, and John T. Walton, 43rd
Bombardment Group, establishes three world air speed records by flying from New York to Los Angeles and back in 4 hours, 41 minutes, and 11 seconds at an average speed of 1,044.5 miles per hour.
MARCH 16 At Cape Canaveral, Florida, the 100-foot tall Titan II missile is test launched for the first time.
MARCH 21 A B-58 Hustler, traveling at 870 miles per hour, test ejects an escape capsule at 35,000 feet. The passenger—a bear—lands safely after a seven-minute parachute descent.
MARCH 22 At Tan Son Nhut Air Base, South Vietnam, four Convair F-102 Delta Daggers are deployed from Clark Air Force Base, the Philippines, in response to sightings of unidentified air­craft over the region.
APRIL 18—20 At Lowry Air Force Base, Colorado, the 724th Strategic Missile Squadron (SMS) becomes the first operational Titan I unit. It possesses nine of the huge missiles, all stored in hardened underground silos. The first Titan goes on operational alert two days later.
APRIL 22 Aviatrix Jacqueline Cochran breaks 68 world records when she becomes the first woman to cross the Atlantic in a Lockheed Jetstar named Scarlet O'Hara. She is also the first woman to make a transatlantic crossing in a jet.
APRIL 26 The high-speed, high-altitude Lockheed A-12 makes its maiden flight; it is a forebear of the more famous SR- 71 Blackbird.
April 27 At Eglin Air Force Base, Florida, the Special Air Warfare Center is created.
June 19 The classified Dyna-Soar space vehicle receives the designation X-20.
June 29 At Cape Canaveral, Florida, a military crew launches a Minuteman mis­sile for the first time and it flies 2,300 miles downrange.
July 9 Over Johnson Island in the Pacific, Operation dominic unfolds as a 1 megaton warhead is shot to an altitude of248 miles before being detonated. This is the highest thermonuclear blast and the electromagnetic pulse it generates is felt 800 miles away in Hawaii.
July 17 The X-15-1 hypersonic rocket aircraft piloted by Major Robert M. White reaches an altitude of 58.7 miles above the Earth's surface at a speed of 3,784 miles per hour. Because White is technically in space, he becomes the first Edwards test pilot to acquire astronaut's wings.
July 19 At Vandenberg Air Force Base, California, an Atlas missile is launched towards Kwajalein Island, where its nose cone is successfully intercepted by a Nike-Zeus antimissile missile. This marks the first time that an ICBM has been intercepted by a missile, the equivalent of one bullet hitting another.
August 1 At Vandenberg Air Force Base, California, an Atlas F missile is test launched for the first time from an under­ground silo, and it travels 5,000 miles downrange to the Pacific Test Range.
August 9 At Cape Canaveral, Florida, the Air Force simultaneously launches two Atlas D missiles to demonstrate its multiple countdown capabilities.
September 14 NASA announces the names of the next nine astronauts selected for the new Gemini space program. Of these, four are Air Force officers: Major Frank Borman, and Captains James A. McDivitt, Edward H. White, and Thomas P. Stafford.
September 18 A B-58 Hustler flown by Major Fitzhugh L. Fulton zooms to an altitude of 85,360 feet while carrying an 11,000-pound payload. The record remains unbroken to the present day.
OCTOBER 14 Over Cuba, a U-2 piloted by Major Steve Heyser, 4080th Strategic Reconnaissance Wing, photographs irrefutable evidence of Soviet ballistic missiles deployed there. This sets in motion a chain of events culminating in the Cuban Missile Crisis.
OCTOBER 17 High above the Earth, a Vela Hotel satellite detects a ground – based nuclear explosion for the first time.
October 17—22 Over Cuba, the U. S. Air Force U-2s and RF-101Cs, backed by Navy RF-8 aircraft, continue high­speed reconnaissance flights and discover several Soviet IL-28 Beagle bombers on Cuban airfields.
OCTOBER 22 Once President John F. Kennedy declares a blockade of Cuba until all Soviet offensive weapons are removed, the Strategic Air Comm­and (SAC) places all its units on 24-hour alert. All B-47s are dispersed for their protection while B-52s maintain a continuous orbit outside of Soviet air­space where they can easily be seen on radar.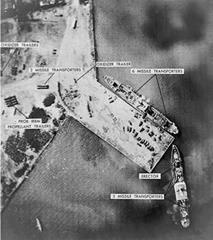 View from U. S. reconnaissance aircraft of Mariel Bay, Cuba. In October 1962, Soviet missile equipment and transport ships were photographed by U. S. U-2 spy planes, leading to the Cuban Missile Crisis. (Library of Congress)
OCTOBER 25 Over the Atlantic, the Strategic Air Command (SAC) sends RB-47s and KC-97 Stratotankers to assist the Navy to locate Soviet vessels heading for Cuba.
October 27 Over Cuba, a U-2 piloted
by Major Rudolph Anderson of the 4080th Strategic Reconnaissance Wing is shot down and killed by a Soviet missile. He is posthumously awarded the first Air Force Cross for his sacrifice.
At Malmstrom Air Force Base, Montana, all Minuteman I missiles of the 10th Strategic Missile Squadron are placed on high alert.
October 28 After the Soviet Union agrees to remove all its offensive weapons from Cuba, the Air Force and other service elements begin to stand down. The United States, for its part, agrees to remove all obsolete Jupiter missiles from bases in Turkey.
OCTOBER 29 Over Cuba, photographic intelligence relayed by Air Force RF – 101C Voodoos reveals that the Soviets are complying with the agreement to remove all missiles and jets from the island.
NOVEMBER 2 In the wake of the Chinese invasion of northern India, President John F. Kennedy authorizes Operation long skip to transfer over 1,000 tons of military equipment to Indian forces. The Miliary Air Transport Service (MATS) complies with its new C-135 jet trans­ports and completes the task in only two weeks.
NOVEMBER 24 General Dynamics and Grumman contract with the Department of Defense to construct and build the new Tactical Fighter Experimental (TFX), a variable-swept wing, twin – engined jet fighter capable of carrying
20,0 pounds of ordnance at two-and – a-half times the speed of sound.
December 5 At Cape Canaveral, Florida, the Atlas missile test program ter­minates with the 151st launch; 101 of these are successful.
DECEMBER 13—14 Over New Mexico, Project stargazer unfolds as Captain Joseph A. Kittinger and a civilian astrono­mer, William C. White, drift to 82,000 feet with a telescope in their gondola for the clearest possible view of the stars. They remain aloft for 18 hours.
December 27 The Air Force orders six of the top secret Lockheed SR-71 high-speed, high-altitude reconnaiss­ance aircraft; it enters service as the Black­bird.