Type: Multi-role combat aircraft.
Engines: (prototype) two SNECMA M53-5 single-shaft afterburning by-pass turbojets each with maximum thrust of 19,8401b (9000kg). Armament: Not fitted to prototype.
History: Company launch January 1976: first flight 9 March 1979. User: None announced (August 1979).
In January 1976 Marcel Dassault announced that, as a private venture, he was launching the Delta Super Mirage as a long-range multi-role aircraft for export. One hesitates to doubt the credibility of either the man or the com­pany, but to fund such a programme would need many times the net worth of the company, and no consortium of overseas buyers (South Africans? Arabs? Black Africans?) appears to be conceivable. It would not be im­possible for the company to finish the defunct tailed Super Mirage prototype, which was to have flown in July 1976, as an empty shell to show possible customers what the proposed Delta Super Mirage would look like. To develop it as an operational aircraft does not by any stretch of the imagination appear possible. One is left to conclude that M Dassault either expects the French government to find the money, which is extremely unlikely, or he hopes to organise a programme involving a large number of nations pre­pared to share the costs and risks.
Aerodynamically the 4000 closely resembles a scale-up (about *1-25) of the 2000, but with a proportionately larger fin and the important addition of electrically signalled powered canards on the inlets in place of the smaller fighter's fixed strakes. The radar is the completely new RDM (Radar Doppler Multifonction) Cyrano 500, tested in a Vautour and also intended for export models of Mirage 2000. An l-band track-while-scan set, it is a frequency-agile pulse-Dopplor with several functions unavailable in the RDI (Radar Doppler Impulsions) of the regular 2000.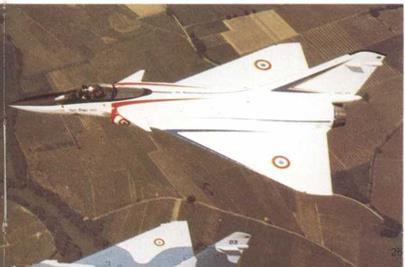 Below: This formation of the Super Mirage 4000 with two prototype Mirage 2000s shows the relative sizes of the two designs, and the slightly different aerodynamics (with controllable foreplanes) of the later twin-engined aircraft.