F-106A and F-106B
Origin: General Dynamics/Convair. USA.
Type: (F-106A) single-seat all-weather interceptor; (F-106B) operational trainer.
Engine: One 24.500lb (11,130kg) thrust Pratt & Whitney J75-17 two – shaft afterburning turbojet.
Dimensions: Span 38ft 3J1n (11 -67m); length (both) 70ft 8j|in (21 -55m); height 20ft 3Jin (6-1 5m).
Weights: (A) empty 23,646lb (10,725kg); maximum loaded 38,2501 b (17,350kg).
Performance: (Both) maximum speed 1,525mph (2455km/h, Mach 2-31); initial climb about 30,000ft (9144m)/min; service ceiling 57,000ft (17,375m); range with drop tanks (A) 1,700 miles (2735km); combat radius, about 600 miles (966km).
Armament: One internal 20mm M-61 multi-barrel cannon; internal weapon bay for air-to-air guided missiles, with typical load comprising one AIR-2A and one AIR-2G Genie rockets and two each of AIM-4E, -4F or 4G Falcons.
History: First flight (aerodynamic prototype) 26 December 1956; (F-106В) 9 April 1958, production delivery July 1 959 to July 1 960.
User: USA (ANG, USAF).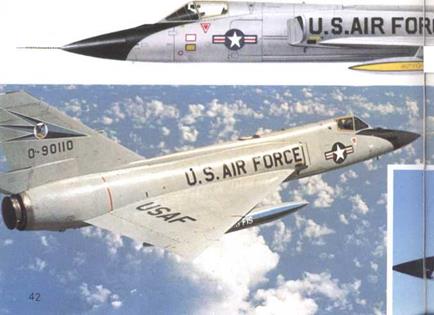 Development: Originally designated F-102B, the 106 was a natural development of the F-102A with new engine and avionics. By redesigning from scratch to the supersonic Area Rule the fuselage was made much neater and more efficient than that of the earlier aircraft and the more power­ful engine resulted in a peak speed approximately twice as fast. The Hughes MA-1 fire control, though no bulkier or heavier than that of the 102, was far more capable and integrated with the SAGE (Semi-Automatic Ground Environment) defence system covering the continental United States in an
automatic manner, the pilot acting as a supervisory manager. Though bought in modest numbers, the 106 has had an exceptionally long life­span in the USAF Aerospace Defense Command front-line inventory. At several times the Improved Manned Interceptor program (IMI) has pointed the need for a replacement with longer-range look-down radar and long – range missiles, and much research has been done with the Lockheed YF-12 (described later). At present no replacement, other than the multi­role F-1 5, is in sight and the F-106 and tandem-seat F-106B force (respec­tively numbering originally 277 and 63) will continue until at least 1980. They have been repeatedly updated, with improved avionics, infra-red sensors, drop tanks, flight refuelling and a Gatling gun.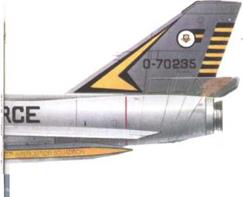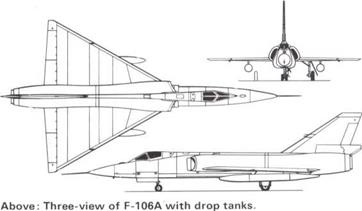 Left: An F-106A Delta Dart of the 460th FIS, a unit later withdrawn from the Aerospace Defense Command active inventory. Despite repeated updating these well-liked interceptors are beginning to show their age, and plans dating back to the late 1960s for their replacement involved special versions of F-15 and F-14.


Left: A recent photograph of one of the remaining F-106A all- weather interceptors, which equip six home-based Air Divisions each comprising a single 18-aircraft squadron.