Mirage III and 5
Origin: Avions Marcel Dassault/Breguet Aviation, France (actual manu­facture dispersed through European industry and certain models assembled in Belgium, Switzerland and Australia).
Type: Single-seat or two-seat interceptor, tactical strike, trainer or recon­naissance aircraft (depending on sub-type).
Engine: (MIC) 13,2251b (6000kg) thrust (maximum afterburner) SNECMA Atar 9B single-shaft turbojet; (most other III and some 5) 1 3,670lb (6200kg) Atar 9C; (some III and 50) 1 5,8731b (7200kg) Atar 9K-50; (Kfir see separate entry).
Dimensions: Span 27ft (8 22m); length (INC) 50ft Юі'іп (1 5-5m); (IIIB) 50ft 63ІП (1 5-4m), (5) 51 ft (1 5-55m); height 1 3ft 11 Jin (4-25m). Weights: Empty (IIIC) 13,5701b (6156kg); (IIIE) 15,5401b (7050kg); (IIIR) 14,5501b (6600kg); (NIB) 13,8201b (6270kg); (5) 14,5501b (6600kg); loaded (IIIC) 19,7001b (8936kg); (IIIE, MIR, 5) 29,7601b (13,500kg), (NIB) 26,455lb (12,000kg).
Performance: Maximum speed (all models, clean) 863mph (1390km/h) (Mach 1-14) at sea level, 1,460mph (2350km/h) (Mach 2 2) at altitude; initial climb, over 16,400ft (5000m)/min (time to 36,090ft 11,000m, 3 min); service ceiling (Mach 1-8) 55,775ft (17,000m); range (clean) at altitude about 1,000 miles (1610km): combat radius in attack mission with bombs and tanks (mix not specified) 745 miles (1200km); ferry range with three external tanks 2,485 miles (4000km).
Armament: Two 30mm DEFA 5-52 cannon, each with 125 rounds (normally fitted to all versions except when IIIC carries rocket-boost pack); three 1,000lb (454kg) external pylons for bombs, missiles or tanks (Mirage 5, seven external pylons with maximum capacity of 9,260lb, 4200kg). History: First flight (MD.550 Mirage I) 25 June 1955; (prototype Mirage 111-001) 17-November 1956; (pre-production Mirage IIIA) 12 May 1958; (production IIIC) 9 October 1960; (IIIE) 5 April 1961; (111R) 31 October 1961; (III B) 1 9 July 1 962; (Australian-assembled 1110) 16 November 1963; (Swiss-assembled HIS) 28 October 1965; (prototype 5) 19 May 1967; (Belgian-assembled 5BA) May 1970.
Users: (III) Abu Dhabi, Argentina,'Australia, Brazil, Egypt, France, Israel, Lebanon, Libya, Pakistan, S Africa, Spain, Switzerland, Venezuela; (5) Abu Dhabi, Belgium, Colombia, Egypt, France, Gabon, Libya, Pakistan, Peru, Saudi Arabia, Venezuela, Zaire.

Right: Like the aircraft above this Mirage MIEP, of No 5 Sqn Pakistan Air Force, saw actual combat (against India).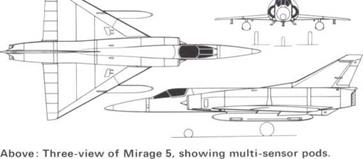 Development: The Mirage, which has come to symbolise modern aerial combat and to bring additional trade to France and incalculable prestige, especially in defence hardware, began in a most uncertain fashion. It was conceived in parallel with the Etendard II to meet the same Armee de I'Air light interceptor specification of 1952 and was likewise to be powered by two small turbojets (but, in this case, boosted by a liquid-propellant rocket engine in addition). As the small French engines were not ready. Dassault fitted the Mirage I with two British Viper turbojets and before the rocket was fitted this small delta was dived to Mach 1 15. With the rocket it reached Mach 1 -3 in level flight. But Dassault had no faith in the concept of such low-power aircraft and after some work on the twin-Gabizo Mirage II took the plunge and produced a bigger and heavier Mirage III, powered by the 8,820lb thrust Atar 101 G. From this stemmed the pre-production IIIA, with larger but thinner wing and completely redesigned fuselage housing the new Atar 9 engine. On 24 October 1958 Mirage IIIA-01 became the first West European aircraft to attain Mach 2 in level flight.

This clinched the decision of the Armee de I'Air to buy 100 of a slightly developed interceptor called Mirage NIC, fitted either with guns or with a boost rocket for faster climb and better combat performance at heights up to ►
82,000ft. Normally the SEP 844 rocket was fitted to the MIC, the sole armament being air-to-air missiles, such as Sidewinders and the big Matra R.530 used in conjunction with the CSF Cyrano radar, fitted to permit the new fighter to operate in all weather. Altogether 244 C models were delivered, large batches also going to South Africa and Israel (a nation which did much to develop and promote both the III and the 5). From the INC emerged the dual-control 111В trainer, the longer and heavier HIE for ground attack (with Marconi doppler radar for blind low-level navigation, new fire-control and navigation computer, and increased internal fuel) and the 111R family of camera-equipped reconnaissance aircraft. By 1977 about 1,200 of the Mirage III family had been sold, including a fairly standard version made in Australia and an extremely non-standard version made in Switzerland after painful development problems which inflated the price and reduced the numbers bought.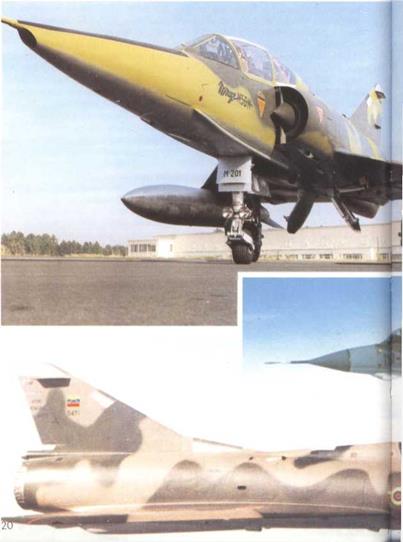 In 1965 Israel suggested that Dassault should produce a special VFR (clear weather) version for ground attack in the M iddle East, with the radar and fire control avionics removed and replaced by an extra 110 gallons of fuel and more bombs. The result was the Mirage 5 and Israel bought 50 of the first
production batch of 60. It can be distinguished by its longer and much more pointed nose, devoid of radar unless the small Aida II is fitted. For political reasons the French refused to deliver the paid-for Mirages to Israel but more than 500 have been sold to many other countries and 106 were assembled, and partly constructed, in Belgium. Largely as a result of the French action, Israel developed its own improved version of the Mirage (see IAI Kfir, separate entry).
In addition to production aircraft there have been many experimental or unsold variants. One of the latter was the Spey-powered Mirage 111W jointly proposed by Dassault and Boeing as a rival to the F-5 as a standard simple fighter for America's allies. Another non-starter was the Milan (Kite), fitted with retractable "moustache" foreplanes for shorter field-length and better manoeuvrability (this excellent idea is available on the Mirage 5). By far the biggest development programme concerned the enlarged and more powerful Mirage 11IV V/STOL fighter with a 19,8401b thrust SNECMA TF306 augmented turbofan for propulsion and eight 5,5001b thrust Rolls – Royce RB. 162-31 lift jets. The MIT was a non-VTOL of the same size and the equally large F2 led to the smaller (Atar-size) F1.
Left: Pictured outside the assembly plant near Bordeaux, this Mirage 5DM dual-control trainer was delivered to the air force of Zaire, with two others of this sub-type and 14 single-seaters. Of the total of 17 Mirages no fewer than six were lost in the fighting on the Xhaba battlefront.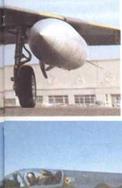 Immediately below: The most effective Mirages in the ground-attack role (against enemy radars, at least) are probably the IIIEs of the Armee de I'Air armed with the AS.37 anti-radar Martel. Total production of this extended-range dedicated attack version of the Mirage III was 523.
Foot of page: Nearly all the 27 customers for delta-wing Mirages have bought dual-control trainer versions to accustom pilots to the tricky characteristics of fast-landing deltas which approach 'on the back of the drag curve'. This is a Mirage 5-DV of the Fuerza Aerea Venezolana, whose Mirages are concentrated at the training and attack base of Barquisimento along with CF-5s.