33 seats • 220 mph
B.
STRATOLINER
———- E———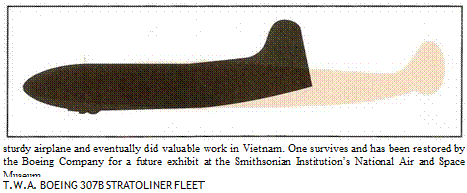 The 307 was T. W.A.'s first aircraft to incorporate the use of white in its bare metal color scheme.
Boeing Fights Back
T. W.A.'s introduction of the Douglas DC-2 in 1934 had been a severe blow to the Boeing Com­pany. But it was still a driving force in the military field, and its B-17 Flying Fortress bomber —named because of its impressive array of defensive armament—ensured its survival. Boeing engineers and designers adapted the B-17 as an airliner by substituting a commercially accept­able fuselage but keeping the same wing, tail, and four engines. The result was the innovative Boeing 307 Stratoliner.
The First Pressurized Airliner
The fuselage was the most notable advance in design and construction since Jack Northrop's monocoque replacement of the steel framework. The fuselage of the Boeing 307 Stratoliner was hermetically sealed so that, by maintaining the same pressure inside the cabin as at low altitudes—at the equivalent of 8,000-10,000 feet—the 307 could climb to higher altitudes without discomfort to the passengers or crew. It was advertised as "flying above the weather" and the term pressurization soon came into use. The name Stratoliner neatly conveyed the idea of reaching for the stratosphere, which in 1940 was perceived by the flying public as almost like flying into space.
An Eventful Life
Although T. W.A. and Pan American both put it into service in 1940, the Stratoliner's airline life was commercially short. The aircraft's fuel capacity was limited, to the extent that it did not have trans-ocean range, at least with an acceptable payload. But Boeing was a little unlucky, in that before improvements could be made, as is normal with all great airliners, the outbreak of the Second World War disrupted both demand and production. Only ten were built, of which T. W.A. had five. It entered service on the transcontinental route on 8 July 1940. As explained in the following pages, it suffered the ignominy of having its pressurization system removed so that the weight saving permitted a payload to be carried across the Atlantic. The 307 was a