Wartime Service
When the Douglas DC-4 went into service, it was popularly thought to be a commercial version of the military C-54. But the C-54 was the production version of the original DC-4 that was the result of a joint specification by the "Big Four" air­lines and Pan American for a four-engined airliner. The com­bined order, placed on 26 January 1940, was 61 aircraft. The first one flew on 14 February 1942, only two months after the United States entered the Second World War.
The Stratoliner at War
On 1 April 1941, with war in Europe, and the United States supporting the Allies with Lend-Lease, T. W.A. established the Eagle Nest Flight Center at Albuquerque for training and engineering work. The Boeing 307s were withdrawn from service on 24 December, and contracted to the War Depart­ment. During February 1942, they were flown to Albuquerque for conversion (see page 47) and designated C-75s. T. W.A. cre­ated the Intercontinental Division (ICD), headed by Otis Bryan, and which operated separately from the domestic air­line network.
By the beginning of April 1942, T. W.A.'s ICD 307s were in Africa. On 26 February one had made its first long­distance flight across the South Atlantic (see map), with a cargo of 25,000 rounds of armor-piercing shells for the British Army in North Africa. On 20 April the first flight across the North Atlantic landed at Prestwick, Scotland, and from 22 April the South Atlantic crossings were made regu­larly. One flight, returning from Cairo, picked up Jimmy Doolittle, returning from his famous raid on Tokyo. On 10 July, the airfield was completed at Ascension Island, and by October the crossing was essentially a shuttle service. A thousand crossings were made in eighteen months—the equivalent of a round trip every day.
T. W.A. Tests the C-54
Pan American Airways was the airline with the flying boats and its aircraft were transferred to the U. S. Navy for wartime logistics work. Meanwhile, C-54s were delivered to the U. S. Army, which, however, was inexperienced in overseas and over-ocean flying and navigation. With its Boeing 307s already requisitioned for military service, T. W.A. was entrusted with the task of making special proving flights. Two aircraft were leased to T. W.A. in 1942 (see tabulation) and the airline had the honor of operating the first C-54 to be built.
Page 13 of 13 Pages April, 1943
SUMMARY C? TV? A OPERATIONS OVER ROUTES C? FAA-AFRI0A. LTD.
MONTH 0? APRIL 1943
STATICS

TIKE OF ARRIVAL Sate Tlae

AIRCRAFT Тутэе Number

E33TSTRA­TTON N0.

TITS c? DEPARTURE Date Time CAPT.

ACR

KHL

4/2/43

1240

Bceins 3073

N-19907

£Zwni)

4/2/42 0740 Ohia – 4/3/42 2122 ppino TO NAT

Ш

0A1

KRT

LCS

ACR

HKL

ЩГ

Ш

4/8/42

4/8/42

4/9/42

Ш

1700

1600

09oc

121C

1800

к – i

N«lg40

4/4/42 1410 Xerry 4/5/42 1100 " 4/7/42 1000 " 4/T/42 1830 " 4/8/42 1050 n 4/S/42 154c " 4/5/42 2240 "

CO I.'kT

KKL

4/5/42

4/6/42

4/7/42

1131

1637

1750

N-199C7

4/6/42 1200 Chia – 4/7/42 1315 ppino 4/7/42 2153 "

TO NAT

ACR

KAX

KRT

CAI

KRT

ACR

4/13/42

4/14/42

4/17/42

4/18/42

4/13/42

4/25/42

4/27/42

1246

144?

1150

C515

1440

1500

1102

:: l:

N-19907

4/14/42 0925 letter. 4/17/42 C642 : 4/17/42 2005 " 4/15/42 CS40 " 4/22/42 100C – TO KRT VIA ADEN 4/26/42 2115 1

HHL

ACR

КАК

KRT

CAI

4/25/42

4/23/42

4/2T/4S

4/28/42

4/28/42

1215

1835

1610

0650

1517

N-1S40

4/23/42 1317 Rlcr.- 4/27/42 0711 ardsen 4/27/42 2040 " 4/25/42 0917 "

KHL

ACR

KAN

4/27/42

4/27/42

4/30/42

1154

1900

121G

: ::

N-1S9C9

(Navajo)

4/27/42 1410 Kali 4/30/42 OoOO " 4/30/42 1938

HHL

ACR

4/30/42

4/30/42

1446

2100

" "

v-19905

4/30/42 1732 H*
USAAF records show that T. W. A. was soon contributing to the war effort, with its Stratoliners flying across Africa. (National Archives, courtesy Tom Culbert)
DOUGLAS C-54 FLEET
BOEING 299 (B-17G) FLEET
The T. W.A. Flying Fortresses
On 16 November 1943, a T. W.A. Boeing B-17G Flying Fortress (Boeing 299) was contracted by the USAAF to engage in a weather research program. Based at Kansas City, it flew to all corners of the world: Alaska, South America, South Africa, and across the Pacific. The title passed to T. W.A. on 3 July 1944, and Three Kind Words—as the aircraft was called—completed 32,000 miles of research flying before it was returned to the Air Force on 30 April 1946.
Another B-17G was also flown by T. W.A. after the end of hostilities. It was converted for executive use and used to fly a delegation to an IATA (International Air Transport Asso­ciation) Conference in Cairo on 29 October.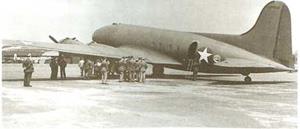 One of T. W.A. !s Stratoliners, in wartime uniform.