Port Columbus
Remarkably, the historic building, complete with the control tower, looks very little different today from when it was first opened in 1929. (photo courtesy Jim Thompson)
Even the original hangar at Port Columbus is still there, (photo courtesy Jim Thompson)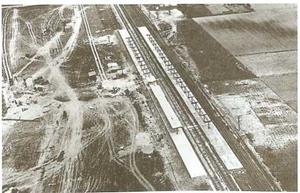 This picture shows the partly-constructed Pennsylvania Railroad station at Port Columbus, Ohio, while on the left the ground is being prepared for the new terminal building.
An Historic Site
The city of Columbus no longer possesses a railroad station. Yet it was once the key transfer point in T. A.T. 's transconti­nental air-rail service. The west-bound passengers travelled overnight in the comfort of a Pennsylvania Railroad sleeper coach, to wake up at the new station, Port Columbus, where they enjoyed breakfast in the new terminal building before
This was all part of the T. A.T. service for the rail-air transfer at Clovis, New Mexico. Passengers on T. A.T. were provided with a comfortable Aero-Car to lessen the inconvenience of having to make the transfer between the railroad station and the airport.
boarding the Ford Tri-Motor to continue their journey (see map opposite).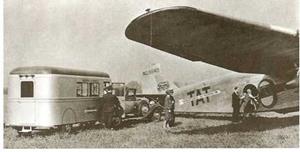 The building is still there. As one of the very few—and undoubtedly one of the most historically significant— 70-year-old architectural survivals of the formative years of air transport in the United States, it should be listed as an Historic Monument.