On March 25,1944, the CG AAF Training Command wrote to CG, AAF, Washington, DC, stating that they desired to paint the fuselage of all primary trainers blue and the wings yellow This was to improve the visibility of the trainers to decrease the possibility of accidents in flight. A survey they had run showed that many air collisions were being caused by the poor visibility of the silver painted airplanes. Repainting of the aircraft in service could be done over a period of time without interfering with training.
HQ AAF approved the request on May 6, 1944, providing it did not interfere with training operations.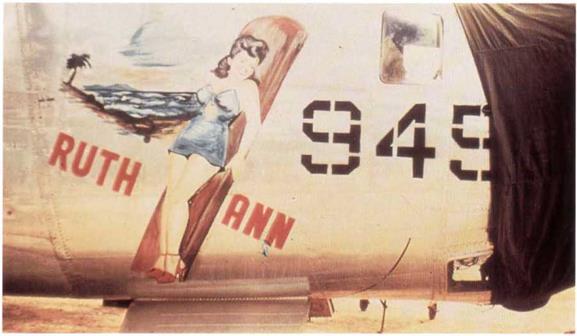 Consolidated B-24H or J, aircraft no.945, "Ruth Ann", of an unknown aircraft. Probably in Pacific Theater, judg­ing by the aircraft number and background on painting. (USAF via Gerry R. Markgraf)

Consolidated B-24J-125-CO, 42-110037, aircraft IS-B+ of the 700th BS, 445th BG, returns to its base at Tibenham, England, on D-l)ay, June 6, 1044. Everyone is crowding around the aircraft waiting to hear how the invasion is going. (USAF)
New version of T. O. 07-1-1, issued on April 25, 1944, gives instructions for removal of camouflage, at the discretion of the commanders concerned.
This new version of T. O, 07-1-1 was the first to cover the removal of camouflage finishes from aircraft in service anti read as follows (unchanged paragraphs have been omitted):
1. AIRCRAFT CAMOUFLAGE
a. GENERAL. – Camouflaging of the exterior surface of AAF aircraft is hereby discontinued except for helicopters, liaison airplanes, gliders and night fighters and as may be directed otherwise by the Commanding General, Army Air Forces. Aircraft destined for delivery to U..S, Navy and foreign agencies are not included in these requirements. This docs not, however, elimi­nate the required identification data, insignia, antiglare coatings, and corrosion prevention.
b. REMOVAL.
(1) Paint may be removed from presently camouflaged metal aircraft by the operating organizations at the discretion of Com­manders concerned, when local facilities and materials are available, provided no interruption in operations results. Aluminized parts installed on camouflaged aircraft will not be camouflaged. However, when any unpainted metal surface of sufficient area is installed that would materially affect the flight characteristics of the airplane, the remaining camouflage paint may be re­moved. Camouflaged metal parts installed on unpainted airplanes need not have camouflage removed.

Martin B-26B-55-MA, 42-96220, aircraft YA-Q of the 555th BS, 386th BG, Ninth Air Force, makes a smooth landing despite the main landing gears refusing to lower. It is seen at its Great Dunrnow base, England, on June 8,1944. It is in natural metal finish with the invasion stripes very neatly painted around the fuselage letters and star insignia. The unit color hand across the tail is in yellow with black trim. (USAF)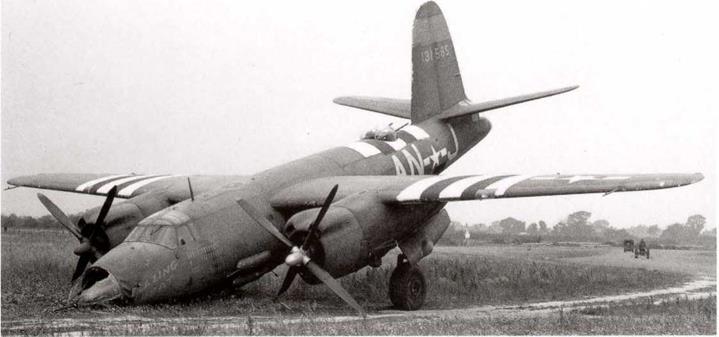 Martin B-26B-L5-MA, 41-31595, aircraft AN-J, "Blazing Heat", of the 553rd BS, 386th BG ends up on its nose when the nose gear did not function. This shows well (he invasion stripes on the top of the aircraft. The unit stripe on the tail is in yellow. Great Dunmow, England, on June 23,1944. (USAF)
(2) For removal of all types of paint materials from metal surfaces, use paint and varnish remover, Specification No. 14119, in conformance with T. O. No. 07-1-7. If not available, lacquer finishes may be removed with material compounded by the fol­lowing formula: 3 gallons benzene, 2 gallons acetone, and 1 pound of paraffin wax. For removal of dope from fabric surfaces, use nitrate dope and lacquer thinner, Specification No. AN-TT-T-256.
NOTE On airplanes having laminar flow wings, paint should be removed only from the trailing 60 percent of the wings. Sand the edges at the 40 percent chord enough to "feather" but exercise care that the cladding is not removed. Hide the olive drab finish on the leading 40 percent of both top and bottom of the wing with either aluminized lacquer or aluminized varnish as applicable. This is necessary in order that the special putty and surfacer on that portion of the wings be left undisturbed.
See T. O. No. 01-1-140 for information on aerodynamic cleanliness.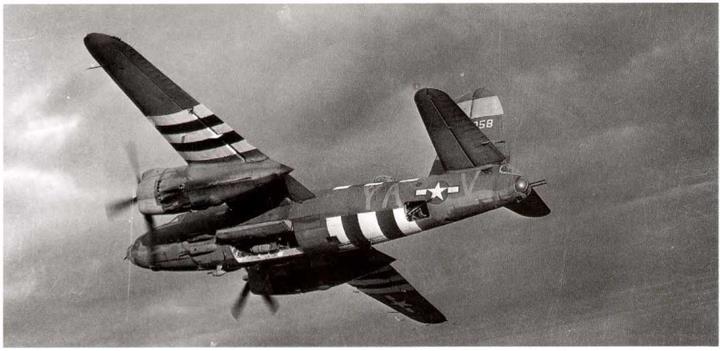 Martin B-26B, full serial not known, aircraft YA-V of the 555th BS, 386th BG, shows off the under wing and fuselage stripes. Seen on July 1,1944. (USAF)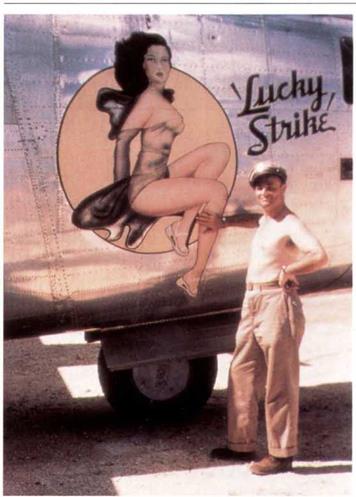 Consolidated B-24M-5-CO, 44-41876, aircraft "Lucky Strike", of the 330th BS, 380th BG. Assigned to the Fifth Air Force in the Pacific, the group was attached to the Royal Australian Air Force until January, 1945. (USAF via Gerry R. Markgraf)
Six Vultee BT-13s lined up at a training school. Only serial visible is on aircraft 40-983, which has a black cowl. Note its aluminized finish over the fuselage and outer wing panels. Other aircraft have yellow, and red cowls, while the last one has a gold band around its cowl. Note the lack of fuselage insignia. (USAF via Gerry R, Markgraf)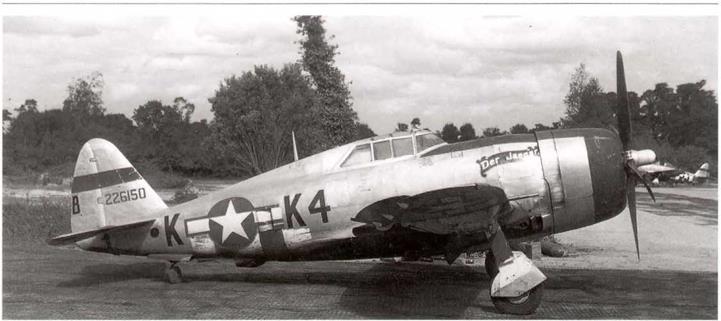 Republic P-47D-22-RE, 42-26150, aircraft K4-K of the 510th FS, 405th FG, Ninth Air Force, Seen in early August 1944 at the advanced landing strip A-8, Picauville, Normandy, Stripe across the tail is black and the nose cowl is in blue. The name "Der Jaager" appears to be in white on blue. (William L. Swisher)
c. FABRIC AIRCRAFT. – Liaison aircraft, helicopters, and gliders still require standard day camouflage. Other fabric covered aircraft and all control surfaces will be aluminized when recovering is necessary,
d. PARTS IN STOCK
(1) Aircraft airfoils and other exterior metal parts in stock need not have the camouflage paint removed.
(2) Fabric control surfaces in stock, or installed as replacements, need not be refinished for any color matching purposes.
e. PROPELLERS.
(1) Lustcrless black need not be applied to propellers unless required for antiglare purposes or corrosion resistance; however, the 4-inch yellow tip must be maintained as a safety measure. Repaired hollow steel blades from which any of the protective plating has been removed will be painted as outlined below, to protect against corrosion. Wood propellers will be painted black; how­ever, the 4-inch yellow tip must be maintained as a safety measure.
(2) If lusterless black is to be used for antiglare or corrosion resistance purposes, it will be accomplished by spraying the hub and each propeller blade while in a horizontal position, and retaining the propeller in this position until the paint materials have set. Over one light coat of zinc chromate primer, Specification No. AN-TT-P-656, one light coat black cellulose nitrate lusterless lacquer, will be applied and will extend to within 4 inches of the tip of the blade; this 4 inch tip section will receive one light coat of lusterless yellow lacquer. The propeller will then be checked for balance.
CAUTION Care will be exercised to mask any angular graduations on the propeller hub or blades. The space between the blade shank and barrel will be masked-off to prevent paint from contacting the seals.
(3) When necessary, three and four-blade metal propellers maybe lightly touched up between overhaul periods, while installed on the airplanes, Care will be exercised to apply proportionate amounts of paint to each blade to maintain proper blade bal­ance.
Douglas A-20G-30-DO, 43-9710, aircraft 7X-G of the 645th BS, 410th BG, seen at strip A-8 on August 9, 1944. Marking on the rudder is in black and white, code letters and nose cowls are in white, as is the name "Three" on the nose. Note how the invasion stripes have been painted over on the lop of the fuselage and wings. (William L. Swisher)