FABRIC AIRCRAFT
Liaison aircraft, helicopters, and gliders still require standard day camouflage. Other fabric-covered aircraft and all control surfaces will be aluminized when re-covering is necessary.
3. PARTS IN STOCK.
a. Aircraft airfoils and other exterior metal parts in stock need not have the camouflage paint removed.
b. Fabric control surfaces in stock, or installed as replacements, need not be refinished for any color matching pur­poses.
4. PROPELLERS.
a. Lusterless black need not be applied to propellers unless required for antiglare purposes or corrosion resistance; however, the 4-inch yellow tip must be maintained as a safety measure for propellers of 14-foot 11-inch diameter or less, whereas propellers of 15-foot diameter and over require a 6-inch yellow tip. Repaired hollow steel blades from which any of the protective plating has been removed will be painted as outlined below, to protect against corrosion. Wood propellers will not be painted black; however, the yellow tip must be maintained as a safety measure for propellers.
b. If lusterless black is to be used for antiglare or corrosion-resistance purposes, it will be accomplished by spraying the hub and each propeller blade while in a horizontal position, and retaining the propeller in this position until the paint materials have set. Over one light coat of zinc chromate primer, Specification No. AN-TT-P-656, one light coat black cellulose nitrate lusterless lacquer will be applied and will extend to within 4 inches of the tip of the blade; this 4 inch tip section will receive one light coat of lusterless yellow lacquer. The propeller will then be checked for balance.
CAUTION Care will be exercised to mask any angular graduations on the
propeller hub or blades. The space between the blade shank and barrel will be masked-off to prevent paint from contacting the seals.
c. When necessary, three – and four-blade metal propellers may be lightly touched up between overhaul periods, while installed on the airplanes. Care will be exercised to apply proportionate amounts of paint to each blade to maintain proper blade balance.
NOTE Where anti glare paint can be applied to all blades of a propeller assembly in proportionate amounts, propeller balance need not be accomplished. This is not to be interpreted as authorization for deletion of propeller balance at overhaul or any period during which balance is normally required.
5. PRECAUTIONS.
Due to the inflammability and toxicity of solvents used, the precautions outlined in T. O. Nos. 07-1-4 and 07-1-7 will be adhered to when painting or removing paint. When cleaning, precautions outlined in section III of T. O. No. 01-1-1 will be followed.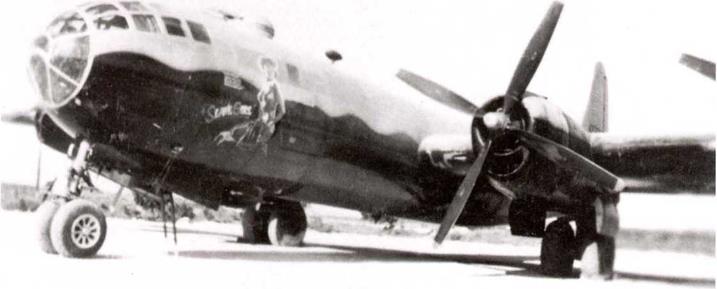 Boeing B-29-40-MO, 44-2734(7), aircraft named "Slave Girl", of the Twentieth Air Force seen in March, 1945. It is finished in the recent Jet 622 gloss black finish on all undersurfaces. (Robert Petrini)
SECTION II
AUTHORIZED AIRCRAFT FINISHES
6. JET 622 NIGHT CAMOUFLAGE.
a. GENERAL. – Special black camouflage paint, color designation "Jet No. 622," has been developed for use in minimizing visibility of airplanes at night. The estimated quantities of materials required will be found in table L
TABLE 1
METAL SURFACES FABRIC SURFACES
Lacquer, 2 coats over primer Dope Total Approx
Weight Increase
Fighter (P-40) 10 gal 2 gal 15 1b
Bomber (B-24) 30 gal 7 gal 45 lb
Requirements for other airplanes may be estimated from the preceding tabic.
Though of poor quality, this shows Boeing B-29s of the 39th BG, Twen­tieth Air Force, marked with the huge letter "P"on the vertical tail, on a mission over Japan in mid 1945. Note the open bomb doors. (Robert Petrini 1

Boeing B-29 of the 330th BG shows the huge letter "K" in a black square on the vertical tail. K-35 is marked on the outer side of the left hand engine, significance not known, but probably is the aircraft-in­group number. Mid 1945. (Robert Petrini)