Most helicopters flying today use simple rotating blades to get lift and control. A main rotating blade lifts the craft. The small blade at the tail helps the pilot to move the hel­icopter in different directions.
The tail blade does something else, too. It balances the twisting forces of the main blade. Without the tail blade the cabin of the helicopter would spin like a top.
Sikorsky Aircraft s ABC helicopter is shown in the photo below. The ABC does not have a tail blade. It has two main blades. One is placed above the other. These blades rotate in opposite directions. They balance each other and the cabin does not spin.
The ABC in the photo is flying over the Connecticut countryside. The tail with movable parts allows the pilot to change direction. This new tail feature gives the pilot greater control of the craft and offers improved maneu – ■ verability.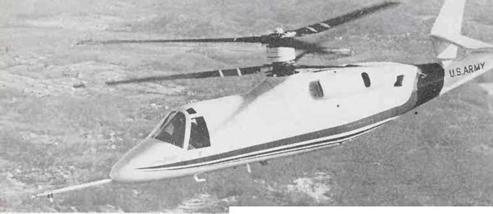 Sikorsky Aircrafts twin-turbine-powered S-76 shown above has a four-blade main rotor. No wheels can be seen in the photo. The wheels are retractable. The S-76 carries up to twelve passengers plus a crew of two. It has a maxi­mum cruise speed of 179 miles per hour and a range of 460 miles.
The instrument panel of the S-76 is shown below. IFR equipment is installed. The S-76 is equipped with com­munication and navigation aids for all-weather operation.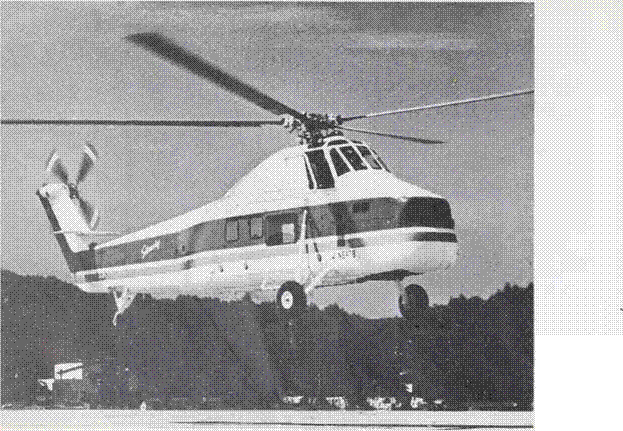 The Sikorsky S-58T—shown in the photos on this page—is a medium-lift helicopter. The S-58T above is heading for a drop zone on the shore in Jeddah, Saudi Arabia. The helicopter is carrying a load of cement from one of the ships waiting in the harbor. Helicopter unload­ing is being used because Jeddah's dock facilities are not adequate for the amount of shipping coming into the port.
The Sikorsky S-61 can carry thirty passengers plus its crew. This helicopter has a cruise speed of 140 miles per hour and a range of about 500 miles. Okanagan Helicop­ters in Canada and New York Airways in the United States put the S-61 to good use in passenger service.
The S-61 gives good reliable service. One of these trans­port helicopters operated by the Evergreen Company is shown landing on a drilling rig in the Gulf of Alaska. High winds, heavy seas, ice, rain, and snow are constant threats to operations in these waters.