WEATHER RECONNAISSANCE
In the Atlantic Ocean, the job of flying into the most vio­lent weather in the world is assigned to flying weathermen of the U. S. Air Force. These men are known as hurricane hunters. They fly Lockheed WC-130 Hercules aircraft.
The WC-130 shown in the photograph is on the ground at Ramey Air Force Base in Puerto Rico. The aircraft is a four-engine turboprop that can cruise at 350 miles per hour. The "W" denotes that it has been weather modified. This means that it is packed with special weather instru­ments.


Data for altitudes below the flight level are obtained by an instrument called a dropsonde, which is a collection of weather-sensing instruments in a small case. The drop­sonde being prepared in the lower photo opposite will be dropped from the WC-130 by parachute. The instrument readings are radioed back to the aircraft by a small trans­mitter in the dropsonde.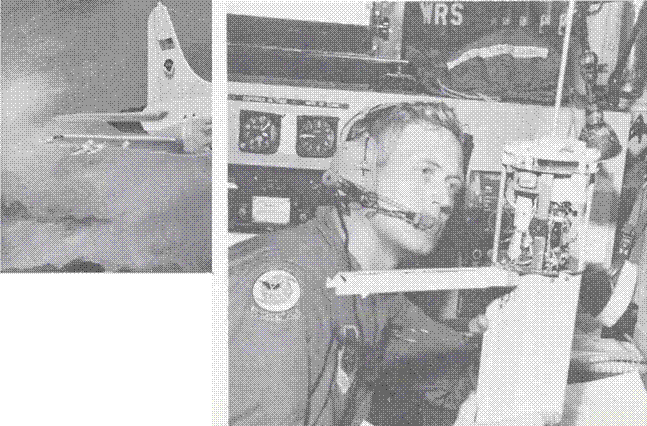 The WP-3D Orion shown above is a weather plane op­erated by the National Oceanic and Atmospheric Adminis­tration. Special weather-radar units are housed in its nose, in the large black blister below the fuselage, and in the tail. The WP-3D operates effectively from sea level to
30,0 feet. It can loiter at speeds between 200 and 260 miles per hour. Top speed for the WP-3D is about 460 miles per hour.