A BRIEF HISTORY
Scheduled commercial aviation began on April 6, 1926. On that historic day, the small Swallow biplane—shown in the photo below—lifted into the air at Pasco, Washington, and flew toward Elko, Nevada, 487 miles away. The cargo on board was sixty-four pounds of mail.
Interest in flying was high in the 1920s. People wanted to go along as passengers on the mail planes. The only space available for a passenger, however, was in the open cockpit along with the mail sacks!
The first airplane designed for passengers had a forward cabin. But the pilot flew in an open cockpit. Passengers are in the process of boarding the Boeing 40B-4 shown in the upper photo opposite. There was space for four passengers in the forward cabin area between the wings. The Boeing 40B-4 was in service in 1926. It soared along at 110 miles per hour.


The forerunner of the all-metal airliner was the sleek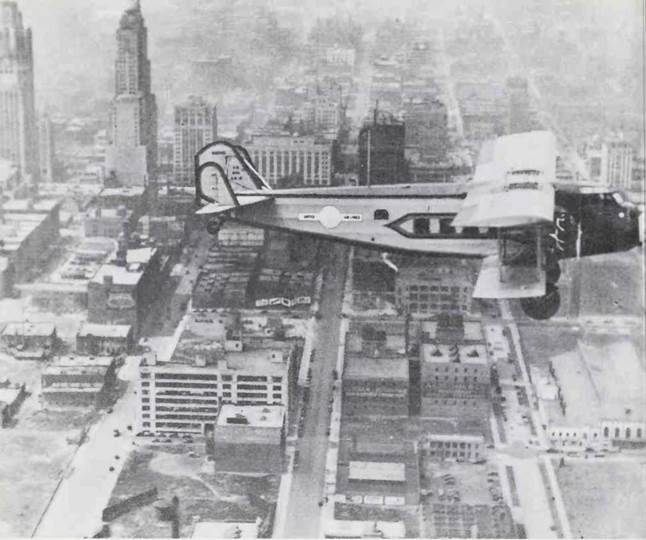 Boeing Monomail. This single-engine plane had cabin space for passengers just forward of the open cockpit. The Monomail—shown in the lower photo on page n— had re­tractable landing gear.
By 1930, the Boeing 80A, a tri-engine plane, was the last word in comfort. It featured cushioned seats and wide windows. Twelve passengers traveled in relative comfort between San Francisco and Chicago on the flight shown in the photo above.
In the photo, the Boeing 80A is flying just north of Chicago's Loop. The Chicago of today is quite different from the Chicago of 1930. But some familiar landmarks can be seen in the photo. In the background at the upper left you can see the Wrigley Building and Tribune Tower.
The first Douglas DC-3 was flown on December 17, 0.935. The DC-3 became the workhouse of the airlines. It was the first airliner capable of earning a profit carrying only passengers. The industry put these planes into service as fast as they could be produced. More than 10,000 DC – 3s were built and about 1,000 are still in service through­out the world.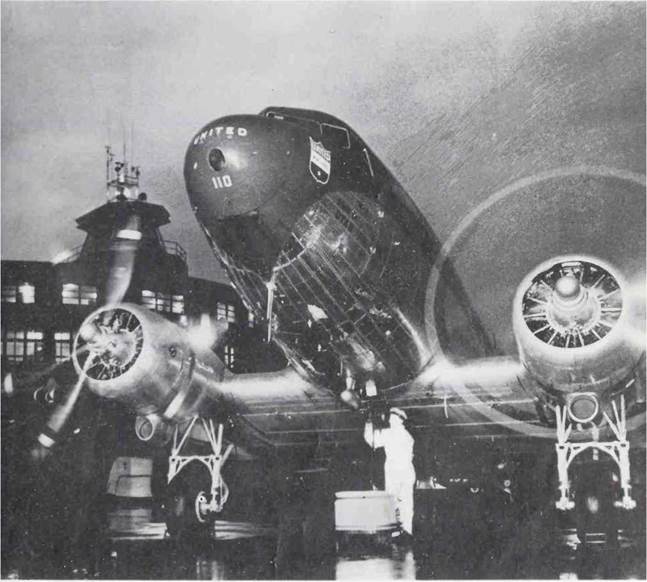 The DC-3 shown below was designed for twenty-one passengers. It has a wingspan of 95 feet and a length of almost 65 feet. A maximum speed of 230 miles per hour is developed at 9,000 feet. The DC-3's cruising speed is 155 miles per hour. It has a range of 1,300 miles and a service ceiling of 29,000 feet.