Romania
Advanced trainer/light attack aircraft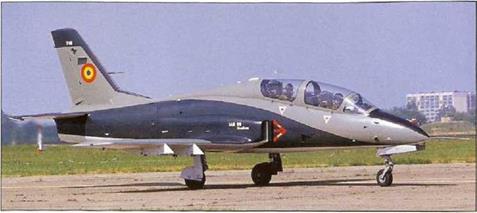 This is Avioane's IAR 99 Soim demonstrator aircraft a capable, cost-effective trainer which makes maximum use of new technology.
omania has a long tradition of aeronautical achievement, and it succeeded in maintaining an independent aviation industry Through the stag­nant years of Communist control – which ended with the 1989 'revolution'. In 19/5 the Institute de Aviatic (INAv) began work on what would become the first aircraft to be designed and built completely 'in country', the IAR-99 basic jet trainer. The project was formally launched in 1979, with the ambitious aim of replacing the Aero L-39 Albatros in Eastern European service. IAR-99 production was conducted by Avioane Craiova. Romania's only builder of fixed – wing military aircraft, which was founded (as lAv Craiova) in February 1972.
The IAR 99 is a conventionally-configured low-wing, single-engined trainer with a tandem seat layout. For attack training it can be equipped with a ventral GSh-23 23-mm gun pod, and has four undeiwing hardpoints. The prototype first flew on 1 December 1985 and two flying development aircraft were built. The first IAR-99 was equipped with a mix of UK and French-supplied avionics, but the political climate forced a change to less-sophisticated Eastern systems from the second aircraft onwards.
The IAR 99 proved to be an extremely reliable and user-friendly aircraft, with excellent handling
qualities. Deliveries of an initial batch of 20 began to the Romanian air force in 1988. Beginning in 1990, Avioane tried to develop a series of improved aircraft with Western avionics. An IAR 99 fitted with Honeywell avionics first flew on 22 August 1990, while a second demonstrator fitted with Collins systems flew on 7 November 1991. Avioane next collaborated with IAI on another upgraded version. This received the new designation IAR-109 Swift and made its maiden flight on 2 December 1993 – but only a single example was built.
Since 1996 Avioane has been developing the significantly enhanced IAR 99 Soim (falcon), in conjunction with Elbit. This version incorporates many of the advanced avionics systems applied to the Romanian MiG-21 Lancer upgrade, developed for the air force by Aerostar and Elbit, at Bacau. These include a MIL-STD 15S3B databus, Elbit modular multi-role computer, Flight Visions HUD, two cockpit colour MFDs, GPS/INS, integrated Elbit chaff/flare dispenser and the Eibit DASH helmet – mounted display system. In 1998 the Romanian air force ordered 24 Soims for delivery by 2004 (with a view to then upgrading its existing IAR 99s also), and Avioane is actively offering the type on the export market.
Specification: Avioane IAR 99 Soim Powerplant one (17 79-kN( 4,000-lb Rolls – Royce (licence-built by Turbomecanica) Viper 532-41M Viper turbojet Dimensions: wing span 9.B5 m (32 ft 3 in), length 11 m |36 ft 1 ini: height 3.8/ m (12 ft 9 in) Weights: take-off, dean 4330 kg (3,680 lb|; maximum take-off 5572 kg (12,285 lb); maximum payload 1000 kg (2,700 lb) Performance: maximum Icve speed 940 kmh (585 mph): service ceiling 17903 m (42,322 ft); maximum mission radius 1100 km (683 miles) Armament: centreline ooirt for podded 23-ТШ GSh-23 twin-barrelled cannon with 180 rounds, and up to 250 kg |550 lb) of stores on each of four underwing hardpoints