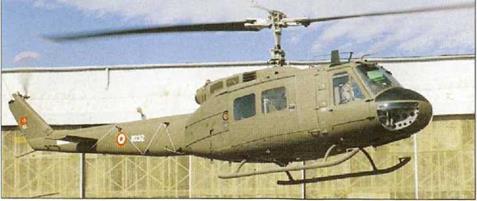 This Turkish army UH-1H is typical of the huge number of UH-1Hs that are still in miiitaiy service around the world.
erived from the Bell Model 204/UH-1 Iroquois, the improved Model 205 was first flown In August 1961. Retaining the existing T53 turboshaft, it introduced a larger-diameter main rotor, additional fuel capacity and a lengthened fuselage. Over 2,000 UH-IDs were built for the US Army, followed by the similar UH-1H, which introduced the uprated T53-L-13 engine. A total of 2,008 UH-1Ds and 3,573 UH-lHs were built for the US Army alone, and the type was exported to over 50 countries, With several thousand Model 205/UH-1Hs still in service, a number of companies offer modernisation and upgrade programmes. Bell Helicopter has developed the Huey II upgrade, which adds the uprated T53-703 engine and a new transmission system. The Huey II has been ordered by Colombia and more sales in South America are likely. Other UH-1 conversions include the Global Helicopter Huey 800. which completely replaces the T53 with an LHTEC T800-800 engine and UNC Helicopter's UH-1/T700, which adds the GE T700 engine.
The Model 212 'Twin Huey' is a twin-turbine UH-1 H, fitted with two PT6T-3 turboshafts driving a single shaft. Announced in May 1968, the 212 was launched with a Canadian order for 50 CH-135 aircraft. The USAF, USN and USMC acquired it as the UH-1N
and the Marines are now upgrading their aircraft to UH-1Y standard (in parallel with the AH-1Z Cobra upgrade). The UH-1Y will be fitted with an all-new four-bladed composite rotor system and new cock­pit systems. Italy's Agusta has built the Bell 212 under licence as the AB 212, and also developed a range of special missions versions. The most important of these is the shore-/ship-based anti­submarine variant, the AB 212ASW.
In 1978 Bell introduced the Model 412, Essentially similar to the Model 212 it featured an entirely new four-bladed main rotor system. The Model 412 has been built by Agusta as the AB 412 and by Indonesia's IPTN as the NB 412. Developed versions include the Model 412SP (Special Performance) with extra fuel and increased maxi­mum take-off weight; Model 412HP, with uprated transmission; and the Model 412EP (Enhanced Performance) powered by a refined PT6T-3D engine and fitted with a three-axis digital flight con­trol system. This is now the standard production model. In 1992 Canada ordered 100 aircraft, based on the Model 412EP, as the CH-148 Griffon
Since 1986 all Bell helicopter production has been undertaken in Mirabel, Quebec, by Bell Helicopter Textron Canada.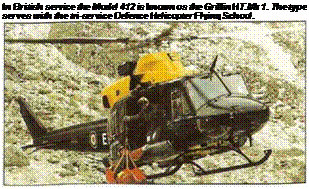 SPECIFICATION: Bell 412EP Powerplant: two 1342-kW (1,BG0-hp) Pro il & Whitney Canada РГ6Т-30 Turbo Twin-Pac turboshafts
Dimensions: таіп rotor diameter 14.02 m (46 ft); height, tail rotor turning 4.57 m (15 ft); length, rotors turning 17.12 m (56 ft 2 in)
Weights: empty, standard 3079 kg (6,769 lb): maximum take-off 5397 kg 111.900 lb); maximum external hook load 2041 kg (4,500 lb) Performance: max cruising speed, at sea level 226 kmh(KOnnph); hovering ceiling, in ground effect 311C m (10,200 ft) and 1585 m (5.200 ft) out of ground effect, maximum range, with no reserves 745 km (463 mrles|