EMBRAER Tucano, ALX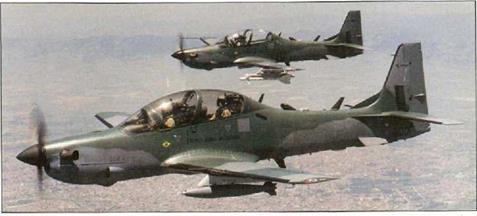 The ALX (service designation T-29/AT-29) is a radical evolution of the original Tucano design. Braid will use its aircraft to patrol the vasl Amazonian region.
evelopment of the EMBRAFR EMB-312 Tucano (Toucan) h:gh-performance turboprop trainer started in 1978 in response; to a Brazilian air force specification, First flown on 16 August 1980, the first of 133 T-27s for the FAB entered service in September 1983. Designed to provide s 'jet-like' flying experience, the Tucano has a single control lever governing both propeller pitch and engine throttling, ejection seats, and a staggered tandem – olace cockpit. Four underwing hardpoints can carry ordnance for weapons training.
Tucanos have been exported to Argentina (30), Colombia (14), Egypt (54), France (40), Flonduras (12). Iran (25), Iraq (84), Paraguay (6), Peru (30) and Venezuela (31). French Tucanos are the improved EMB-312F version, with an updated cockpit avionics fit. Venezuela operates an armed version of the T-27 trainer, designated AT-27.
I he Tucano's most notable export success came in March 1985, when it won a British order for 130 aircraft to replace the RAF's Jet Provost trainers. Considerable modifications were made to tailor the basic airframe to exacting requirements, including substituting an 820-kW (1,100-shp) Garrett TPE331- 12B turboprop – which significantly improved the rate of climb – and reprofiling the cockpit to provide
The Shorts Tucano T. Mk 1 became the RAF's basic trainer from 1987 onwards. All RAF training aircraft are being repainted in this overall black scheme.
commonality with the BAe Hawk, EMBRAER flew' a Garrett-engined prototype in Brazil in February 1986 and delivered this to Shorts in Belfast as a pattern aircraft. The resultant Shorts Tucano T. Mk 1 retains only 20 per cent commonality with EMBRAFR-built aircraft, The first production aircraft flew on 30 December 1986. and initial deliveries to the RAF took place in June 1988. Customers for the armed export Shorts Tucano include Kenya (12 Tucano Mk 51s) and Kuwait 116 Tucano Mk 52s) EMBRAER is currently building 99 ALX (T-29) light combat aircraft for the FAB, based on the EMB-314 Super Tucano (previously EMB-312FI Tucano H) design. The ALX is streiched by 1.37 m (4 ft 5% in) compared to the EMB-312 and fitted with a 1193-kW (1,600-hp) PT6A-68-1 turboprop. The ALX has an armoured, NVG-compatible cockpit with HUD and MFDs, five weapons hardpoints and a FUR system (two-seat version). Embraer flew a Tucano H development aircraft in September 1991. Two EMB-314 prototypes made their maiden flights on 15 May and 14 October 1993, respectively, and they now serve as the ALX development aircraft. Brazil plans to acquire between 30 and 40 two-seat AT-29s to replace its AT-26 Xavante (licence-built MB.326) advanced jet trainers.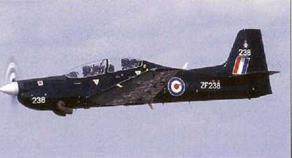 Specification: EMBRAER EMB-312 Tucano Powerplant: une 559-kVV (750-hp) Pratt & Whitney Canada PT6A-25C turboprop Dimensions: wring span 11.14 m (36 ч 6/ in); length 9.85 m (32 ft 4I4 in): height 340 m (11 ft YA in)
Weights: basic Empty 1870 kg (4.123 lb); max take-off 3175 kg (7,000 lb|. with stores Performance: maximum level speed 448 kmh (278 mph); maximum rate of climb at sea level 680 m (2,231 ft) per minute: service ceiling 9145 m (30,000 ft), typical range 11344 km (1,145 miles) with internal fuel; endurance about 5 hours with internal fuel Armament: four stores stations for maximum ordnance of 1000 kg (2.205 lb)
France (China) Multi-purpose helicopter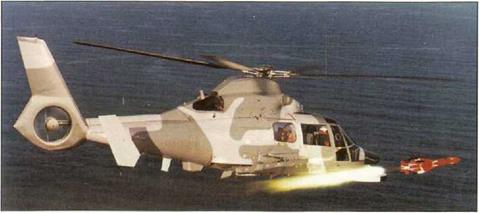 The armed AS 565SB Panther can cany four AS 15TT anti-ship missiles and is fitted with an undemose Omera ORB 32 search radar.
n the early 1970s Aerospatiale (now Eurocopter) began development of a helicopter to replace the Alouette III. The initial version, the SA 360 Dauphin, featured a four-bladed main rotor, fenestroo tail rotor, tailwheel landing gear and accommodation for a pilot and up to nine passengers. Production a:rcraft were powered by a 783-kW (1,050-shp) Astazou XVHIA. Despite the development of a military SA 361H, t was obvious that the Dauphin needed twin engines. The Arriel-powered SA 365C Dauphin 2 flew for the first time on 24 January 1975 The SA 365N introduced a retractable tricycle undercarriage, greater use of composites in the construction and other improvements.
Aerospatiale developed the SA 366G1 for a US Coast Guard requirement to replace its Sikorsky HH-52s. The HH-65A Dolphin featured many US – built components, including 507-kW (680-hp) Textron Lycoming LTS101 750A-1 engines. A Total of 101 HH-65As was delivered between 1987 and 1991.
Eurocopter went on to develop the improved AS 365IM3 Dauphin and the significantly redesigned AS 365N4 (now renamed the EC 155) Eurocopter has redesignated its military Dauphin variants on several occasions, leading to a confusing list of names and numbers. Today, two baseline versions are on offer, the army/air force AS 565UB Panther, and the armed navalised AS 565SB Panther. These designations supersede a range of earlier models including the armed AS 565AA, the anti­
tank AS 565CA. the utility AS 565UA, the armed naval AS 565SA (late' AS 565SB: and the naval utility/SAR AS 565MA (later AS 565MB).
Beginning in 1987 the Brazilian army took delivery of 36 AS 565AAs, becoming the ma|or customer for the land-based military Dauphin Interest in the nava' version (originally AS 365F) has been stronger. In 1980 the Saudi navy ordered four SAR/surveil – lance-configured AS 365Fs (later AS 565MA) and 20 missile-armed attack-configured AS 365Ns (later AS 565SA). In 1986 Ireland took delivery of five AS 365Fs for SAR and fisheries patrol. In 1988 the French navy ordered 13 AS 565Fs for shipboard operations. In 1994 the Israeli navy ordered 20 AS 565SA Atalef ('bat'} aircraft for a similar role.
The Dauphin is built under licence by the Harbin Aircraft Manufacturing Company (HAMC) in China, as the Z-9 Haitun ('dolphin'). The initial production Z-9 variant was equivalent to the SA 365N and it was followed by the Z-9A (AS 365N1), the Z-9B (AS 365N2) and the Z-9G (missile-armed version for the People's Liberation Army).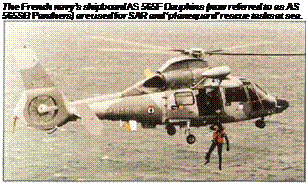 Specification: Eurocopter AS565SB Panther Powerplant: two 835-kW (851 – hp) Turbomeca Arriel 2C turboshafts
dimensions: main rotor diameter 11 .94 in (39 ft 7 ir), lengtn overall, rotor t jrnirg 13.68 m (44 ft lUM In); height overall 3.S8 m(13 't A in) Weights: empty 2281 kg (5.028 b); maximum take-eff 4250 kg (9.37C b)
Performance: maximum cruising speed at sea level 278 mill (173 mpb); maximum rate of ciimb at sea level 468 m (1,535 ft) per minute; hovering ceiling 2600 m (8,530 ft) IGE, and 2500 m (8,200 ft) 0GE, radius of action 2Б0 km (155) with four missiles Armament: four AS 15TT anti-ship missiles