Even though the first turboprops were entering service and using existing airports without any major problems, airline and airport planners wisely realized that the next generation of pure-jet airliners would require a host of new and improved airport features to
safely and effectively accommodate their operations. In addition to the obvious need for longer runways and safety overrun areas, the larger jetliners would require more ramp space for turning and parking, plus wider taxiways and runways to keep their outboard nacelles from hanging out over adjacent grass areas full of potentially engine-damaging debris.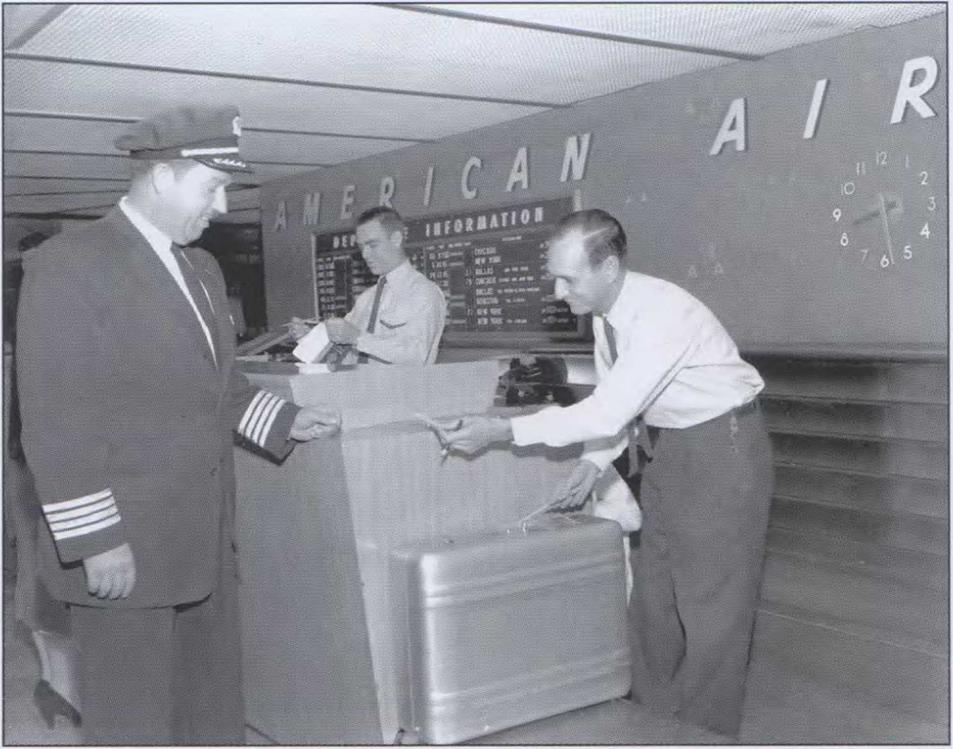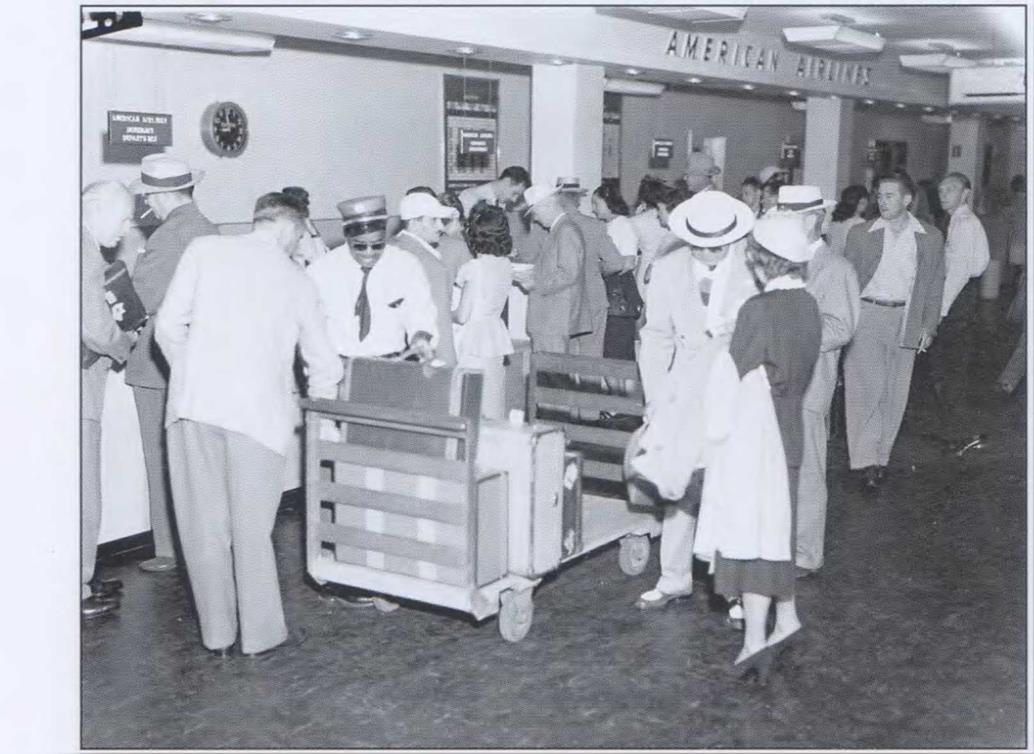 Nicely showing the evolution and progress in airport terminal design is this series of photographs depicting terminals at Los Angeles and New York International Airports. Passengers gather at the ticket counter at LAX in 1952. (Craig Kodera Collection)
Several years later, the terminals did not look all that different as this American Airlines Captain checks in at the ticket counter in February 1961. Type for flight information board in background was set by hand, one letter at a time! (Craig Kodera Collection)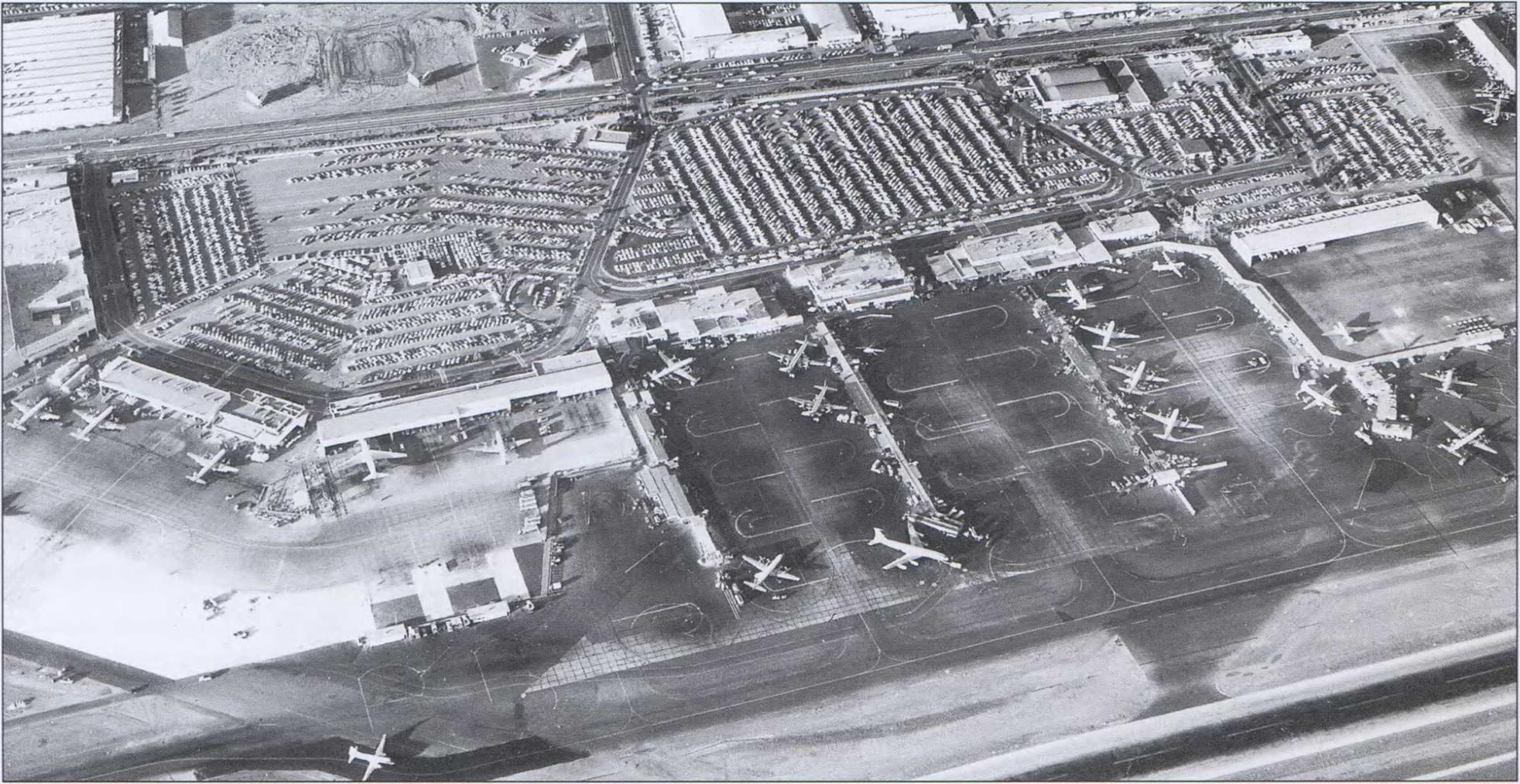 Overhead view of LAX in November 1959 shows the very beginning of the integration process as the new jets entered airline fleets. Note the position of the 707 parked at the end of one of the terminal fingers, away from the gaggle of propliners lined up at the original airport concourses. A United DC-8 can be seen parked under a main­tenance hangar overhang at lower left. (Craig Kodera Collection)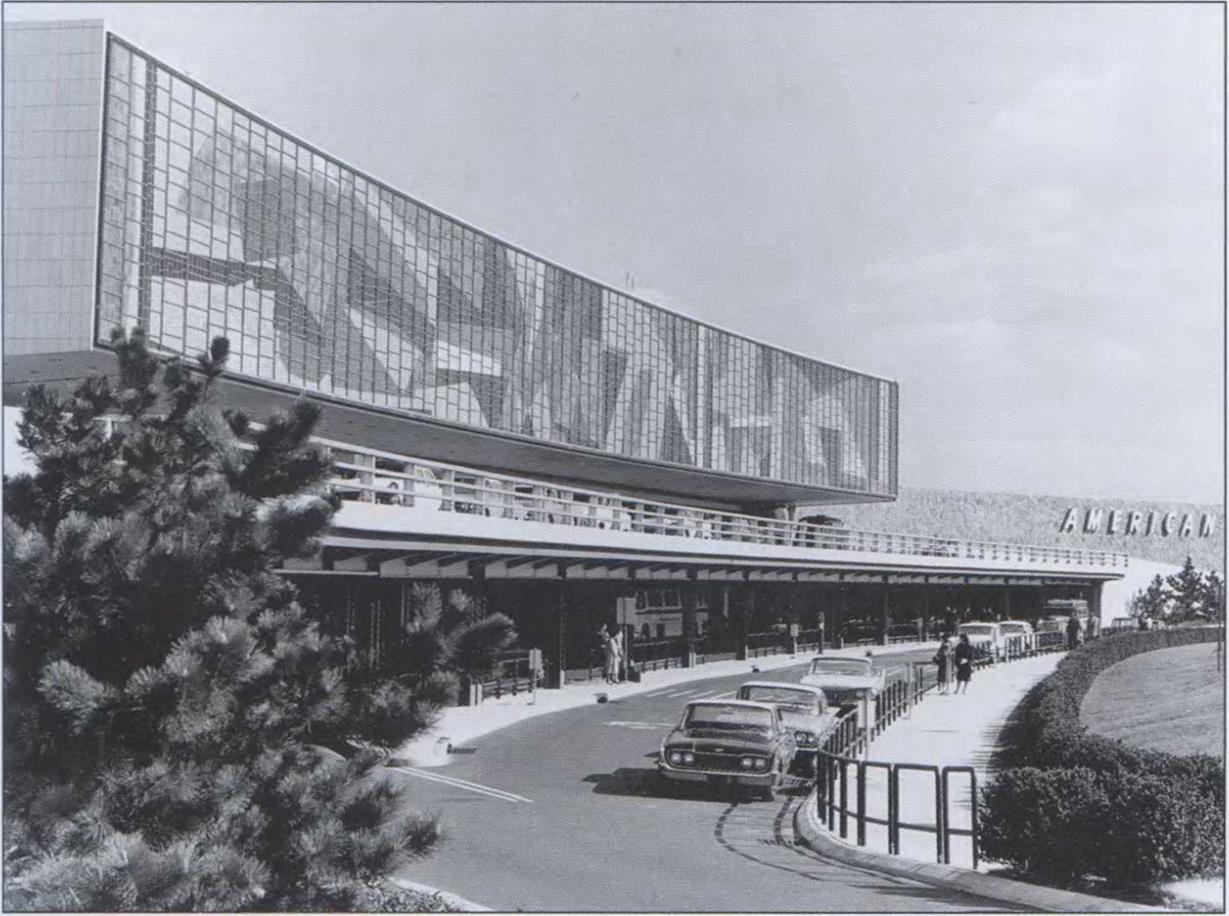 Newly designed airport infrastructure was also planned with novel features such as blast fences to keep ramp vehicles from being blown over by jet exhaust. Fully enclosed moveable "jet bridges" designed to shield passengers from the weather would be attached directly to terminal buildings, completely eliminating the need for passengers to be exposed to the elements. After all, it was rather hard to sell luxurious jet service when passengers were being drenched while walking
from the gate across a rain-soaked red carpet and up slippery metal boarding stairs to the airplane.
In anticipation of serving both the aircraft and passengers of the Jet Age, airline terminals themselves moved upscale. Large two – and even three-story com­plexes with floor-to-ceiling dark-tinted plate glass windows and arched or cantilevered roof structures were designed to replace simpler terminal buildings with their cinder-block walls, chain-link fences, and
Quonset-hut extensions. In most cases, this new modern look was referred to by the marketing forces of the day as being the "Airport of Tomorrow" to foster even more excitement at the thought of futuristic air travel by jet.
American Airlines' new terminal facade at New York's Idlewild Airport was the largest single-frame mosaic ever con­structed when it was finished in 1960. This structure, along with other inde­pendently constructed terminals for Eastern, United, Pan Am, and TWA comprised the "terminal city" concept at Idlewild. The terminal also featured separate upper and lower entrance roadways for departures and arrivals, respectively. (Mike Machat Collection)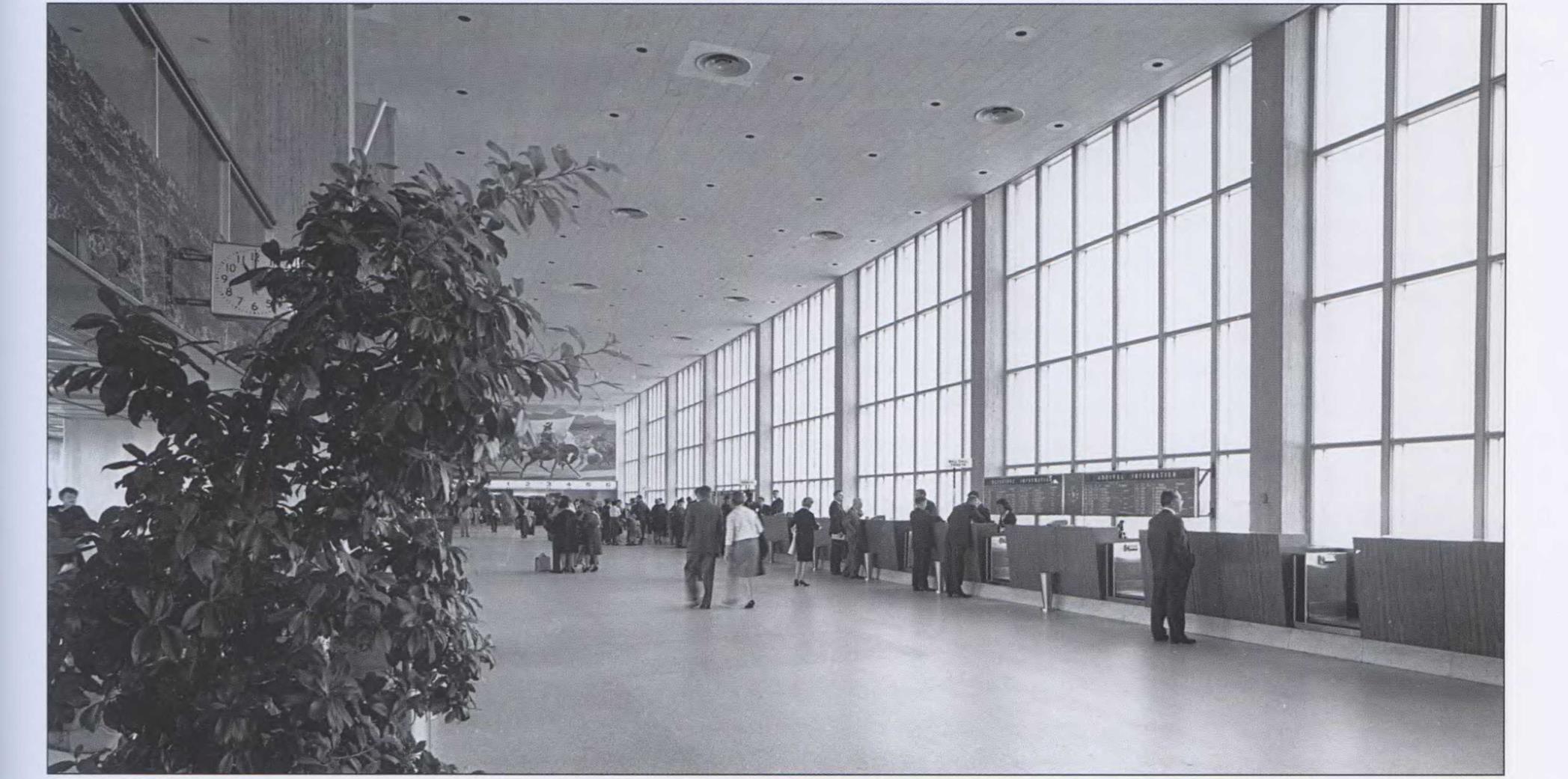 Inside the new terminal, a roomy grand concourse housed ticket counters and flight information, putting passenger boarding gates within an easy walk at either end. Aircraft nosed into the gates and were connected to the building by short enclosed jet bridges that kept passengers warm and dry at all times. (Mike Machat Collection)