When Buran swooped down to a safe landing on its Baykonur runway on 15 Novem­ber 1988, it marked the culmination of more than just the 12 years needed to take it to the launch pad since its official approval by a Soviet government and Communist Party decree in February 1976. Even by the start of the Buran program the Soviet Union possessed a rich database on high-speed aeronautics, gradually accumulated through four decades of work on rocket-propelled aircraft, intercontinental cruise missiles and smaller spaceplanes.
THE FATHER OF SOVIET SPACEPLANES
The first man in the Soviet Union to widely advocate the idea of winged spacecraft was Fridrikh Tsander. Born in 1887 in the Latvian capital Riga into an intellectual German family, Tsander became obsessed with the idea of space travel around the age of 20 and was one of the Soviet Union's most prominent popularizers of space exploration in the 1920s (with one of his lectures attended by Lenin himself in December 1920). Although inspired by the work of great spaceflight theoreticians like his compatriot Konstantin E. Tsiolkovskiy and the German Hermann Oberth, Tsander was convinced that the most practical way of reaching other planets was not with powerful and expensive rockets, but with winged vehicles. Tsander outlined his ideas in the journal Tekhnika і zhizn in 1924 in an article called "Flights to Other Planets'', openly taking issue with the ideas of Oberth and Tsiolkovskiy:
"For flight to the upper layers of the atmosphere and also for landing on planets possessing an atmosphere, it will be advantageous to use an aeroplane as a construction keeping the interplanetary ship in the atmosphere. Aeroplanes, having the capability of conducting a gliding descent in case of an engine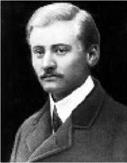 Fridrikh Tsander.
shutdown, are far superior to parachutes, proposed for the return to Earth by Oberth in his book "Rocket to the Planets".
Parachutes do not offer the possibility of freely choosing a landing site or continuing the flight in case of a temporary engine shutdown, and therefore it would be advisable to use them only for flights without people. The part of the rocket that is operated by a man, should be equipped with an aeroplane. For descending to a planet having sufficient atmosphere, using a rocket, as proposed by K. E. Tsiolkovskiy, will also be less advantageous than using a glider or an aeroplane with an engine, because a rocket consumes much fuel during the descent and its descent will cost, even if there is only one person in the rocket, tens of thousands of rubles, whereas descending with an aeroplane costs only several tens of rubles, and with a glider, nothing at all."
In this and other works Tsander expounded on the design of an interplanetary spaceplane that would reach space by using a combination of propeller, jet, and rocket engines. As the atmosphere got thinner, unneeded metallic components would move into a boiler to be melted into more rocket fuel. For propulsion during the interplanetary cruise, Tsander proposed screens or mirrors driven by solar light, early precursors of today's solar sails.