| | |
| --- | --- |
| Int. Designation | 1985-010A |
| Launched | 24 January 1985 |
| Launch Site | Pad 39A, Kennedy Space Center, Florida |
| Landed | 27 January 1985 |
| Landing Site | Runway 15 North, Kennedy Space Center, Florida |
| Launch Vehicle | OV-103 Discovery/ET-14/SRB BI-015/SSME #1 2109; |
| | #2 2018; #3 2012 |
| Duration | 3 days 1 hr 23 min 23 sec |
| Callsign | Discovery |
| Objective | First classified dedicated DoD shuttle mission |
Flight Crew
MATTINGLY, Thomas Kenneth, 48, USN, commander, 3rd mission Previous missions: Apollo 16 (1972); STS-4 (1982)
SHRIVER, Loren James, 40 USAF, pilot ONIZUKA, Ellison Shoji, 38, USAF, mission specialist 1 BUCHLI, James Frederick, 39, USMC, mission specialist 2 PAYTON, Gary Eugene, 36, USAF, payload specialist
Flight Log
This mission was originally to have been designated STS-10 and to have flown in January 1984. When it finally got to the launch pad as STS 51-C (originally designated STS-20), it was assigned to orbiter Discovery, rather than Challenger, which was suffering a rather disturbing tile problem. The assignment of Discovery to the mission caused a disruption to the 1985 Shuttle schedules. Although a classified military mission, press leaks resulted in most people knowing full well what the STS 51-C crew would be doing: deploying a geostationary electronic monitoring satellite on an IUS upper stage. It was also unique in that it carried the first military specialist passenger, Gary Payton, from a cadre of US Air Force Manned Space Flight Engineers, most of whom it was anticipated at the time would fly on later military Shuttle missions.
The launch of STS 51-C was delayed by one day by the coldest weather in memory at the KSC and was quite spectacular a day later at 14: 50 hrs. The countdown had not been announced until T — 9 minutes under new rules for military launches, although observers could tell it was in progress a lot earlier by seeing wisps of liquid oxygen coming off the ET. Discovery entered a 28.4° inclination orbit with a maximum altitude of 341 km (212 miles). Trouble with the IUS on the STS-6 mission had been the main reason for this mission's delay, and after the Acquacade ELINT (electronic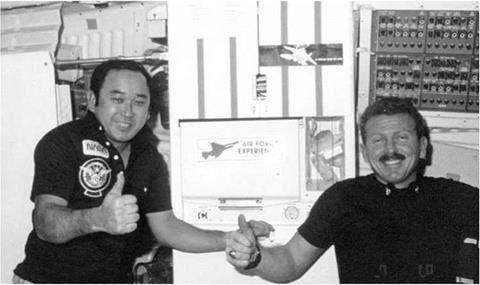 USAF astronauts Onizuka (left) and Shriver give the thumbs up during the classified STS 51-C mission
signals intelligence satellite) had been deployed, the IUS misbehaved again, its first stage thrust shortfall being made up by thruster firings.
Discovery also carried a blood flow experiment but little else was officially reported about the mission, which ended after the shortest five-crew flight of just T + 3 days 1 hour 23 minutes 13 seconds on runway 15 at the KSC.
Milestones
103rd manned space flight
46th US manned space flight
15th Shuttle mission
3rd flight of Discovery
1st US classified manned military mission
1st flight of a Military Spaceflight Engineer (MSE – Payton)
| | |
| --- | --- |
| Int. Designation | 1992-002A |
| Launched | 22 January 1992 |
| Launch Site | Pad 39A, Kennedy Space Center, Florida |
| Landed | 30 January 1992 |
| Landing Site | Runway 22, Edwards AFB, California |
| Launch Vehicle | OV-103 Discovery/ET-52/SRB BI-048/SSME #1 2026; #2 2022; # 3 2027 |
| Duration | 8 days 1 hr 14 min 44 sec |
| Call sign | Discovery |
| Objective | Operation of International Microgravity Laboratory 1 (IML-1) payload; fifty-five experiments devoted to space medicine and manufacturing utilising a Spacelab Long Module |
Flight Crew
GRABE, Ronald John, 46, USAF, commander, 3rd mission Previous missions: STS 51-J (1985); STS-30 (1989)
OSWALD, Stephen Scott, 40, civilian, pilot
THAGARD, Norman Earl, 48, civilian, mission specialist 1, payload commander, 4th mission
Previous missions: STS-7 (1985); STS 51-B (1985); STS-30 (1989)
READDY, William Francis, 39, civilian, mission specialist 2 HILMERS, David Carl, 41, USMC, mission specialist 3, 4th mission Previous missions: STS 51-J (1985); STS-26 (1988); STS-36 (1990)
BONDAR, Roberta Lynn, 46, civilian, Canadian payload specialist 1 MERBOLD, Ulf Dietrich, 50, civilian, ESA payload specialist 2, 2nd mission Previous mission: STS-9 (1983)
Flight Log
As Discovery landed at Edwards AFB in California at the end of the IML-1 mission, the crew were told that their mission had provided a preview of both space station operations and the kind of international cooperation that would be part of future space exploration. As a new Russia emerged from the turmoil of the break-up of the Soviet Union, the Freedom Space Station was itself struggling to survive. But there was a glimmer of hope in the potential cooperation of the Russians in the future programme. However, there was still much to be done on Earth before any hardware would fly in space, but the mission of STS-42 and the first flight of the International Microgravity Laboratory had demonstrated that such cooperation was feasible.
The international crew of IML-1 pose for the traditional in space "star-burst" portrait inside the Spacelab module. At top centre is MS Hilmers, and clockwise are commander Grabe, MS Readdy, ESA PS Merbold, payload commander Thagard, pilot Oswald and Canadian PS Bondar. The rotating chair used often in biomedical tests is partially obscured in the centre of frame
Both the launch and landing of Discovery passed without incident, apart from a one-hour delay to the launch to evaluate indications of power surges from one of the fuel cells. With the vehicle cleared for launch, and safely on orbit just over an hour later, Shuttle operations in 1992 opened with one of the most successful Spacelab missions of all. With the crew operating in two shifts for round-the-clock activity (Red – Readdy, Hilmers, Merbold; Blue – Grabe, Oswald, Thagard, Bondar), opera­tions primarily focused on the adaptation of the human nervous system to low gravity and on the effects of microgravity on other life forms. These included shrimp eggs, lentil seedlings, fruit fly eggs and bacteria. There was also a programme of materials processing experiments, including crystal growth from a range of substances such as enzymes, mercury iodide and a virus. The secondary payloads carried included twelve GAS canisters attached to a GAS Bridge Assembly in the payload bay. This contained numerous US and international experiments, ranging from materials processing to investigations into the development of animal life in weightlessness.
The IML experiment programme was a cooperative effort between the space agencies of the United States (NASA), Europe (ESA), Canada (CSA), France
(CNES), Germany (DARA) and Japan (NASDA). The GAS experiments also origin­ated from multiple countries (Australia, China, Federal Republic of Germany, Japan, Sweden and the United States). There were also two student experiments flown, as well as the IMAX large-format camera and a package of on-going small mid-deck experiments. In all, over 200 scientists from sixteen countries participated in the flight and investigation programme.
Though minor problems occurred, they were all overcome with no adjustments to the flight plan, nor loss of science results. On 24 January, the Mir space station passed within 39 nautical miles of Discovery and the crew reported that the sunlight reflecting off the station looked as bright as planet Mercury when seen after sunset from Earth. On board Discovery, Thagard observed the Russian space station that he would live aboard just three years later. Towards the end of the flight, mission managers concluded that the crew had conserved their consumables so well that they would be able to stay an extra day in orbit to continue their science experiment programme.
IML-1 was the first of a series of four or five such flights that were envisaged over a ten-year period (one flight every two years), dedicated to the study of life and materials sciences and providing important data for planning and executing follow-on research on Space Station Freedom. Such was the success of IML-1 that the prospect of international cooperation on Freedom looked assured, even if the programme itself was floundering due to complexity and cost. Ironically, the revised ISS programme would signal the demise of Spacelab missions due to limited resources. The IML series was reduced from a ten-year programme to just two missions.
Milestones
147th manned space flight
75th US manned space flight
45th Shuttle mission
14th flight of Discovery
1st flight of IML configuration
5th flight of Spacelab Long Module
Readdy celebrates his 40th birthday in space (24 Jan)
Hilmers celebrates his 42nd birthday in space (28 Jan)
1st female Canadian in space (Bondar)