Israel intends to double range of flight F-35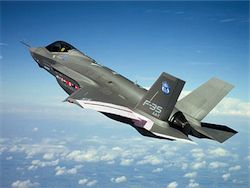 The American Defense News edition reports that signed recently Israel and Lockheed Martin concern the contract on modification of a configuration of F-35 planes includes not only use of the Israeli fighting systems, but also increase in range of flight.
Referring to employees of concern the edition argues that Israel asked to inspect technological feasibility of a task of equipment of planes by additional fuel tanks with invisibilities function preservation for a radar.
The Israeli military pilots expressed confidence that war industry of Israel as a result will find the way "hide" from a radar planes in the additional fuel tanks which are essentially changing an external configuration of the plane.
The edition also reports that, unlike other buyers, Israel obtained permit to carry out the current operational repair in the territory forces of the Air Force technical services. For this purpose in the Nabatim Air Force base territory in Negev the new center of maintenance is created.
Other countries will be obliged to send planes for repair on Lockheed Martin plants.