Talibs assumed responsibility for death of Oat-flakes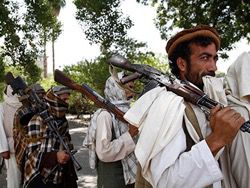 Movement "Taliban" assumed responsibility for death of the American Oat-flakes S-130 plane in Afghanistan. About it reports Yahoo News.
The representative of Talibs Zabiulla Mudzhakhid declared: «Our Mujahideens brought down the four-motor American plane near Jalalabad. On reliable information, 15 interventionists and some soldier of puppet forces» were lost.
In NATO did not confirm that movement "Taliban" is involved in an event. Representatives of alliance reported that cannot call the cause of accident yet, however noted that around aircraft falling they have no data on presence of Talibs. Earlier "Taliban" repeatedly declared destruction of planes of a coalition, arguing that Washington and its allies hide the losses.
The transport Oat-flakes S-130 plane broke at take-off from the airport of Jalalabad soon after midnight local time (22:30 Moscow time on October 1). 12 people, including 10 being onboard were lost. Five of them were crew members and the military personnel of VS of the USA. Five more – passengers (civil contractors). Two more – local civilians, Afghans, during failure they were on the earth and were lost at a plane crash.
Civil contractors worked in NATO mission on training and consultation of the Afghan security forces.
C-130 "Oat-flakes" were widely applied, in particular, in military operations in Iraq and Afghanistan. The plane is used for transportation of the personnel and bulky goods. It is equipped with four turbo-propeller engines. Onboard C-130 can be transported to 72 equipped soldiers.