1995
JANUARY 17 The 17th Airlift Squadron becomes the first Air Mobility Command (AMC) unit equipped with the C-17 Globemaster III and placed on active duty.
JANUARY 19 At Yokota Air Base, Japan, the 374th Airlift Wing begins humanitar­ian missions to assist earthquake victims in southwestern Honshu.
FEBRUARY 1-20 In Panama, Operation safe passage unfolds after Cuban refugees riot in their camps and C-5 Galaxy, C – 141 Starlifter, and C-130 Hercules air­craft transport 7,300 passengers back to Guantanamo Bay, Cuba.
FEBRUARY 3 At Cape Canaveral, Florida, Air Force colonel/astronaut Eileen M.
Collins becomes the first female space shuttle commander during a mission on the Discovery.
FEBRUARY 7 Over Nellis Air Force Base, Nevada, a Northrop B-2A Spirit makes the first live bomb drop as part of a Red Flag exercise.
February 3-10 In Haiti, eight C-141 Starlifters transport 300 Nepalese troops as part of UN peacekeeping force there.
MARCH 5 At Malmstrom Air Force Base, Montana, Russian arms inspectors arrive to monitor the destruction ofMinuteman II intercontinental ballistic missiles (ICBMs). Their visit is in accordance with terms of the recent Strategic Arms Reduction Treaty (START II).
MARCH 10 The 11th Space Warning Squadron is the first unit able to detect launching ballistic missiles in a given the­ater, and warn battlefield commanders of their approach.
MARCH 16 At Keflavik, Iceland, the 56th Rescue Squadron dispatches an HH-60 Pave Hawk helicopter to save three skiers marooned by a sudden blizzard.
MARCH 24 At Vandenberg Air Force Base, California, Air Force technici ans launch the last remaining Atlas E booster rocket; it hoists a satellite into polar orbit.
MARCH 31 At Barksdale Air Force Base, Louisiana, Lieutenant Kelly Flinn becomes the first female bomber pilot in the U. S. Air Force when she commences training with the 11th Bomb Squadron, 2nd Bomb Wing.
April 8 In Sarajevo, Bosnia, as Operation provide promise continues, a C-130
transport is hit 12 times by small arms fire from the ground.
April 27 The Air Force Space Com­mand (AFSPACECOM) declares the Global Positioning System (GPS) opera­tional. This device provides accurate geo­graphical coordinates for both navigation and guided bomb delivery purposes.
May 8-11 In Louisiana, a deluge of rain results in Air National Guard units rescu­ing thousands of flood victims over a two-day period.
May 10-17 In Kinshasa, Zaire, trans­ports of the 60th and 349th Airlift Wings deliver several tons of medical supplies in the wake a deadly Ebola virus outbreak in Central Africa.
May 25-26 Over Bosnia, NATO high command commits aircraft strikes against Serbian artillery emplacements shelling Sarajevo, Bosnia. Air Force F-16s drop precision-guided munitions on gun emplacements while Marine Corps jets bomb Serbian ammunition dumps near the town of Pale.
JUNE 1 At Palmdale, California, the Dark Star Tier III Minus high-altitude unmanned aerial vehicle (UAV) is rolled out by Lockheed Martin and Boeing.
June 2-3 At Dyess Air Force Base,
Texas, pair of B-1B Lancers flown by Lieutenant Colonel Doug Raaberg and Captain Gerald Goodfellow fly around the world in 36 hours, 13 minutes, and 36 seconds. Raaberg's plane also sets an official speed record of 631.16 miles per hour. En route, the bombers refuel six times, and drop bombs on three ranges on three continents and in two hemispheres; air crews win the Mackay Trophy.
June 2—7 Over Banja Luka, Bosnia, an F – 16C flown by Captain Scott O'Grady is shot down by Serbian antiaircraft fire. He spends six days evading capture by subsisting on insects and rainwater.
June 22 In Washington, D. C., Air Force Secretary Sheila E. Widnall declares that Beechcraft will develop the Joint Primary Aircraft Training System (JPATS), a modified Swiss Pilatus PC-9 turboprop aircraft that will replace aging Cessna T – 37Bs and Beech T-34Cs.
June 27—July 7 The Lockheed Martin F-22 Raptor prototype, an advanced air superiority fighter, begins construction.
June 28 In Washington, D. C., the Smithsonian Institution puts the B-29 Enola Gay on public display, in a factual and straightforward exhibit, devoid of political correctness.
June 30-AuGUST 10 In Croatia, Opera­tion quick lift unfolds as Air Mobility Command (AMC) C-5 Galaxies and C – 141 Starlifters transport British and Dutch peacekeepers.
July 7-AUGUST 5 In Washington, D. C.
, the Department of Defense declares that the C-17 Globemaster, whose spotty performance record threatened it with cancellation, has since been re­paired to the effect that the Air Force is now willing to purchase 120 of the giant craft.
July 8 This day the Minuteman III inter­continental ballistic missile (ICBM) achieves 100 million hours of operational duty.
July 23 In Byelorussia, a C-5 Galaxy from the 433rd Airlift Wing conveys 20 tons of medical supplies, blankets, clothes, and other supplies to alleviate economic deprivation there.
July 29 At Nellis Air Force Base, Nevada, the 11th Reconnaissance Squad­ron is activated as a UAV unit and equipped with the Tier II Predator for operational testing purposes.
July 31 At Whiteman Air Force Base,
Missouri, the 351st Missile Wing deacti­vates its final Minuteman II missile.
AUGUST 13 A C-5 Galaxy of the 60th Air Mobility Wing delivers 75 tons of food from Germany to Croatia to feed victims of the recent civil war there.
AUGUST 17 The E-8C joint surveillance target attack radar system (JSTARS) begins final flight-testing. These will replace pre-production models that saw extensive and successful service during the 1991 Gulf War.
AUGUST 20—21 At Ramstein Air Base, Germany, a C-5 Galaxy flies to Zagreb, Croatia, to assist refugees of the ongoing civil war.
AUGUST 25 At Edwards Air Force Base, California, a B-52H piloted by Captain Russell F. Mathers arrives from Barksdale AFB, Louisiana, setting a world record of 549.45 miles per hour over a 6,200-mile course. They were airborne for 11 hours, 23 minutes.
August 25—29 In Kuwait, 11 new C-17 Globemaster Ills of the 315th and 437th Airlift Wings haul 300 tons of troops and equipment; this is also their first major exercise as an operational unit.
AUGUST 31 Over Sarajevo, Bosnia, Air
Force, Navy, Marine Corps, and NATO warplanes attack Serbian targets, including
air defense systems, ammunition dumps, and equipment storage facilities. A 24- hour suspension of aerial activities then ensues to encourage peace negotiations with recalcitrant Serbian leaders.
September 1 The Air Combat Com­mand (ACC) reactivates its remaining SR-71 Blackbird reconnaissance aircraft to resume missions previously handled by satellites.
September 5 In Bosnia, peace negotia­tions between NATO and Serbian leaders break down, and air strikes of Operation
DELIBERATE FORCE resume in full fury
against remaining targets.
September 6 Over Bosnia, an Air Force F-16C from the 23rd Fighter Squadron destroys a Serbian SA-6 radar site with a combination HARM (High-Speed Anti­Radiation) Targeting Pod System and an AGM-88 missile.
SEPTEMBER 7 Over Bosnia, Air Force and NATO warplanes deliver six strike packages against integrated targets, including six bridges and one chokepoint.
September 8 In northwest Bosnia-
Herzegovina, Operation DELIBERATE FORCE begins planning additional strike packages using standoff missiles against the Serbian integrated air defense system (IADS).
SEPTEMBER 9 Over Bosnia, three strike packages are flown against Serb targets using HARM missiles and 2,000-pound GBU-15 precision-guided glide bombs.
September 10 In northwestern Bosnia,
Air Force, Navy, Marine Corps, and NATO forces use Tomahawk Land Attack Missiles (TLAM), HARM, and other standoff ordnance to strike down Serbian antiaircraft defenses. Other sorties support UN positions near the Tulza airport that are being shelled.
At Eglin Air Force Base, Florida, the C-130 Hercules dubbed First Lady, which was the first production model accepted into the Air Force back in 1955, is finally retired as a museum exhibit.
SEPTEMBER 11 Over Bosnia, Operation
DELIBERATE FORCE continues with four
strike packages planned and delivered under favorable weather conditions. Reconnaissance efforts are also increased to provide accurate bomb damage assess­ments (BDA).
September 14 Serbian factions final­ly come to terms with UN negotia­tors, and the NATO commander orders a halt to all aerial offensive operations in Bosnia.
SEPTEMBER 14—30 In Hanoi, Vietnam, transports of the Air Mobility Command (AMC) deliver 30 tons of medical sup­plies; this is the first American military
visit to Vietnam since the war ended in 1975.
September 15-21 Throughout the eastern Caribbean, Air Force, Reserve, and National Guard transports are mobi­lized in the wake of Hurricane Marilyn to bring relief aid. C-17 Globemaster IIIs also perform their first disaster relief effort.
SEPTEMBER 20 In Bosnia, Operation DELIBERATE FORCE formally concludes, having forced tough and professional Serb forces from their positions with air power alone.
SEPTEMBER 22 At Elmendorf Air Force Base, Alaska, an E-3B AWACS jet crashes on takeoff when two geese are ingested by the engines; all 24 crew members are killed, including 2 Cana­dians. This is also the first AWACS acci­dent in 18 years of operation.
September 30 Castle Air Force Base, California, and Plattsburgh Air Force Base, New York, both former Stra­tegic Air Command (SAC) bases, are closed down. The 93rd Bombardment Group, the first Air Force unit to operate B-52s, also deactivates after 47 years of service.
OCTOBER At Marietta, Georgia, the first C-130J Hercules, an advanced technol­ogy version, rolls off the assembly line; this is instantly recognizable by its six – bladed propellers.
OCTOBER 1 Chief Master Sergeant Carol Smits becomes the first woman selected as senior enlisted adviser in the Air Force Reserve.
At Shaw Air Force Base, South Carolina, the Air Combat Command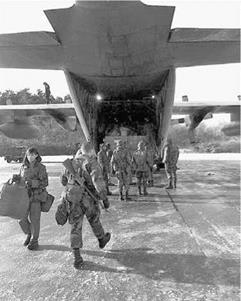 These troops are in Bosnia in support of Operation Joint Endeavor. Operation Joint Endeavor is apeace­keeping effort by a multinational Implementation Force (IFOR), comprised of NATO and non-NATO mili­tary forces, deployed to Bosnia in support of the Dayton Peace Accords. (U. S. Department of Defense for Defense Visual Information)
activates the 609th Information Warfare Squadron.
OCTOBER 16—17 In the Gulf of Mexico, the 53rd Weather Reconnaissance Squadron dispatches aircraft to search for survivors of a Mexican pipe-laying barge that sank during Hurricane Roxanne. A single crewman is spotted and his location is relayed to the Coast Guard, who ulti­mately rescue 23 people.
October 28-December 18 In Bah­rain, Operation VIGILANT SENTINEL unfolds as F-16Cs of the 20th and 357th Fighter Wings deploy quickly and en masse. This is also the first test ofthe air expeditionary force concept.
NOVEMBER 1 At Wright-Patterson Air Force Base, Croatian, Bosnian, and Serbian delegates meet to conclude a for­mal peace agreement. These are all former states of the by now defunct Yugoslavia.
NOVEMBER 2 Lieutenant Colonel Greg Feest is the first Air Force pilot to acquire
1,0 hours of flight time in the F-117A Nighthawk stealth fighter.
DECEMBER In Washington, D. C., New World Vistas, a forecast of air and space technology, is unveiled by Dr. Gene McCall of the Air Force Scientific Advi­sory Board (SAB). This study was com­missioned by Secretary of the Air Force Dr. Sheila Widnall and Air Force Chief of StaffRonald R. Fogleman.
December 6 In Bosnia, Operation joint endeavor commences as Air Mobility Command (AMC) C-130 transports from the 37th Airlift Squadron deliver American peacekeeping troops and equipment. They arrive in anticipation of a comprehensive peace treaty previously arranged at Wright-Patterson Air Force Base.
December 20 In Washington, D. C., the levels have dipped below the 400,000
Air Force declares that its manpower level for the first time since 1948.