Desert Shield and Desert Storm
Just fifteen days after Iraq invaded Kuwait, two U-2s arrived at King Fahad Royal Saudi Air Base (RSAB).
One aircraft, 80-1070, was equipped with Senior Span – a system for uplinking data from the Siglnt collection systems to satellites, which then relayed the data across the globe. The other aircraft was equipped with SYERS –
Above and below The dorsal mounted pod houses a small dish antenna, enabling data to be transmitted to virtually any spot on earth, thanks to satellite relay. During the recent Balkan Wars, this development, known as Senior Span, integrated with Senior Glass (a combination of Senior Spear and Senior Ruby) enabled effective use to be made of all communications intelli­gence to a hitherto unattainable level. (Lockheed Martin)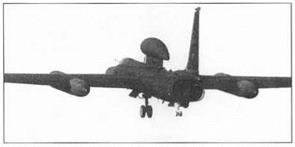 the Senior Year Electro-optical Relay System. This system, developed by Itek, utilises a long focal length camera of 110 inches, with Cassegrain or folding optics technology, to focus an image on a 10,240 clement, Charged Couple Device (CCD). This digitised image, like ASARS, is then downloaded, in near-real time, to a ground station. On 19 August, both aircraft conducted their first operational missions near the Kuwait border. Four days later, two TR-ls arrived at King Fahad RSAB, from RAF Alconbury and on 29 August the first ASARS mission was flown. The new operating location at King Fahad was initially known as Location CH (Camel Hump), this was later redesignated 1704th Reconnaissance Squadron (Provisional) and was a component part of the 1700th Strategic Wing (Provisional). Ground stations for SYERS – codenamed Senior Blade, and for ASARS – know'n as TADMS – TR-1 ASARS Data Manipulation System, were located in a compound of the US Training Mission at Riyadh, where they were joined by stations to support RC-135 Rivet Joint Elint aircraft and J-STARS.
A fifth U-2R (another SYERS equipped aircraft) arrived
on 11 October, having been despatched from Osan AFB, South Korea.
From mid September, Iraq began launching MiG-25s in response to the U-2 border flights and henceforth they were provided with an F-15 MiG-Сар. The high level of systems integration derived from SYERS and ASARS ensured that within 10 minutes of a target being imaged by either system, its co-ordinate were available to the Theatre Air Control Centre. Indeed the system worked so well that when coalition attacks began, the nine U-2s (which soon became twelve) were virtually high altitude Forward Air Control (FAC) platforms detecting the posi­tions of SA-2, SA-3 and AAA sites as well as 'Scud' missiles.
When the ground war began on 24 February, a TR-1 provided an hour-by-hour image 'commentary' of precise Iraqi front-line armour and troop movements, thereby contributing directly to the speed of the coalition advance. In all, the 1704th RS flew 260 missions, totalling over
2,0 hours. It was calculated that they had provided 50 per cent of all imagery intelligence and a staggering 90 per cent of the Army's targeting requirement.