Air Combat Over Leningrad
t the beginning of September 1941, the spearheads of the German Army Group North had reached the outer defense perimeter of Leningrad. These forti­fications became constant targets for Stukas and bomb­ers conducting low-level attacks. To the east of Leningrad, at Schlusselburg, on the southern shore of Lake Ladoga, the German Sixteenth Army managed to cut off Leningrad's last land connection with the rest of the Soviet Union.
Meanwhile, the Bf 110 Zerstorer of ZG 26 contin­ued their air-base attacks to suppress the reviving Soviet air activity. Early on September 5, the detachment from 13IAP/KBF stationed at Nizino, southeast of Leningrad, had just received orders to dispatch an attack against enemy troops at the Volosovo railway station, when the Zerstorem of ZG 26 struck the airfield once again. Petr
Brinko, newly promoted to Kapitan, and his wingman managed to take off before the bombs started to fall. The two 1-16s went after what appeared to be the German leader, but they were immediately attacked by four other Bf 110s. Turning against them, Brinko's wingman man­aged to shoot down one of the Bf 110s.
At this point more Soviet fighters got airborne. Kapitan Brinko fired at several Bf 110s but failed to score any decisive hits. Having finally run out of ammu­nition, he decided to taran one of the enemy aircraft. With a sharp turn, he placed himself on the tail of a Bf 110, pushed the throttle forward, and the propeller of the 1-16 chewed into the twin tail of the Zerstorer. In the next moment, the Bf 110 fell away. Brinko's own fighter was still flying, but the engine started to shake rather disquietingly, so he switched it off and made a relatively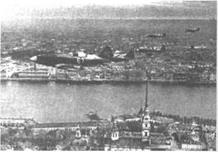 safe landing at Nizino. This was Brinko's twelfth victory. ZG 26 registered three Bf 110s shot down this day.1
The next day, September 6, II./JG 52 lost one of its most successful fighter aces, the Staffelkapitan of 5./JG 52, Oberleutnant August Wilhelm Schumann, credited with a total of thirty victories. It is possible that Schumann was shot down by the MiG-3 pilot Mladshiy Leytenant Afanasiy Okhvat of 159 1AP, who followed a Bf 109 that he had shot down too low in a dive from which he could not recover. Okhvat's MiG-3 crashed and the pilot was killed.
On the same day, Oberleutnant Johannes Steinhoff, commanding 4./JG 52, brought down two Soviet air­craft. Steinhoff had been awarded the Gruppe's first Knight's Cross a week earlier, when his victory score stood at thirty-five.
On September 8, Oberfeldwebel Heinrich Hoffmann of IV./JG 51 scored his fifty-fourth and fifty-fifth victo­ries against two SBs.2 These were Hoffmann's last victories on the Leningrad front, for his unit was returned to the central combat zone.
On the night of September 8-9, Luftflotte 1 launched its first major raid against Leningrad in accordance with Hitler's instruction to "level Leningrad to the ground." At 1855 hours, twenty-seven Ju 88s started dropping 6,327 incendiary bombs, which caused 183 individual fires, of which the largest were in the Badayevo warehouses, in which Leningrad's entire sugar reserve of 2,500 tons was set ablaze.
A second raid followed, at 2235 hours.
These raids were the first of several hun­dred to be mounted against Leningrad.
Even if the bomber forces available were considerably smaller than those engaged against London the previous year, the Germans made a great effort to destroy Lenin's city from the air. The German historian Karl Gundelach, who flew an He 111 in KG 4 during the war, wrote:
"Frequently, the crews are launched twice a night against Leningrad."3
Most Luftwaffe raids against Leningrad were limited to the hours of darkness. This was mainly the combined result of the heavy antiaircraft concen­
tration in the area and new reinforcements brought in to the VVS during September, including seven fighter avia­tion regiments to bolster 7 IAK.
The most successful Soviet fighter unit over Leningrad during this stage of the war was 13 ІАР/ KBF, which still flew 1-16s. Following the death of Kapitan Aleksey Antonenko in July, 13 LAP's Kapitan Petr Brinko had emerged as the top ace on the Soviet side.
The air combat over and in the vicinity of Leningrad was some of the harshest during the war on the Eastern Front in 1941, claiming the lives of several of the most skillful airmen on both sides. On September 9 the Staffelkapitan of 5./JG 54, Oberleutnant Hubert Miitherich, was shot down and killed near Leningrad. With forty-three victories to his credit, including thirty – three Soviet aircraft, "Hubs" Miitherich was the most successful Staffelkapitan of JG 54 at that time. On the Soviet side, Starshiy Leytenant Mikhail Bagryantsev, one of the most promising young pilots in 5 ІАР/KBF, was killed in combat when his LaGG-3 was bounced from above by a Bf 109 Rotte. During another encounter that day, 191 LAP's Mladshiy Leytenant Yegor Novikov was reported to have driven off two German fighters that attempted to machine-gun a Soviet fighter pilot hanging in his parachute harness.
On September 9 and 10, the units of Luftflotte 1 carried out more than eight hundred sorties, mainly against the Leningrad defense lines. On the tenth, four 1-16 pilots from 191 1AP engaged a large formation of Ju 87s and Bf 109s, claiming six victories without loss. Counted among the downed Stuka airmen was Gefreiter Erich Peter, a newcomer in 3./StG 2 Immel – mann, who had achieved considerable success during his first month of first-line service. Peter survived but was seriously injured. On the Soviet side, another air com­bat on September 10 cost the life of one of the most skillful VVS aces in this area, Starshiy Leytenant Aleksey Storozhakov of 154 1AP, who had been cred-
Starshiy Leytenant Aleksey Storozhakov, an ace in 154 IAP with eight personal and three shared victories, was among several Soviet airmen killed in combat on the Leningrad sector on September 10,1941. With the onset of the German offensive against Leningrad, the air war in this combat zone increased in intensity, resulting in a heavy bloodletting in the WS units. One single fighter Eskadrilya, the mainly LaGG-3-equipped 2./5 IAP-KBF, registered eleven fighters shot down and eight pilots killed, missing, or injured during the sixteen-day period from September 8 to September 23,1941. (Photo: Novikov.)
Stefan Litjens was one of the most experienced veteran pilots in ll./JG 53 Рік As in 1941. He was shot down on September 11,1941. He survived but lost his right eye, which did not deter him from returning to first-line service a year later. After gaining another fourteen victories in four months during his second combat tour, Litjens was shot down again, and sustained an injury to his left eye, which forced him to withdraw from first-line service. (Photo: Salomonson.)
The main attack by the German Army commenced on September 11 with ground troops advancing into the breaches created by Luftflotte 1 bombers undertaking 478 sorties. Soviet pilots were brought into constant action from dawn to dusk. The LaGG-3 pilots of 5 LAP/ KBF carried out ten to fourteen combat sorties each on September 10 and 11.
The combined efforts of both air forces on Septem­ber 11 resulted in costly air combat, with JG 54 claiming

seventeen Soviet aircraft shot down, against three losses.4 L1I./JG 27 alone recorded nine victories, including four by Oberfeldwebel Franz Blazytko. But these successes could not outweigh the loss of one of the most outstanding pilots of this Gruppe, Leutnant Hans Richter. Having achieved his twenty-second kill, Richter was attacked from behind by an 1-16. His comrades heard his cry over the radio:
"My engine is hit! I'll try to force-land!"
The crippled Messerschmitt went down, caught some treetops, and immediately burst into flames. Hans Richter must have died instantly. Oberfeldwebel Stefan Litjens, an ace in II./JG 53 with twenty – four victories, was shot down and badly wounded by another 1-16 on the same day. His injuries cost this daring pilot his right eye. Five 1-16 pilots of 191 IAP/7 IAK claimed a major success during a combat with Ju 87s south of Leningrad, reporting nine Stukas shot down, including two each by Mladshiy Leytenants Yegor Novikov, Ivan Grachyov, and Vladimir Plavskiy, and one by Leytenant Nikolay Kuznetsov.3 Only one Ju 87 loss can be found in the Luftwaffe records.
To the south on this busy September 11, 7./JG 54 clashed with a formation of MiG-3s, possibly from Mayor Konstantin Gruzdyev's crack 402 1AP, in the vicinity of Staraya Russa. Leutnant Max-Hellmuth Ostermann, who had been awarded with the Knight's Cross for his twenty – nine victories one week earlier, claimed two Soviet planes, while a Soviet fighter pilot shot down Ostermann's friend, Leutnant Peter von Malapert. It took von Malapert's captors less than twenty-four hours to persuade the young Leutnant to join their side. Shortly afterward, aircraft from the DBA dropped hundreds of leaflets over JG 54's base with a personal appeal from Leutnant von Malapert to surrender.6
During another encounter on September 11, Kapitan Petr Brinko, of 13 1AP/KBF, claimed an Hs 126 recon­naissance airplane, his fourteenth. The next day, Brinko bagged a Ju 88. Two days later, Brinko set out against a German observation balloon, from which artillery was being directed. Brinko hit the balloon's basket with a salvo of RS rocket projectiles, but his Ishak suddenly
received a direct antiaircraft hit and crashed into a power line, killing the pilot. Petr Brinko was the highest-scoring Soviet ace at the time of his death.
At this point, multiple demands along the entire front line placed a heavy strain on all Luftwaffe units. Having breached the first Soviet defense line around Leningrad, the Ju 87s of StG 2 Immelmann were shifted to the Novgorod area, north of Lake Ilmen, where the North­western Front launched repeated diversionary attacks. On September 14, Hauptmann Emst-Siegfried Steen, the commander of IlL/StG 2, scored a direct hit on the large railway bridge over the Volkhov River at Novgorod, the main Soviet supply line in this sector.
The next day, the Stukas were rushed to the north again, because air reconnaissance had spotted three large supply ships bound for Leningrad on Lake Ladoga. Each vessel carried a thousand tons of wheat. StG 2 appeared before the grain had been unloaded and sank two of the ships.
On September 16, StG 2 was sent out over the Gulf of Finland, where heavy Soviet warships were bombard­ing the German troops outside Leningrad. As he led thirty Ju 87s, Hauptmann Steen spotted the battleship Marat off Leningrad. He immediately radioed an attack order
and commenced diving. The crew of the Marat was caught totally unaware. Before the antiaircraft guns could open fire, a 500-kilogram bomb struck the ship. The Marat steamed into the naval fortress island of Kronstadt to be repaired. Meantime, intercepting Soviet fighters claimed to have shot down four Ju 87s and one Bf 109 escort. StG 2 and JG 54 each registered one loss.
Responding to calls from the ground troops exposed to intensified Soviet air raids, especially the German spear­head and supply columns on the Leningrad-Luga high­way south of Krasnogvardeisk, Major Johanns Trautloft decided to shift his JG 54 from escort missions to fighter sweeps over the Leningrad combat zone on September 17. The evening entry' in the combat diary of 7./JG 54 notes: "A really successful day."7 One pilot of this Staffel, Feldwebel Karl Kempf, brought home five victories, his nineteenth through twenty-third. Leutnant Max-Hellmuth Ostermann and Unteroffizier Johann Halfmann claimed another two MiG-3s. That day, Soviet ace Mladsbiy Leytenant Yegor Novikov, of 191IAP/7 IAK, was killed in action over the Krasnoye Selo area. He possibly fell prey to Ostermann or Halfmann.
Friday, September 19, was one of the worst days experienced by the inhabitants of Leningrad. The Luftwaffe launched at least six raids against the city it­self, between 0814 and 2300 hours. Soviet fighters and antiaircraft artillery claimed seventeen German bombers shot down, whereas the Kampfgeschwader of Fliegerkorps I recorded two Ju 88s lost, StG 2 lost three Ju 87s, and ZG 26 lost a Bf 110.s On the ground, 442 people were killed or injured when a hospital was hit by two bombs. Two days later, another German bombing raid hit the destroyer Steregushchiy in Kronstadt.
Meanwhile, the declining number of serviceable Ger­man fighters and the increasing demands from the Stukas and Ju 88s for escorts to counter the stiffening Soviet fighter resistance left the VVS in control of the skies over the Leningrad battlefield.
On September 22 Major Trautloft visited the army front lines. Suddenly a soldier next to the JG 54 com­mander cried: "Achtung! Tiefflieger at ten o'clock! Take cover!" Trautloft and the artillery officers dived for the ground as two sections of 1-16 fighters came roaring in at treetop level, spraying the German trenches with ma­chine-gun bullets. Unhurt but covered with mud, the shocked German fighter commander spontanously exclaimed: "Where in hell are our fighters?"9 Just so!
The experience of weathering the plight of the German soldier on the Eastern Front had caused Trautloft him­self to express one of the most common questions in the German language on the Eastern Front during World War 11.
Not least due to the relentless VVS strafing attacks, the Red Army managed to force Hitler to abandon his plans to capture Leningrad. General Erich von Manstein, one of the ablest German Army commanders, who had led LYT Panzer Corps through the Baltic states, was posted to the south to assume command of the German Elev­enth Army for the assault on the Crimea. Panzergruppe 4 and Fliegerkorps VIII were transferred from the Leningrad front to the central combat zone, where they were intended to participate in the upcoming offensive against Moscow'.
Another major cause for the German setback was the bombardment from the warships of KBF based in Kronstadt. To neutralize this threat once and for all, StG 2 Immelmann remained in the northern combat zone until the end of September.
Loaded with 1,000-kilogram armor-piercing bombs, StG 2 took off for Kronstadt at 0845 on September 23. Intense antiaircraft fire, "virtually blackening the entire sky," according to Oberleutnant Hans-Ulrich Rudcl of IlI./StG 2, met the dive-bombers and their escorts as they approached at 15,000 feet flight altitude. While attacking the cruiser Kirov, Hauptmann Steen's Ju 87 received a direct hit and crashed into the water just beside the ship. Nevertheless, the remaining Stuka pilots defied all opposition and pressed home their attack. Oberleutnant Lothar Lau, the StG 2 technical officer, dove straight against the battleship Marat and managed to place his bomb directly on the deck, causing a huge fire. Another bomb caused the ammunition of the 30.5cm forward turrets to explode, with the result that the entire forecastle was blown off the great ship. Next, Oberleutnant Hans-Ulrich Rudel scored a direct hit, caus­ing an enormous explosion that put the 23,600-ton battle­ship out of action for several months. And Leutnant Egbert Jaekel scored a direct hit on the flotilla leader Minsk, causing it to sink. Apart from this, the destroyer Steregushchiy and submarine M-74 were sunk, while other bomb hits damaged the battleship Oktyabrskaya Revolutsiya and the destroyers Silnyy and Grozyashchiy.
As they turned away from the antiaircraft zone after the raid, the German planes were intercepted by large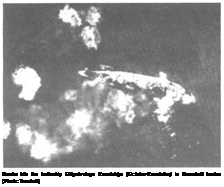 formations of Soviet fighters. In the ensuing dogfight, the Soviet pilots claimed ten enemy aircraft shot down, " but 13 OIAE/KBF lost two pilots killed and one wounded. Soviet antiaircraft batteries claimed another five German planes destroyed, but German loss statistics note that six Luftflotte I aircraft were shot down on September 23, 1941—two Ju 87s, two Ju 88s, one Bf 109, and one Bf 110. On the other hand, JG 54 reported seventeen victories this day.
The Battle of Leningrad had reached a decisive point, requiring the last resources of both sides. On September 24, Leytcnant Vasiliy (iolubev and Mladshiv Leytenant Dmitriy Tatarcnko, the only pilots remaining of the group of six from 1 З OIAE that had been stationed on Komendantskiy Airfield in Leningrad eight days earlier, each carried out eight sorties. Led by Starshiy Leytcnant Aleksandr Avdcyev. a formation ol fighter-bombers from 153 1AP fell upon an enemy motorized column on the eastern outskirts of Leningrad and shot up more than ten vehicles.
With the Germans making only slight progress out­side Leningrad, the main effort of the VVS was shifted to the area south of bike Ilmen, where the Northwest­ern Front was tied up in a desperate fight to defend the main supply route from Moscow. On September 24 at least forty-one Soviet aerial attacks were mounted against the 8th Panzer Division, forcing it: to retreat.
Countering these air at tacks, 11L/JG 27 suffered yet
another heavy loss on September 25: "Ratas and ground-attack aircraft were attacking," wrote Hans Ring and Werner Girbig in the chronicle of JG 27. "The Gruppe is airborne to meet the enemy. As the Messerschmitts land following this combat, Oberfeldwebel | Franz 1 Blazytko is missing. Later, it was found out that this outstanding airman and victor in twenty-nine aerial combats had fallen into Russian captivity."11 The Soviet fighter pilot Vasiliy Golubev describes what most likely was Franz Blazytko's last fight. On September 25, Leytcnant Mikhail Klimenko led two 11-2 Shturmoviks (the only aircraft remaining of an entire ShAP) on a ground-attack mission in the Ivanovo area. Fighter protection w as pro­vided by the "last two" Ishaks, which w'ere piloted by Leytenant Vasiliy Golubev and Mladshiv Leytenant Dmitriy Tatarenko, of 13 OIAE/ KBF. The Shturmoviks flew – at treelop level, with the I – 16s positioned roughly a thousand feet above them as top cover. Suddenly four Bf 109s fell upon them.
The German fighters split into Rotten, one attacking the fighter cover and the other going after Klimenko's Ilyushins. Mladshiy Leytenant: Tatarcnko was presented with an easy target as the latter Bf 109s came diving just beneath him. The first burst from his guns was a direct hit. The leading Bf 109 never pulled out of its final dive and hit the ground.
Having seen their leader shot down, the three remaining Messerschmitts left the Il-2s and turned against the I-16s. A sudden AAA barrage saved Tatarenko and Golubev. Meanwhile, the Shturmoviks were able to reach the target area and started attacking. This was enough to persuade t he German fighter pilots to disengage and leave the scene as fast as they could. The antiaircraft guns, however, were not altogether a blessing to the Soviets. Leytcnant Klimenko's 11-2 received a near-miss and later belly-landed in friendly territory'.12
While the Soviets strengthened the defenses in the northern combat zone day by day, the return of Fliegerkorps VIII to Luftflotte 2 considerably weakened the striking capacity of the Luftwaffe in the northern combat zone. The last unit scheduled to leave the Leningrad area was StG 2, u'hich in the meantime con­tinued to appear daily over Kronstadt from September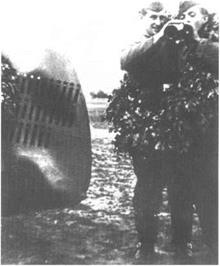 25 to September 28. Hauptmann Ernst Kupfer, of I./StG 2, displayed an almost fanatical determination to destroy the Soviet naval vessels during these final raids. After Kupfer scored a hit on a cruiser on September 28, his Ju 87 was attacked by Soviet fighters. His airplane was badly shot up and he made a forced landing at the fighter airfield at Krasnogvardeisk. A few hours later,
Kupfer returned to Kronstadt in another Ju 87. This time, his aircraft was hit by AAA and he had to make a second forced landing. On his third mission against the same target that day, Kupfer's Stuka received a direct hit in the engine. The dive-bomber crashed in a forest, and the pilot and radio operator were seri­ously injured. Two months later, Ernst Kupfer was awarded the Knight's Cross, and following eight surgical operations, the stubborn Stuka pilot returned to front-line service and flew a total of six hundred dive-bomber missions before he was finally killed in a flying accident. Fol­lowing the shift of II./JG 53 from Luftflotte 1 to Luftflotte 2, the entire responsibility for fighter cover in the northern combat zone fell to Major Johannes Trautloft's JG 54 Grunhcrz.
Thus the last daylight bombing raid against Leningrad was carried out on September 29. During a combat between I-153s and I1I./JG 54 over Leningrad on September 30, Major Trautloft lost one of his most able Gruppenkommandeure,
Hauptmann Arnold Lignitz, of I1I./JG 54, victor in twenty-five engagements. It is believed that an RS-82 rocket fired by an 1-153 hit Lignitz's Bf 109. Lignitz bailed out and was taken pris­oner, but he did not survive his captivity; he became one of the hundreds of thousands of victims of the German hun­ger blockade against Leningrad during the coming winter.
According to Hans-Ekkehard Bob, who flew as an Oberleutnant with JG 54 in 1941, combat morale remained "sky high" among the Griinhcrz pilots. On the first day of October, Oberleutnant Wolfgang Spate, the Staffelkapitan of 5./JG 54, knocked down two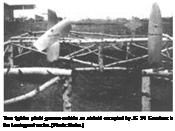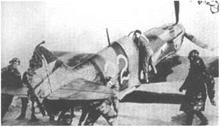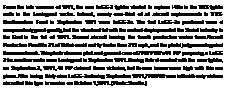 Philipp and Spate stood at the peak, closely followed by Leutnant Josef Pohs, who had forty-three, and Hauptmann Franz Eckerle, Oberleutnant Max-Hellmuth Ostermann, and Oberleutnant Hans-Ekkehard Bob, each with thirty-seven.
Stubborn air combat over Leningrad continued daily for the next two and a half years. From July to Septem­ber 1941, the Soviet fighter pilots assigned to the defense of Leningrad were credited with the destruction of 333 German aircraft.
The airmen of General-Mayor Aleksandr Novikov's WS-Northwestern Zone had put up an impressive dis­play while almost being bled white. During the first stage of the war there were more self-sacrificing cases of taran in this area than in any other sector. According to VVS statistics, 2,692 Soviet aircraft had been lost in the North­western Zone by September 30, 1941.
With a growing emphasis placed on the defense of other sectors, the Stavka had allocated only limited replacements to the air units in the North­western Zone. In spite of numerous losses, WS-North western Front had received only 450 replacement aircraft by the end of September, including approximately 100 Il-2s and 90 LaGG-3s. Having regis­tered a total of 1,283 combat losses (in­cluding 749 in the air and with an addi­tional 211 aircraft receiving serious battle damage by September 30), WS-North – western Front was reduced to the equiva­lent of only slightly more than a Diviziya, mustering a mere 191 aircraft on Sep tember 22, 1941." In 7 1AK/PVO, the number of pilots went down from 445 on July 1 to only 88 on October I. M Con­trary to the buildup taking place in the central combat zone, there were obvious signs of withering combat morale among the Soviet airmen in the Leningrad area during the fall of 1941. Due to accumu­lated losses during three months of unre­mitting combat activity, and with fight­ing spirit diminishing among the surviv­ing airmen, no fewer than eleven avia­tion regiments of W'S-Leningrad Front had to be with­drawn from combat for rest and refitting during Septem­ber. Two complete Aviadivizii, 2 BAD and 41 BAD, were virtually annihilated by the end of the month.