HQ Allied Expeditionary Air Force proposes "Invasion Stripes" be discontinued immediately, July 1944
On July 6, 1944, HQ Allied Expeditionary Air Force sent SHAEF Forward HQ a request that the provisions of SFLAEF Operation Memo.
No. 23 for distinctive markings be suspended effective (hat date. The request continued:
Recommend that no further aircraft be given the distinctive markings and that markings already on aircraft be allowed to fade out and not be renewed. If suspension approved request that all Army and Navy Commanders be instructed to inform all troops particularly gun crews that henceforth they can expect to see friendly aircraft without distinctive markings and that absence of the markings can no longer be accepted as an indication that aircraft are hostile.
In response, SHAEF Forward, signed Eisenhower, sent the following signal to ANCXF, Main EXFOR, on July 9, 1944:
With reference AEAF signal A-124 dated 6th July, 1944. As distinctive markings reduce speed and add to maintenance of aircraft it is desired to suspend SHAEF Operation Memorandum No. 23. Advise earliest date by which you can inform all concerned so that the Memorandum can be canceled from that date. AEAF state it is impracticable to remove markings from all aircraft on one date. National markings remain unchanged.

Northrop P-61A-5-NO, 42-5563, of the 422nd or 425 th NFS, Ninth Air Force, on August 12,1944. It is now marked only on the lower wing and boom surfaces, in accordance with the latest SHAEF orders. (March AFB Museum)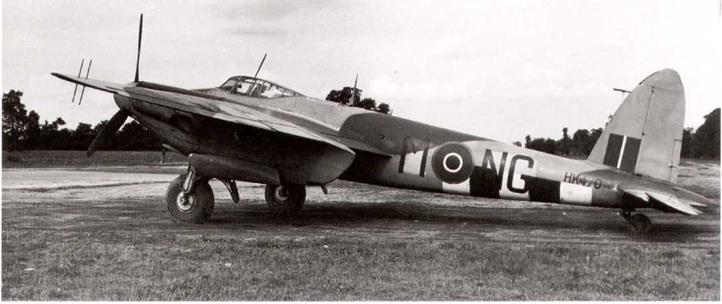 De Havilland Mosquito NF Mk. XVII night fighter, HK470, of 604 Sq, RAF, thal dropped into strip A-8. Picavilte, France, on August 13,1944, It shows how the stripe markings had been removed from the top of the wings and fuselage. This was done to decrease the aircraft's vulnerabil­ity to enemy gunnery spotters overlooking these strips close to the front line in Normandy. (William L. Swisher)
This signal was followed up by another dated July 30,1944, from the same source, sent to EXFOR, 12 Army Group. This read as follows:
1. Operation Memorandum number 23 refers.
2. Proposed to retain distinctive aircraft markings on the fuselage only and allow markings on the wings to fade out naturally. This to apply only to those aircraft that operate in immediate battle areas.
3. Propose following classes of aircraft do not carry distinctive markings:
a. Coastal Command aircraft.
b. Shore based Fleet Air Arm aircraft, (unless based in FRANCE.)
c. 8th Air Force fighter aircraft. (These aircraft do not operate in close support of the Armies.)
d. Fighter aircraft employed exclusively in anti-CROSSBOW operations. (Attacks against V-l sites in Europe – au­thor).
e. High altitude photo-reconnaissance aircraft.
f. Gliders.
4. Request your concurrence or comments by 030900B.
EXFOR MAIN responded on July 31,1944, stating that:
Ref. your signal of 302025B. Subject distinctive markings on aircraft. Proposal agreed.

Noorduyn UC-64A-ND, 43-5363, carrying very low stripes on the bottom of the fuselage. Note that the large fuselage insignia is actually more visible than most of the stripes. Seen at strip A-8, Picauville, Normandy on August 13,1944. (William L. Swisher)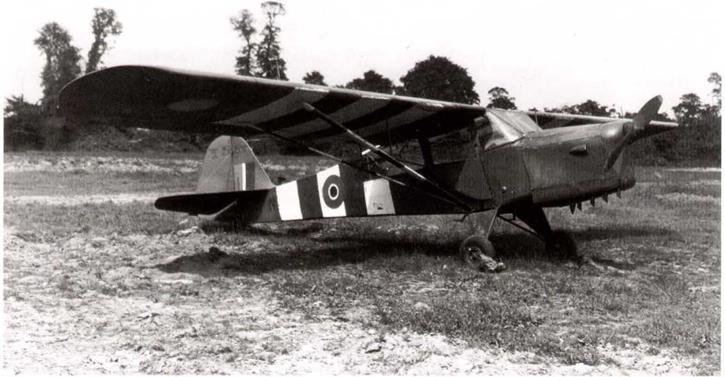 RAFTaylorcraft Auster, serial number N????, overpainted. Unit unknown, but it is carrying the full-size invasion stripes. Seen at strip A-8, Picauville, Normandy, on August 14,1944 (William L. Swisher)
However, on August 1, 1944, ANCXF (Allied Naval Commander Expeditionary Forces) responded to the SHAEF proposal with the following signal:
Yours 302025. Proposal to retain fuselage markings only concurred in but consider this should continue to apply to all classes of aircraft as in your memorandum number 23.
Markings have proved valuable to Naval Forces where operations are not confined to Assault Area and to remove them from some classes of aircraft will cause doubt.
If it is decided to remove wing markings concede that this should be done in as short a time as possible and all concerned then informed.
Somewhat later, on August 7, 1944, HQ Twelfth Army Group (signed Bradley), sent SHAEF Forward the following signal:
Reference SHGCT dated 30 July 1944. This Headquarters concurs in the proposed change of distinctive aircraft markings as contained therein.
Change No. 4 to the Op. Memo No. 13, dated October 13, 1944 ordered the removal of all stripes on Allied aircraft, but on October 25, 1944, a TWX from USSTAF to the various fighter commands stated that:
The present method of applying distinctive markings on your fighters authorized by SHAEF. By this authority you are autho­rized to disregard instructions contained in change no. 4 to Operations Memorandum No. 13 (29 April 1944) of HQ ETOUSA dated 13 October 1944.
Distinctive Markings on single and twin engined aircraft will be as follows:
(A) The under, repeat, under surface of fuselages of single engined aircraft will be painted with five (5) parallel white and black stripes, each eighteen (18) inches wide, with the outside edge of the rearmost band eighteen (18) inches from the leading edge of the tailplane.
(B) The under, repeat, under surface of twin engined aircraft will be painted with five (5) parallel white and black stripes, each twenty-four (24) inches wide, with the outside edge of the rearmost band eighteen (18) inches from the leading edge of the tailplane.
In other words, this meant that the stripes now disappeared from the top of the wings and fuselages of all fighter type aircraft.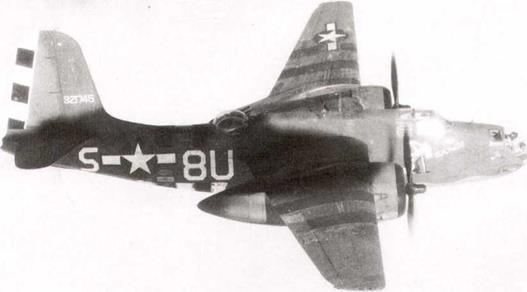 Douglas A-20J-15-Do, 43-21745, aircraft 8U-S, "Irene", of the 646th BS, 410th BG, Ninth Air Force, seen later in the summer of 1944, dearly shows how the upper invasion stripes were painted out on the wings and fuselage after October 25,1944. (LISAF)
The requirements for the distinctive aircraft markings did not come up again until December 5, 1944, when SHAEF MAIN from Robb (RAF Air Marsha] J. M. Robb, Deputy Chief of Staff (Air)), sent the following message to "MED Allied Air Force for Slessor and Bottomley":
Reference MAAF Signal dated December 2. (not retained in this file – author). Identification difficulties have also been experi­enced in this theatre, and several incidents have occurred recently involving attacks by American fighters against friendly aircraft, sometimes with fatal results. The P. R. Wing aircraft, especially Mosquitoes of Second TAF, have been the chief victims of such attacks and CONINGHAM's request that the aircraft of this wing be allowed to retain the distinctive striped markings used for OVERLORD operations in order to facilitate identification has been agreed.
CONINGHAM has recommended that the standard RAF markings be made more distinctive on operational aircraft by widen­ing the yellow ring surrounding the roundels. Agree that this is the best arrangement for fighters and fighter bombers which operate low down but prefer your proposals for remaining day types.
If approved request Air Ministry initiate action.

A really rare bird! This is a French designed and built Potez 542, carrying Ihe small invasion stripes favored by the Free French Air Force. It is marked with French roundels on the fuselage and wings, rudder stripes and the Cross of Lorraine on the rear fuselage. Seen at strip Y-9, Dijon/ Long-Vic, France, on October 6, 1944. (William L. Swisher)
Final action on SHAEF Operation Memorandum Number 23 came the next day, December 6, 1944, when SHAEF released the following document:
This is the First Suspcnsion/Cancellation of a SHAEF OPERATION MEMORANDUM.
SUSPENSION OF OPERATION MEMORANDUM NUMBER 23, 6th December, 1944
DISTINCTIVE MARKINGS – AIRCRAFT
1. The provisions of Supreme Headquarters, AEF, Operation Memorandum No.23, Distinctive Markings – Aircraft, are suspended effective December 31st, 1944.
2. Except as noted in sub-paragraph 4d. below, distinctive markings will be removed where this can be done without damage to the aircraft and with due regard to the materials and time available for this work.
3. Addressees will ensure complete dissemination of the pertinent provisions of this suspension by the quickest pos­sible means consistent with security.
4. All Commanders will particularly ensure that personnel under their command are instructed that:-
a. The fact that an aircraft of allied manufacture is seen without distinctive markings does NOT necessarily indicate that the aircraft is hostile.
b. For some time Allied aircraft may still be seen carrying distinctive markings, which, with the exception of those in sub-paragraph d below, should now be disregarded.
c. Faded striping under certain conditions of light closely resembles the German cross.
d. For the purposes of facilitating identification by other friendly aircraft all of the photo reconnaissance aircraft of Number 34 Wing, Second Tactical Air Force will be painted with standard invasion markings until such time as all recipients of this instruction are notified by Air Officer Commanding-in-Chief, Second Tactical Air Force.
5. The removal of these distinctive markings in no way affects the presently prescribed national markings, which will continue to be carried on aircraft.
6. In future, should there be a requirement for distinctive markings, application will be made to this Headquarters.
By Command of General EISENHOWER.
Thus ended the saga of the now famous "invasion stripes." Frankly, they were a testament to the sad state of aircraft recognition throughout the armed forces (on both sides) and that most armed men would rather take the risk of shooting down one of their own aircraft rather than letting a doubtful type escape (the author taught aircraft recognition throughout WWII and later served with the Royal Observer Corps in England, so he was very familiar with the problem). The problem persists to this time, under the euphemism of "friendly fire."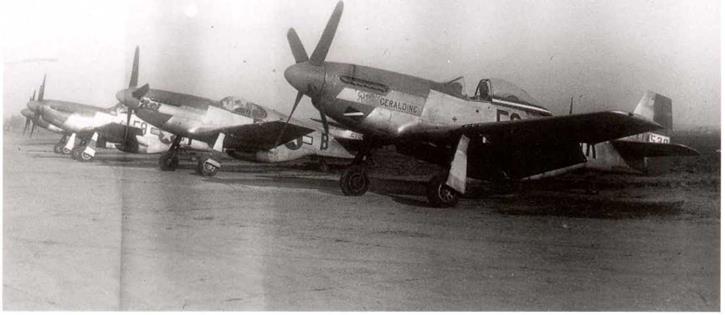 Four North American P-51Ds from the 361st FG, Eighth Air Force, assigned to provide top cover for aircraft of the Ninth Air Force finally able to attack the Germans in the Battle of the Bulge. The very bad weather that allowed the Germans to make their attack without major Allied air attacks, can clearly he seen in this photo. Note that almost all vestige of the invasion stripes has disappeared from these aircraft. The SHAEF order discontinuing their use was dated December 6,1944, and stated that they were to be discarded on December 31,1944. Nearest aircraft is a P-51D-10-NA, 44-14358, aircraft E9-K "Princess Geraldine", of the 367th FS, 361st FG. Squadron colors are a yellow spinner, aircraft nose and rudder. Seen at strip A-64, St, Dizier, France, on December 30,1944. (William E. Swisher)
UNIT INSIGNIA
These unit insignia are of four famous Fighter Groups and some of their Squadrons, assigned to the Kth Air Force in England, during 1942-1945. The 20th FG was in the 67th Fighter Wing of the 1st Air Division, the 55th and 78th FGs were in the 66th Fighter Wing of the 3rd Air Division, and the 56th was in the 65th Fighter Wing of the 2nd Air Division. Note that the insignia shown here arc the WW2 ones, and have been superseded by later ones in some cases. The insignia of the 3rd Air Division HQ completes the page.
These insignia are from four Fighter Groups and one Bomb Group of the 18th Air Force. The 353rd FG and 357th FG were part of the 66th Fighter Wing, of the 3rd Air Division, the 355th FG part of the 2nd Air Division, and the 356th FG part of the 67th Fighter Wing, 1st Air Division, The 91st BG was part of the 1st Combat Bomb Wing, 1st Air Division.
These insignia are all from 8th Air Force units, except for the 44th BS, 40th BG which was assigned to the 20th Air Force, initially in India and then on Tinian Island. This unit used B-29s. The 34th BG was assigned to the 93rd Combat Bomb Wing, 3rd Air Division, the 92nd BG to the 40th Combat Bomb Wing, 1st Air Division, the 93rd BG to the 20th Combat Bomb Wing, 2nd Air Division, and the 94th BG was part of the 4th Combat Bomb Wing, 3rd Air Division.
The 95th BG served with the 13th Combat Bomb Wing, and the 96th BG with the 45th Combat Bomb Wing, both assigned to the 3rd Air Division. The 303rd BG served with the 41st Combat Bomb Wing, and the 306th BG with the 40th Combat Bomb Wing, both of the 1st Air Division. The 13th, 22nd, and 27th PRS units were part of the 7th PRG. All units were part of the 8th Air Force. Final four insignia are from the often forgotten support units, also of the 8th Air Force.