New version ofT. О. 07-1-1 deletes camouflage, December 26,1943
A major revision of T. 0.07-1-1 was issued on December 26,1943. It started by stating that painting of the exterior metal surface of AAF aircraft was discontinued, except as directed for aircraft destined for foreign agencies. This was a major revision of the requirements and the document is reproduced below: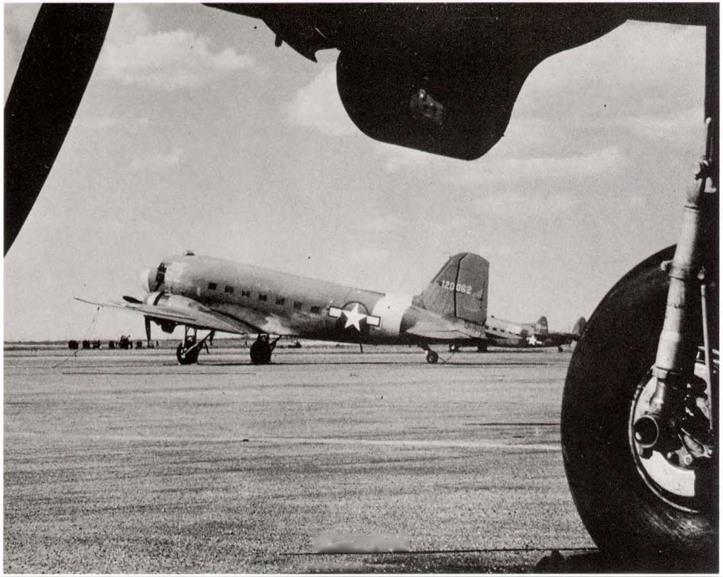 Martin Baltimore Mk 1, FA204, prior to delivery to the RAF, in Dark Earth and Middlestone over Azure Blue finish. These were the standard RAF desert colors for North Africa. (USAF via Gerry R. Markgraf)
їШШШШ
Douglas C-53-DO, 41-20062, as seen at Lubbock Field, Texas, in late 1943. It has the identification yellow nose and rear fuselage bands ordered for transports flying within the continental USA. (Nick Williams)
Lockheed C-69-1-LO, 43-10315, was the seventh C-69 Constellation to fly, of the twenty-two built during Ihe war. The first aircraft made its first flight at Burbank on January 9,1943. (BUAER)
TECHNICAL ORDER No. 07-1-1 December 26, 1943
DOPES, PAINTS AND RELATED MATERIALS
GENERAL—AIRCRAFT CAMOUFLAGE, M ARKINGS AND INSIGNIA
This Technical Order replaces T. O. Nos. 07-1-1, dated June 15,1943; 07-1-IC, dated July 3, 1943; and 07-1-ID, dated September 24,1943.