White paint tested for use on anti-submarine aircraft, April 1942
On April 9, 1942, tests were run at Halifax, Nova Scotia, to check the visibility of PBY aircraft used for anti-submarine patrol low over water. One PBY was painted flat white, the second was unpainted and the third was in blue-gray finish. It was reported that the test proved unquestionably the effectiveness of white paint on aircraft used for anti-submarine work on sunny days.
As a result, HQ, 1st Bomber Command recommended that camouflage specs, should be changed to provide for the painting of the undersurfaces of anti-submarine aircraft with oyster white lacquer. The necessary materials should be provided to Bomber Command. This recommendation was supported by both the British and American submarine officers.
Further tests were run on April 21, 1942, and it was concluded that a glossy paint might improve the effectiveness, and that de-icer (boots) along wing and tail surfaces also needed to be white. (Note: the request for a white anti-submarine camouflage led to a long, foot­dragging, contest and caused a lot of hard feelings. Not until June 1943, did Materia! Command issue a final report on further tests of the white finish. By that time, it was immaterial, as responsibility for anti-submarine coastal patrols had been handed over to the US Navy. Full details of this can be found in the following pages).
j
11
s ил
гл
Martin B-26B-1-MA, 41-17707, aircraft number 76, was the 164th B-26B of 1,883 built. It is seen painted in the final Sea Search scheme of neutral gray upper surfaces and white lower surfaces. Note the white leading edges of all surfaces. This scheme was developed at Eglin Field. (USAF)
North American XB-28-NA, 40-3056, was developed to replace the B-25, but it was not adopted. It made its first flight in April 1942. The pre­war.'AAF markings are shown on the rudder, together with a very polished natural metal finish. (March AFB Museum)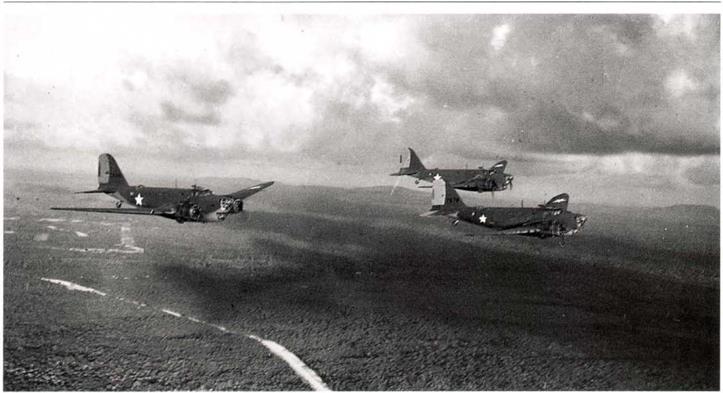 Three Douglas B-18Bs on anti-submarine patrol in the Caribbean area in the dark olive drab and neutral gray finish. Note how different the color appears on the fabric covered surfaces to that on the metal areas. Both were the same color, but the metal finishes were either enamels or lacquers, while the fabric covering finishes were dopes. This difference in appearance can be seen in photographs throughout the war. (USAF)