SOYUZ TMA-16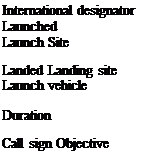 2009-053A September 30, 2009
Pad 1, Site 5, Baikonur Cosmodrome, Republic of
Kazakhstan
March 18, 2010
60 km north of Arkalyk, Republic of Kazakhstan Soyuz-FG (serial number Ы5000-027),
Soyuz TMA (serial number 226)
169 da 04 h 09 min 37 s (Surayev, Williams)
10 da 21 h 16 min 55 s (Laliberte, landed in TMA-14) Tsefay ("Cephus")
ISS resident crew transport (20S), ISS resident crew 20/21, visiting crew 17 program
Flight crew
SURAYEV, Maxim Viktorovich, 37, Russian Federation Air Force, RSA, TMA commander, ISS flight engineer
WILLIAMS, Jeffrey Nels, 51, U. S.A., NASA TMA flight engineer, ISS-21 flight engineer, ISS-22 commander, third mission Previous missions: STS-101 (2000), Soyuz TMA-8/ISS-13 (2006) LALIBERTE, Guy, 50, civilian (Canadian), space flight participant
Flight log
With the decision to end Shuttle flights and the increase to a permanent crew of six on the ISS due to the expanded science activity, the availability of Soyuz seats for sale to fare-paying tourists would not extend beyond 2009. With up to six permanent resident crew members on board the station, two Soyuz would always have to be docked at the station in order to serve as Crew Rescue Vehicles. In addition to Russian and American crew members, the remaining crew places would be awarded to European, Japanese, and Canadian astronauts under agree­ment, rather than for more commercial deals with space flight participants. With three ISS-20/21 and the final Shuttle-delivered crew member already aboard, the two ISS-21/22 crew members were launched as what were expected to be the last space flight participants for some time. The cost of sending a third Soyuz space­craft to the station, even for a short time, would not be covered by the price of a seat for a single spaceflight participant.
Canadian Guy Laliberte became the lucky passenger on TMA-16, flying as SFP/VC17 on an 11-day mission. Laliberte was the billionaire founder of the Cirque du Soleil Company. His science program included several life science and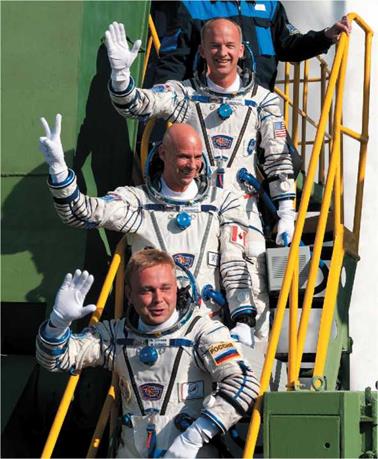 The last scheduled space flight participant Canadian Guy Laliberte (center) waves farewell with fellow Soyuz TMA-16 crew members Jeff Williams (top) and Maxim Surayev from the bottom of the launchpad prior to launch from Baikonur. Photo credit: NASA/Bill Ingalls.
public outreach activities during his week aboard the ISS. This included a 2 h long TV session on October 9, designed to highlight both the shortage of clean water across the globe and his work in conservation through his non-profit ONE DROP Foundation. Following a week of activities, Laliberte returned to Earth aboard TMA-14 with the ISS-19/20 cosmonauts Padalka and Barratt on October 11.
The docking of the TMA-16 craft to the aft port of Zvezda on October 2 meant that, for the first time, three Soyuz craft were attached to the facility and nine people were on board as residents, if only for a week! With the return of Padalka and Barratt, Williams and Surayev joined De Winne, Thirsk, Romanenko, and NASA astronaut Stott as the ISS-21 crew members. Both newcomers served as flight engineers on the six-person crew until December 1, when the De Winne trio departed on Soyuz TMA-15. Stott had already left station by then aboard STS-129, the last ISS crew member to launch or land on the Shuttle. For a short time, the station crew became a two-person caretaker crew until the arrival of TMA-17 in late December, increasing the resident crew back up to five.
On November 25, the official change-of-command ceremony took place, with Williams and Surayev becoming the core prime crew of ISS-22 (Williams taking the command position and Surayev as flight engineer). Continuing the science on the Russian segment of the station, the ISS-21 investigation program included 304 sessions for 47 experiments, of which only four were totally new. Over 60 hours were arranged for the crew in the ISS-21 phase and over 148 hours in the ISS-22 phase. Over in the U. S. segment, NASA reported that 150 operating experiments were on board the station, conducting research in human research, biological and physical sciences, development of technology, observations of Earth, and edu­cational activities.
After three weeks with a two-man skeleton crew, the TMA-17 docking on December 23 brought three new crew members to the expedition: Russian cosmo­naut Kotov, NASA astronaut Creamer, and JAXA astronaut Noguchi. With the arrival of Noguchi, an expanded Japanese science program was once again poss­ible. Even with a larger crew though, routine maintenance and housekeeping would still take up a lot of crew time.
The first few weeks on station for the TMA-16 crew were quite busy. In late October 2009, HTV-1 was separated from the station using Canadarm2. The unmanned resupply craft, now full of unwanted gear and trash, burned up on reentry on November 1. On November 12, the Progress M-MRM-2 module docked with the zenith port of Zvezda. The following day, the internal hatches were opened and Surayev entered the module for an inspection and to take air samples. This module, called Poisk ("Search"), featured a new Soyuz/Progress docking port and a second EVA airlock for Russian-based EYAs, as well as additional, if limited, storage volume.
On January 14, 2010, Surayev and Kotov conducted a 5h 44min EVA to check the exterior of Poisk and the joint docking seals. Soyuz TMA-16 was relocated by Kotov and Williams on January 21, moving the spacecraft from the aft end of Zvezda to Poisk. The flyover took just 19 minutes, with the TMA-17 crew watching and photographing from inside the station as the operation took place. The next Progress (M-04M) arrived at the station on February 5, docking to the aft port of Zvezda. This was the 36th docking of an unmanned supply vehicle from the Russian Progress series and marked the first time on station that four Russian spacecraft (two Soyuz and two Progress vehicles) were docked.
On February 10, after five busy days of cargo transfers by the station crew, Shuttle Endeavour (STS-130) docked with its crew of six astronauts, delivering the ESA-built Cupola and Node 3 Tranquility (see STS-130 entry). While docked, the crews transferred over 1,3131b (595.57 kg) of supplies across to the station. After the departure of STS-130 on February 20, the TMA-16 crew of Surayev and Wil­liams started to prepare for their return to Earth while assisting the next expedition team to assume command. On March 17, 2010, Jeff Williams formally handed over command of ISS to Kotov. The next day, TMA-16 undocked and followed a normal entry and landing a few hours later. For the record books, the TMA-16 pair had been on board the station for all but two of their 169-day space flight, with their time split between three residencies. They had worked for just seven days as part of the ISS-20 phase, then a further 47 days as flight engineers for ISS-21, before assuming the role of prime ISS crew for ISS-22, which lasted 112 days.
Milestones
270th manned space flight 109th Russian manned space flight 102nd manned Soyuz flight 16th manned Soyuz TMA mission 20th ISS Soyuz mission (20S)
17th ISS Soyuz visiting mission 21/22nd ISS resident crew
First triple docking of Soyuz space craft at ISS: Soyuz TMA-14, TMA 15, TMA-16 featuring nine crew members
First quadruple docking of Russian spacecraft at ISS: Soyuz TMA-15, TMA – 16, Progress M-03M, M-04M
7th and last scheduled space flight participant visiting mission 17th and last scheduled Soyuz visiting mission program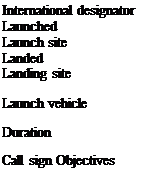 Flight crew
HOBAUGH, Charles Owen, 48, USMC, NASA commander, NASA, third mission
Previous missions-. STS-104 (2001), STS-118 (2007)
WILMORE, Barry Eugene, 46, USN, NASA pilot, NASA
MELVIN, Leland Deems, 45, civilian, NASA mission specialist 1, NASA,
second mission
Previous mission: STS-122 (2008)
BRESNIK, Randolph James, 42, USMC, NASA mission specialist 2, NASA FOREMAN, Michael James, 52, USN (Retd.), NASA mission specialist 3, NASA, second mission Previous mission: STS-123 (2008)
SATCHER Jr., Robert Lee, 44, civilian, NASA mission speciahst 4, NASA ISS resident crew exchange
STOTT, Nicole Maria Passano, 46, civilian, NASA mission specialist 5,
ISS flight engineer (down only)
Flight log
At the time of this mission, there were only six flights of the Space Shuttle left on the manifest. With 86% of station assembly complete, the majority of these remaining missions would focus on the delivery of spares and logistics, as well as the removal of unwanted items of hardware and trash and the return of scientific samples. In addition to addressing the delivery of new supplies, STS-129 also would return the final Shuttle-transported space station resident crew member, Nicole Stott, who already knew she was already assigned to a second flight on the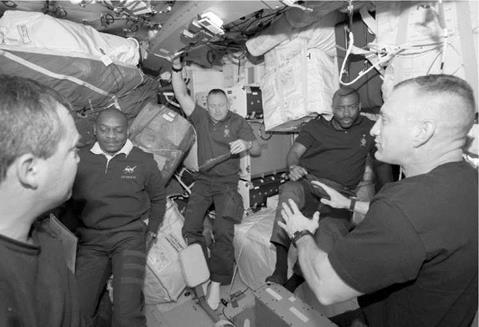 A crew briefing during FD2 activities on the middeck of Space Shuttle Atlantis.
Shuttle in 2011. Originally, it was planned that Stott would return on a Soyuz, replacing Thirsk who was scheduled to come home on a Shuttle. But delays meant they swapped seats, with Thirsk returning on Soyuz and Stott on the Shuttle instead.
Atlantis was rolled from the OPF to the VAB on October 6, 2009 for mating with the ET and twin SRBs. After a 24 h delay due to an issue with the transfer crane in the YAB, the stack was rolled to the pad on October 14, with only minor issues featuring in a relatively smooth processing schedule and countdown. The payload was moved to the pad on October 29 and installed in the payload bay on November 4.
The launch and approach to station went according to the flight plan, with docking occurring on November 18. Following the hatch opening, the two crews greeted each other in the Harmony Module. With six Shuttle crew and four station crew members, ISS was again quite busy. Shortly after the hatches were opened and celebrations completed, Nicole Stott formally ended her residency on the station by officially joining the STS-129 crew.
Just 90 minutes after the hatches had been opened, the Shuttle RMS was grappling the first of two Express Logistics Carriers (ELC-1), handing it off to Canadarm2 on the station. ELC-1 was then plugged into its new location on the Earth-facing side of the ISS port truss. The ELCs were new platforms designed to support large items of hardware and spares. Subsequent Shuttle flights would add more hardware to the units. This first one had a mass of 6,396 kg (14,1001b).
Three EVAs were completed, one each by Forman, Satcher and Bresnik, working in pairs with the third acting as IV crew member. This would total 36 hours 15 minutes of experience between the three astronauts. The first EVA (November 19, 6h 37 min) by Foreman and Satcher featured the installation of a range of hardware and spares and the relocation of a number of items. They worked so efficiently that they found themselves two hours in front of the timeline and were able to perform a number of get-ahead tasks in preparation for EVA 2.
The second excursion outside was performed by Foreman and Bresnik, with Satcher as IV. During this EVA (November 21, 6h 8 min) all tasks were again completed early, allowing further get-ahead tasks to be performed. This included relocating of the second ELC unit, which was loaded with spare parts and had a mass of 6,136 kg (13,5301b).
The final EVA (November 23, 5h 42 min) was performed by Satcher and Bresnik with Foreman taking his turn as IV crew member. The majority of this EVA, as with the earlier two, was taken up with installing new and spare items of hardware and equipment on the exterior of the station. The items relocated by the astronauts across the three EVAs included a spare antenna, an ammonia lines bracket, a bracket on the Columbus laboratory and an additional ham radio antenna. They also installed an antenna on the truss for wireless helmet camera video during future EVAs and relocated the measuring unit which reveals electrical potential around the station. Other tasks included deploying a cargo bracket on the truss, installing a new oxygen tank on the Quest airlock and deploying the next in the series of Material Experiment packing (MISSE 7A&B). Finally, they completed work on the heater cables in advance of the arrival of the Tranquility Node early in 2010.
The three space walks had logged 18 hours 27 minutes. Foreman accumulated 12 hours 45 minutes on his two EVAs, Satcher logged 12 hours 19 minutes in his pair of excursions, while Bresnik logged 11 hours 50 minutes in his two space walks. Shortly after ending his second space walk Bresnik received news of an addition to his family with the birth of his daughter.
While work continued outside, the astronauts transferred over a ton of supplies and logistics into the station and a ton of unwanted equipment, trash, and samples back into Atlantis for return to Earth. With future station operations in mind, the astronauts also armed the Commercial Orbital Transportation Ser­vices (COTS) UHF Communication Unit. This was integrated on the station in preparation for forthcoming commercial resupply flights to the ISS by Space Exploration Technologies (SpaceX). This new unit would enable communications between the station and the SpaceX Dragon spacecraft during approaches to the station.
Undocking from the station, with Stott now aboard, occurred on November 25, after 6 days 17 hours and 2 minutes of being docked with the complex. The following day, the crew celebrated the U. S. Thanksgiving holiday aboard Atlantis. With 14 tons of supplies now aboard the station, the mission was deemed a com­plete success and with Stott aboard the orbiter, the series of Shuttle-delivered crew members that began with Germany's Thomas Reiter (ESA) in July 2006 was now complete. In all, 11 resident crew members—two (ESA) European, one (JAXA) Japanese, and eight (NASA) American astronauts—had been delivered and returned on the Shuttle over a period of three years and five months.
Atlantis landed after an 11-day mission. Stott completed a mission of 91 days in space, 86 of which were on station and 79 as resident crew member during ISS-20/21.
Milestones
271st manned space flight 159th U. S. manned spaceflight 129th Shuttle flight 31st Atlantis mission 31st ISS Shuttle mission
First live Tweet up mission from KSC during launch
Second flight of two African Americans on crew (Melvin and Satcher)
Fewest problems reported in processing (54) since STS-125.
Final Shuttle crew rotation mission (Stott landing only)
Bresnik's daughter born November 21, shortly after his second EVA Stott celebrated her 47th birthday (November 19)