MAJOR U. S. AIRPORTS IN THE 1950s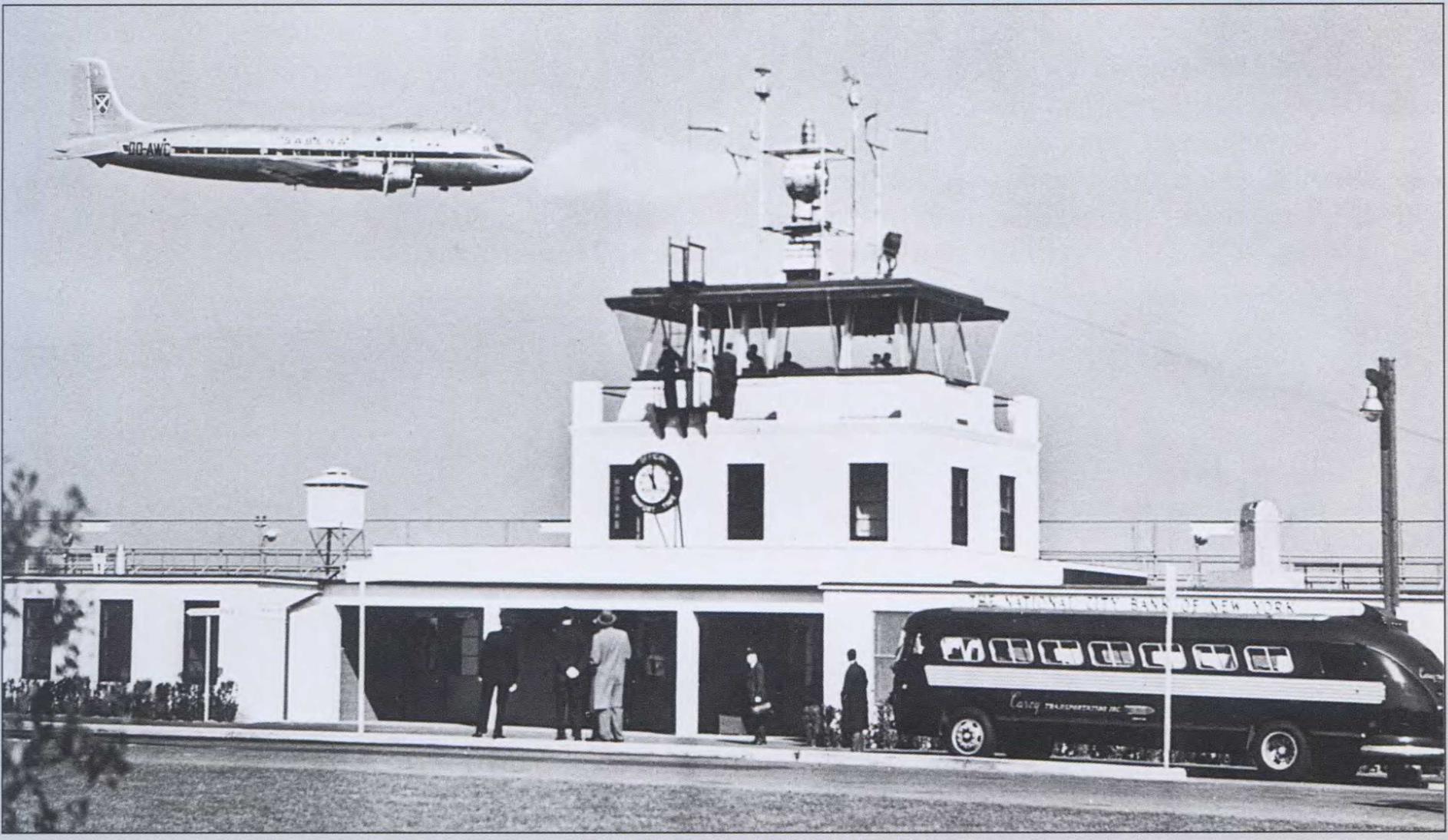 Not a pasted-up or retouched image, this photo shows a well-staged scene with a Sabena Belgian Airlines DC-6 making a low high-speed pass over the main terminal building at New York's Idlewild Airport in the early 1950s. Carey bus at right provided convenient commuter service to the East Side Airline Terminal in Manhattan only 18 miles away. (Enell photo/Mike Machat Collection)
espite Britain's false start with the Comet 1, and Boeing's new 367-80 jet transport being only a "proof-of-concept" prototype at this point, the promise of jet-powered commercial flight was becoming closer to reality with each passing week. As modern and accommodating as major U. S. airports may have been at that time, the need for expansion, improvement, and modernization for the new breed of jets was becoming increasingly apparent, as their unique operating requirements came into focus. First and foremost on this list were longer runways, requiring either expansion of existing facilities, or construction of a brand-new and much-larger airport farther away from the city center. This latter option, although more costly, allowed designers the distinct advantage of starting from scratch with whatever new design best suited local needs.
By taking a virtual tour of U. S. airports of this time period, we can see that the Northeast segment of the country provided the necessary passenger and cargo gateways to Europe and points east. For
domestic travel, these same cities were the origins for trips westward all across the country to California and even Hawaii. Moving in a clockwise direction, we begin our tour with Logan International Airport in Boston, Massachusetts (BOS). Located on the tidal flats east of downtown Boston, this airport and its neighbor to the south, Idlewild Airport in New York (IDL), had nowhere to expand but outward on land­fill built into adjacent bays. New terminal complexes and vast ramp areas would be added to both these great airports within a decade.
Moving down the East Coast we come to National Airport in Washington, D. C. (DCA). Having opened in 1941, the airport had nowhere to expand geographically for the new jets. However, this scenario presented a brand-new opportunity for air­port planners in the Washington and Virginia metro – plex to consider—the design and construction of a brand-new mega-airport intended specifically for the Jet Age. Occupying more than 10,000 acres of virgin woodland located 45 minutes west of downtown
Washington, the new and futuristic Dulles International (DIA, later I AD) opened in 1962 with an average of only one or two aircraft movements per hour, a scenario that has changed dramatically since those early days.
Flying southward, we come to Atlanta, Georgia, where the local airport began life as Chandler Field. This airport remained quite adequate to accommo­date the first generation of new jets, but then grew into the grand multi-terminal Hartsfield International (ATL) in the 1970s. Down in sunny southern Florida, Miami International (MIA) provided America's gate­way to South America and the Caribbean, having done so since the 1920s. By 1959, the facility had expanded to absorb a neighboring Army airfield to the northwest, and soon became one of the largest jet – ports in the southern United States.
As we move toward the upper Midwest, we come across yet another example of a small, local, and con­venient city airport that opened in 1927, but then had no physical room for expansion for the new jets. This airport would eventually give way to a new mega – jetport that would have to be built from scratch. Originally named Chicago Municipal Airport, Midway Airport (MDW) served as Chicago's home airport for decades, but was overshadowed by O'Hare International Airport (ORD). Originally built during World War II and opened for commercial traffic in 1955, O'Hare's new, larger, and vastly more modern terminal complex opened in 1962.
Following the Mississippi River southward, we come to a host of other mid-size city airports that began as waypoints for fuel and rest stops on transcontinental mail and passenger flights. These were Lambert Field in St. Louis, Missouri (STL), Kansas City in Kansas (KSC), and Love Field in Dallas, TX (DAL). These airports were eventually either augmented or replaced by larger complexes built on open land to the west.
Flying westward, perhaps one would stop at the Rocky Mountain home of Stapleton Field in Denver, Colorado (DEN), or Sky Harbor in Phoenix, Arizona (PHX), airports that both had room to grow for the big jets. Arriving on the West Coast we find Los Angeles International (LAX) and San Francisco International (SFO) in California, and Seattle/ Tacoma's SeaTac in Seattle, Washington (SEA). All three of these airports expanded outward from their more modest 1950s configurations as the new jets entered service, with LAX moving to adjacent land immediately to the west, SFO expanding out into San Francisco Bay, and SeaTac growing on available open land to the north.
In all, America's major airports represented a host of problems and solutions for the geographic, logisti­cal, and operational challenges posed by the worlds' first generation of modern jetliners. In the chapters that follow, we will see in more detail how new Jet Age terminals and airport layouts accommodated the needs of a new breed of air traveler and aircraft alike.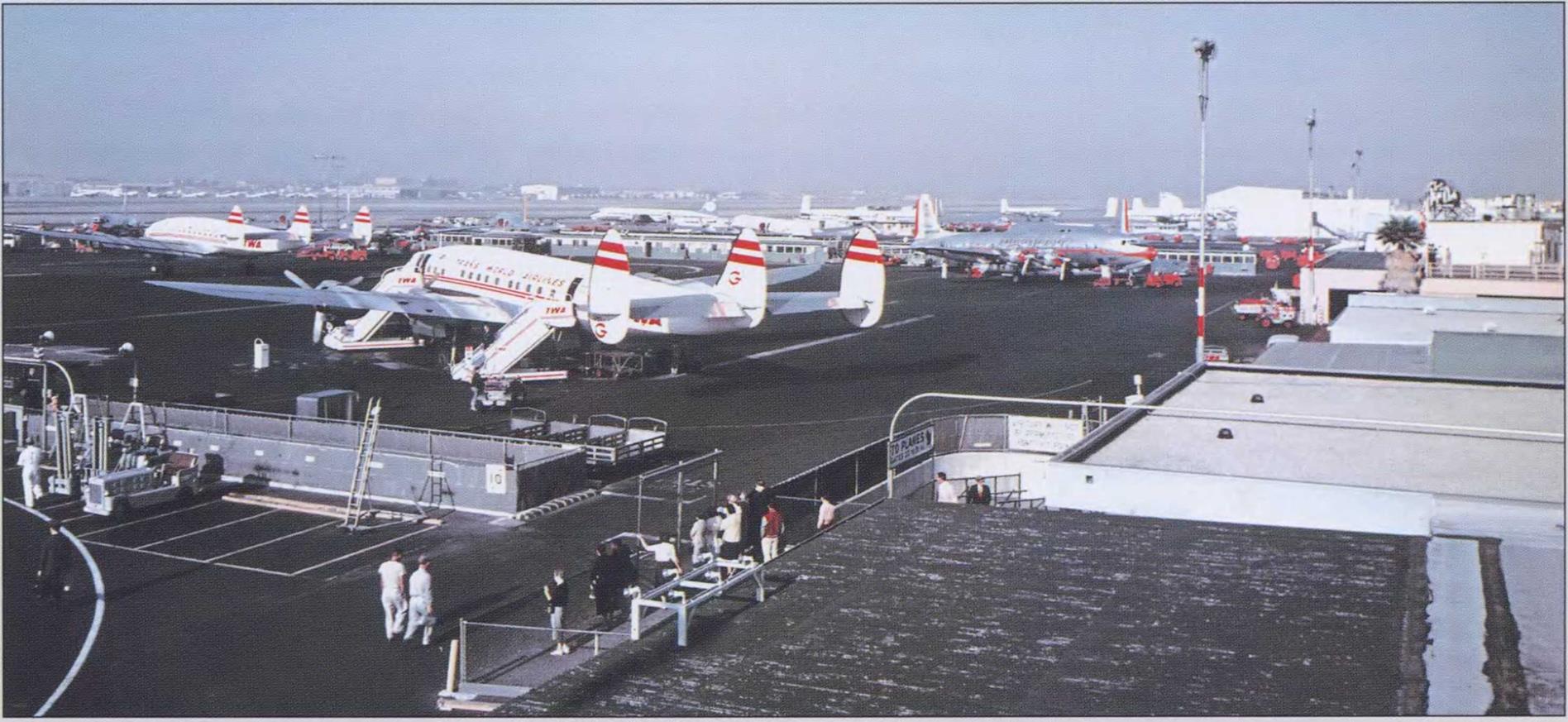 A typical busy morning scene at LAX reflects the pre-jet era of open concourses and loading steps. Taken in 1958, this photo reflects the epitome of the Golden Age of Air Travel. This exact location now serves as a main­tenance and cargo area for a number of airlines serving LAX today, with the main airport having been extended to the west when the new jets arrived. (Los Angeles World Airports)



(1953-1956)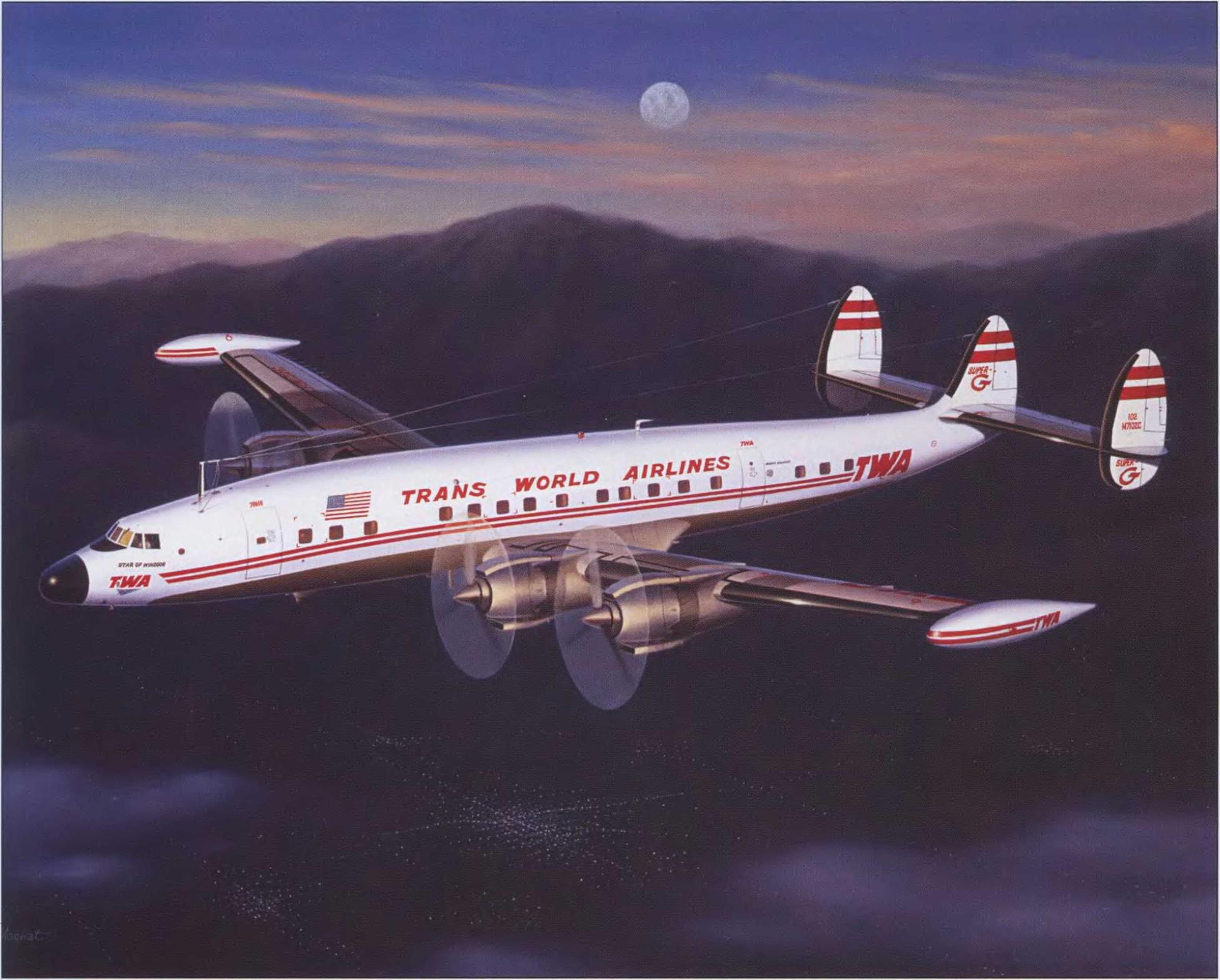 Evening Star, a TWA Lockheed 1049G Constellation in 1956. (Mike Machat)
he American public is now awash in an exciting new world of science fiction, military jets, experi­mental rocket planes, and the coming space age. Aircraft manufacturers and airport planners alike are bracing for a new paradigm in air travel —the 100- passenger jetliner. Passenger travel by air is now being accepted as the norm and not the exception, and expec­
tations run high for a day-and-age of jet-powered airliners.