Jetliners on the Distant Horizon: USAF Enters the Turbine Age
In the 1930s, there existed a dichotomy within the aeronautical engineering world that had a profound effect on future aircraft in the United States and Britain: Civilian airplanes, especially air racers (and those were mostly built by entrepreneurs in small out buildings or garages), were more aerodynamically advanced, mean­
ing faster and more maneuverable, than our frontline fighter aircraft in the military services! This differential had an enormous effect on aircraft design during the World War II era, as shapes and capabilities were forced to advance in large increments. It took several years to match and then eclipse the German design geniuses.
By the end of the war and the late 1940s, momen­tum was clearly accelerating aviation technology at a near-quantum pace. Aircraft were advancing and eclips­ing concurrent design studies by the day, not the decade. Given the notion that the United States had sur­vived the war without destruction to any of its infras­tructure, the country was leaping ahead in manufacturing and development of cutting-edge air­craft designs. In an ironic twist, the Cold War was now advancing the state of the art in aviation to favor the military airplanes rather than the civilian types. The dichotomy of the 1930s had reversed itself.
By 1954, the United States Air Force was flying large, heavy aircraft like the Boeing B-47 Stratojet at routine speeds of nearly 600 mph and altitudes exceed­ing 40,000 feet. Their range was spectacular as well, especially in the developing B-52 Stratofortress. The globe was rapidly beginning to shrink. However, the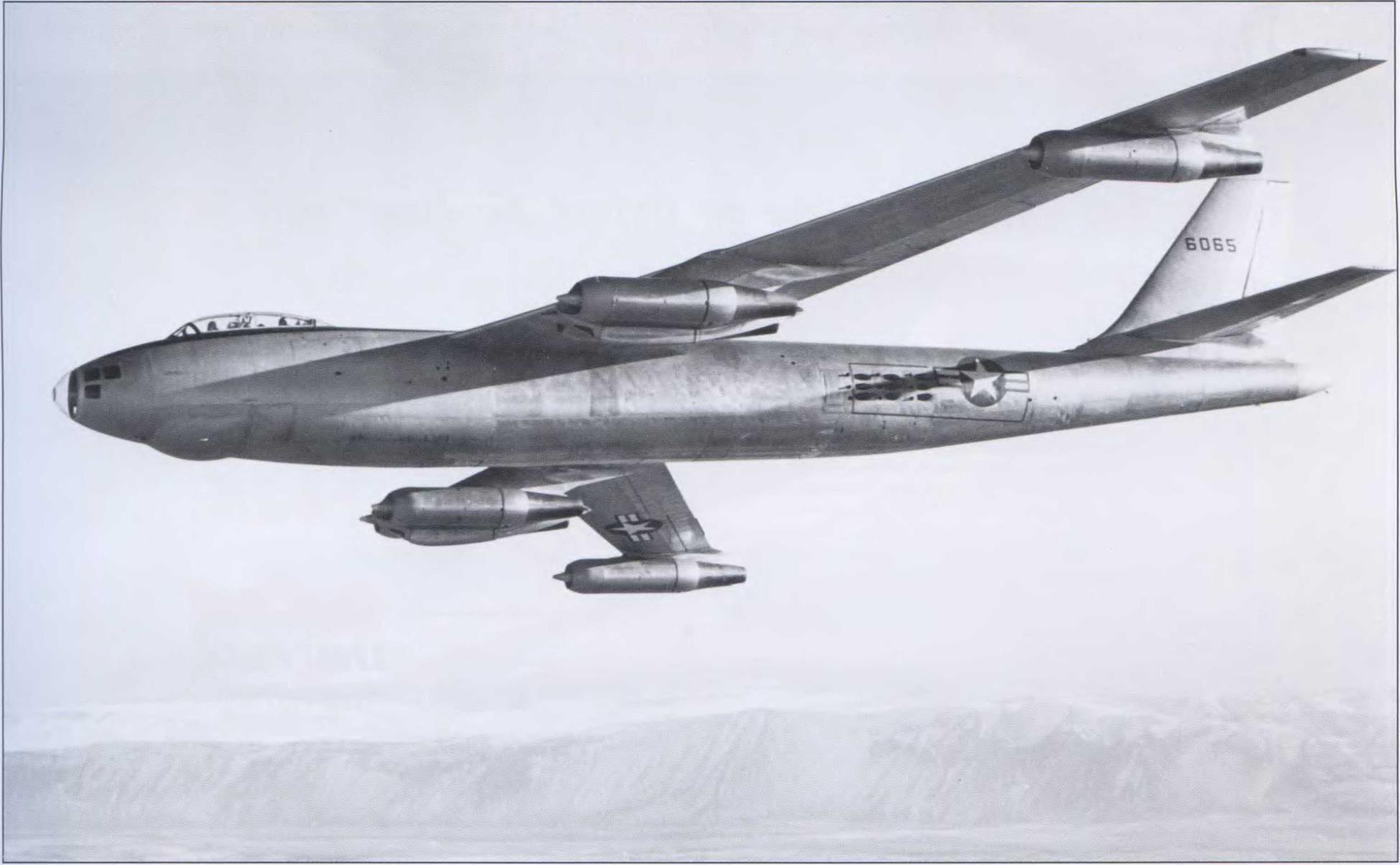 Boeing's revolutionary B-47 Stratojet set the standard for Jet Age design when it first flew in 1947. Powered by six General Electric J47 turbojets and capable of being refueled in flight, the B-47 projected American aerial might dur­ing the early years of the Cold War. The big jet also gave Boeing a tremendous advantage in structural engineering and manufacturing prowess that would lead to the development of a new company-funded four-engine jet trans­port. (National Archives via Dennis R. Jenkins)