The "Might Have Beens&quot
The sky was the limit for dreaming about giant new air­liners, with impressive experimental prototypes designed at the end of World War II. A double-decker six-engine goliath from Convair; a four-engine military transport conversion from Douglas; a sleek 450-mph whippet of an airplane from Republic, and a mammoth eight-engine "Queen of the Skies" from Great Britain all shared one thing in common: They never flew as an airliner!
Republic XR-12 Rainbow
The sleek and exotic Republic XR-12 was an air­plane well ahead of its time in 1946. Still the fastest four – engine piston-powered airplane ever flown, the XR-12 was envisioned as a long-range, high-altitude photore­connaissance aircraft capable of taking high-definition aerial photographs day or night, and developing those images onboard the aircraft while in flight. With a top speed of more than 460 mph, the XR-12 also offered unheard-of performance for the world's leading airlines with a 44-passenger commercial version named the RC-2 Rainbow, an airplane that promised near-jet-like performance and a 4,000-mile range. Unfortunately, that promise went unfulfilled due to the cancellation of the XR-12's military mission coupled with declining postwar airline economics.
Often mistaken for a more modern turboprop, the XR-12 was powered by four Pratt & Whitney R-4360 Twin Wasps —the same engines as Boeing's venerable Stratocruiser. However, with its more streamlined aerodynamics and lighter overall gross weight, the XR-12 enjoyed an almost – 100-mph speed advantage. Although two military prototypes actually flew, the airliner version never got off the drawing boards despite being ordered by both American Airlines and Pan American World Airways. The cold realities of postwar economics rendered the Rainbow as being too costly at $1.25 million each, when surplus C-54s were suddenly flooding the market and being sold for $100,000 apiece. It was sadly ironic that Republic's only activity in the airliner game was in winning a con­tract from American to refurbish and outfit its newly purchased surplus C-54s!
Although neither exists today, the two prototypes built by Republic exceeded all design specifications. The right airplane at the wrong time, the XR-12 became another of aviation's mysterious dead ends, and a graphic example of a successful —and in this case unparalleled—aircraft not making it into series pro­duction. (Even its name was a clever play on words signaling the end of war's storm clouds brought about with the help of the company's Thunderbolt fighters.) Considered as Republic Chief Engineer Alexander Kartveli's ultimate masterpiece, the Rainbow was one of the most elegant and graceful looking airplanes ever built. But for world economics and timing, it could have been a legend!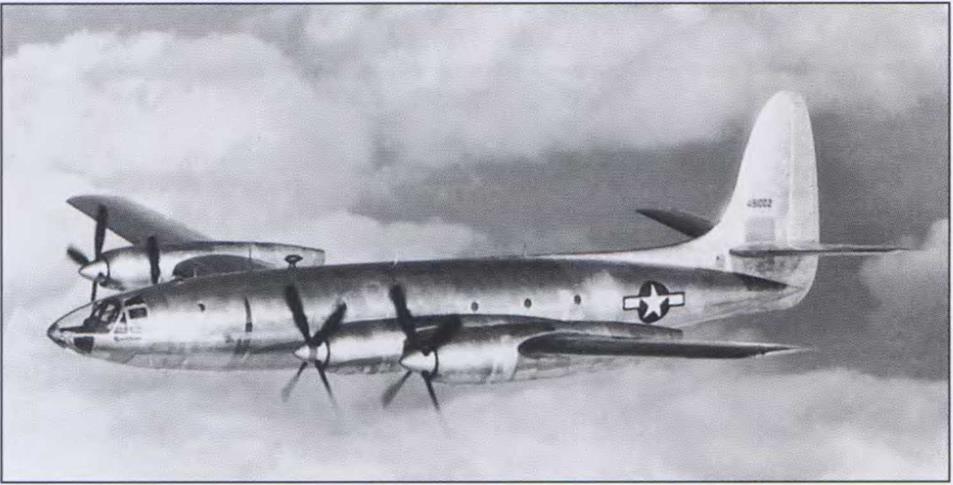 Looking like a much more modern airplane than one designed in 1944, the magnificent Republic XR-12 long- range photo-recon prototype was in a class by itself. The RC-2 commercial version would have offered air­lines near-jet-like performance with its ability to fly 450 mph at altitudes of up to 40,000 feet. The XR-12 achieved a top speed of 471 mph—the highest speed ever attained by a multi-engine piston-powered aircraft in level flight. (Mike Machat Collection)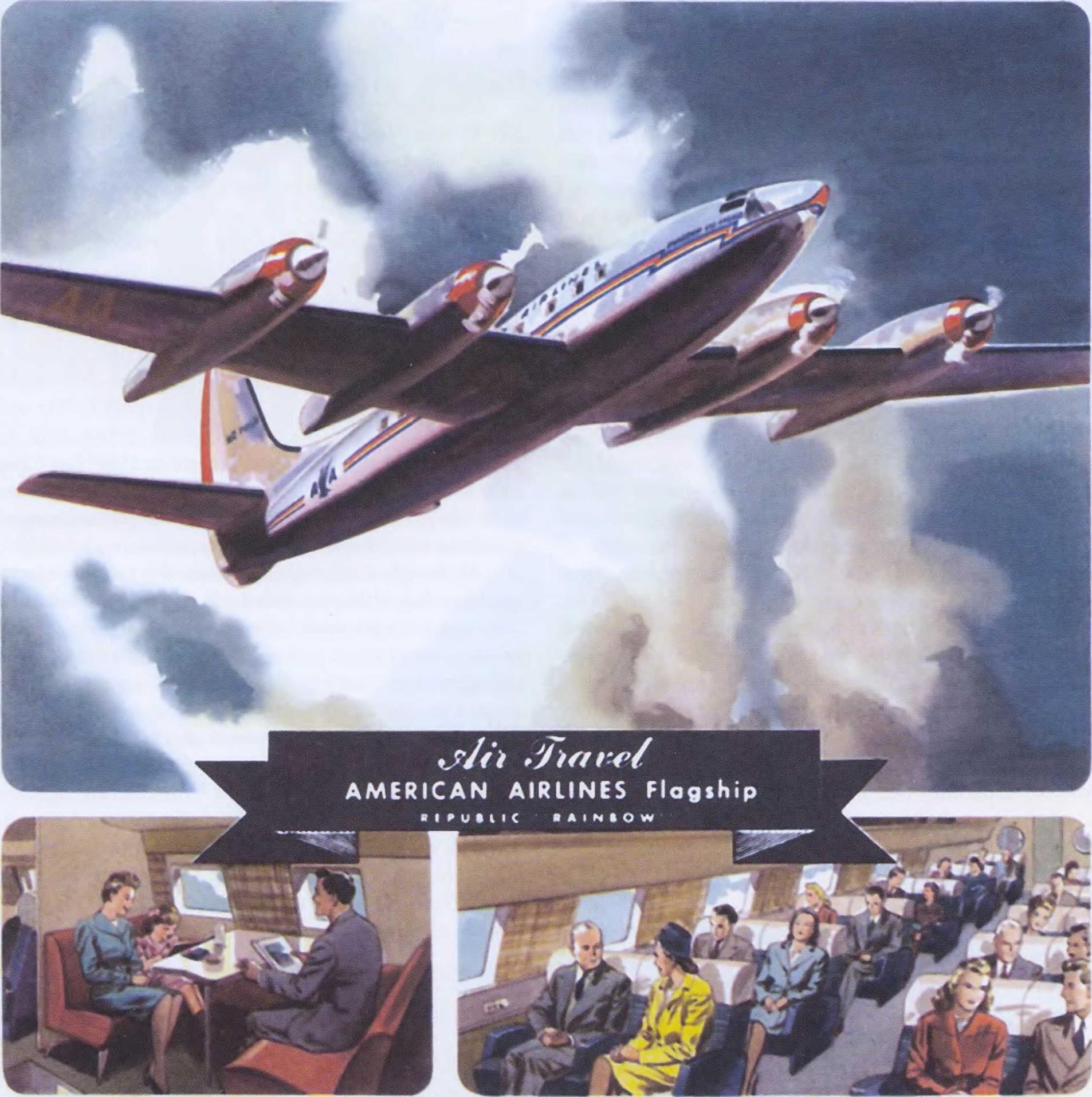 • AIN AO W lOUNOI IO« G AMI lltflA WAITING I T(

American Airlines, along with Pan American, placed provisional orders for the RC-2 Rainbow. This period advertise­ment gave airline passengers a glimpse into the future. (Craig Kodera Collection)

Nicely showing the size and shape comparison of the Rainbow with its contemporaries, this chart gives a good snap­shot of the airliners of the time. From top to bottom: Lockheed Constellation, Douglas DC-6, Boeing 377 Stratocruiser, and Republic RC-2 Rainbow. (Digital artwork by Tony R. Landis)