EARTH AND SKY SURVEY
A variety of aircraft have been modified and are used by governmental agencies and private corporations to make observations of the land, ocean, and sky. A broad range of photographic and other sensing equipment is carried by these survey aircraft. The altitude at which the survey is to be made determines the kind of aircraft that is used.
U-2S and WB-57FS are used by NASA and the Air Force for high-altitude surveys. A WB-57F is shown in the photo on the opposite page. It flies survey missions at
60,0 feet and above. This high-altitude aircraft is equipped with a variety of long – and short-focal-length camera systems.
A high-altitude aerial photograph of the New York met­ropolitan region is shown on the opposite page. This photo was taken by a NASA aircraft. The river at the upper left of the photo is the Passaic River. The Passaic flows through the city of Newark, New Jersey. The Hackensack River is to the right of the Passaic River in the photo. The Passaic and the Hackensack rivers flow into Newark Bay. The cities of Bayonne and Jersey City are on the peninsula that borders Newark Bay. Manhattan Island has the Hud­son River on its left and the East River on its right. The Hudson and East rivers flow into Upper New York Bay. The island in Upper New York Bay off the tip of Manhat-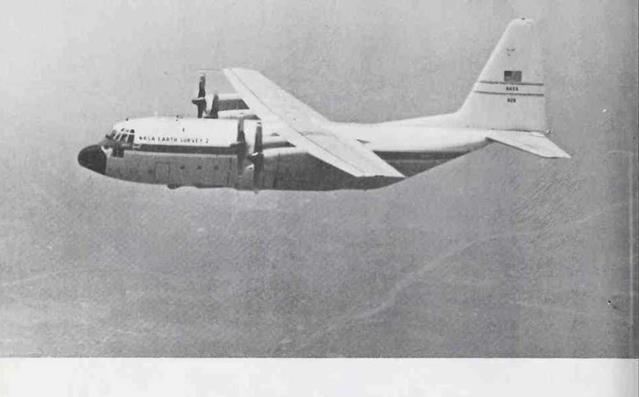 tan is Governor s Island. The bridge in the lower left of the photo is the Verrazano Bridge, which runs from Staten Island on the left to Brooklyn on the right.
The Lockheed C-130 Hercules, which is used by the Air Force in weather reconnaissance, is a very versatile plane. The C-130 shown above has been modified by NASA for use in its survey program. This plane, called Earth Survey 2, flies medium-altitude missions.
The Lockheed Starlifter shown in the upper photo on the opposite page has been modified by NASA to carry an infrared telescope. The C-141 is cruising with its telescope port open. The high-flying telescope allows astronomical observations that are not possible at the earth's surface.
The Zapata Corporation conducts aerial fishery surveys with two Cessna Skymaster 337 aircraft. A special low – light-level camera is mounted in the pod beneath the fuse­lage. The plane in the lower photo on page 75 is flying along the Pacific Coast of Baja California. The aircraft is used to assist anchovy fishing vessels.