Meeting the Challenge
i. State-of-the-Art Instruments
The principal investigators designed and had constructed instruments with cutting-edge capabilities. When designed, the instruments that made up the observatory had the highest feasible resolution in space, time, and wavelength and best combination of capabilities to meet the observing challenge.
In the design phase the potential observers, the astronauts assigned to work on the atm, had little impact on the design except in two important areas: the instrument controls and displays and real-time data fed back to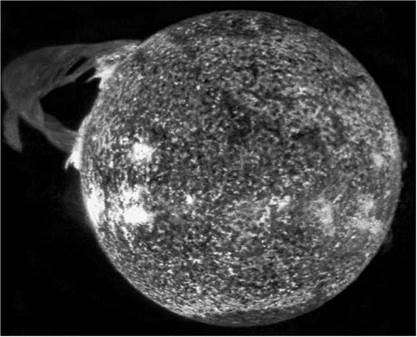 45- A solar flare image captured by the Apollo Telescope Mount.
the observer. As the integration of the observer into the design matured, the mandate for an integrated, simultaneous operation of the individual instru­ments was manifested in the instrument control and display (c&d) design. Design engineers each wanted their own c&D real estate for their instru­ment to do with as they saw fit. "We, the crew, wanted to stress the func­tional similarities in the way each instrument was operated as well as the sequence of each control operation," Ed Gibson explained. "After 'spirited discussions' and hard work on both sides, we arrived at a 'functional (verti­cally aligned)—sequential (horizontal order of operations)' layout. For both training and in-flight operation, this layout proved to be highly effective."
With today's computer capabilities it is hard to imagine that many of the operational modes and exposure times for the instruments had to be frozen into the design many years before launch and could not be changed as knowl­edge increased before and during flight. However, the Pis did an exceptional job of incorporating a wide range of possibilities into their design.
Despite the thought, sophistication, and expense that went into the obser­vatory, the crew still managed to demonstrate the adage, "When the going
gets tough, the tough use duct tape." Crib sheets, Polaroid cameras, and food containers were among the many items that were accommodated at the c&D panel by the astronauts' universal tool—duct tape. However, when it was taken outside on an eva, the glue on the tape was either frozen solid by the cold blackness of night or turned to soup by the heat of direct sun.