Lockheed Martin P-З Orion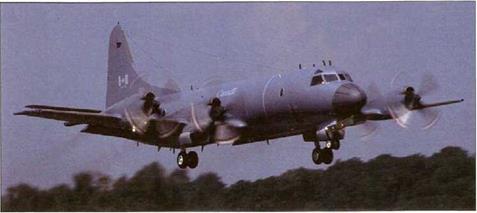 ased on the Lockheed L-188 Electra medium – range passenger airliner, the P-З Orion was developed to meet a 1957 US Navy requirement for a new anti-submarine aircraft to replace the Lockheed P-2 Neptune. An initial batch of seven P-3As was ordered and the Or on entered service in mid-1962. The following P-3B variant introduced uprated Allison T56-A-14 engines, higher weights and provision for AGM-12 Bullpup ASMs. The P-3C variant entered service in 1969 and remains the US Navy's primary land-based ASW aircraft. US Navy Ohons have undergone several systems updates over the years. The P-3C Update I (1975) added more modern mission systems. P-3C Update II (1977) added an undernose FLIR to 44 aircraft. P-3C Update 111 (1984) added a new acoustic processor and other modernised systems.
The US Navy employs a fleet of 12 specially – modified Oriors to perform the Elint-gathering role as the EP-3E 'Aries II'. The EP-3J is a US Navy EW jamming trainer fitted with internally – and pod – mounted jamming equipment. Five Orions are used tor range support work, comprising two EP-3A SMILS (Sonobuoy Missile Impact Locating System) aircraft and three RP-3A (EATS) (Extended Area Test System] aircraft used for accurate tracking and
The P-З Orion is essentially the world's standard maritime patrol and anti-submarine warfare aircraft. It also has a very effective surface attack capability.
14 Wing of the Canadian Armed Forces has two component squadrons which pool operations of the CAF's 13 CP-HOs and three CP-140As.
instrumentation o1 missile tests. Further variants include the oceanographic reconnaissance RP-3A, weather reconnaissance WP-3A/D. VP-ЗА executive transport, TP-ЗА aircrew trainer, UP-ЗА utility transport and NP-3A/B trials aircraft, The P-3 AEW&C is fitted with an APS-145 airborne early warning radar (adopted from the E-2 Hawkoye) in a dorsal rolodome, and is used by the US Customs Service on anti-drug patrols.
The CP-140 Aurora is a version of the P-3C purchased in 1976 by the Canadian Armed Forces. It is configured internally to Canadian requirements, and is equipped with an avionics system based on that of the S-3A Viking. Three CP-l40s have been converted to CP-140A Arcturus standard, with their ASW equipment removed. They serve as environmental. Arctic and fishery patrol aircraft.
Export customers for the Orion include Australia, New Zealand, Iran, Pakistan, Portugal, Greece, Japan, Argentina, Chile, South Korea, the Netherlands, Spain and Thailand (P-3T/UP-3T) Japan's P-3s were built by Kawasaki and include a number of EP-3 electronic reconnaissance versions. Australia's P-3s are currently being upgraded ro AP-3C standard with new radars and improved onboard mission systems.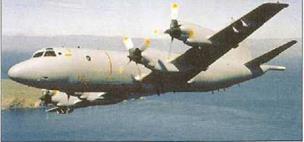 Specification: Lockheed P-3C Orion Powerplant: lour 3661-kW (4,910-hp) Allison T56-A-14 turboprops
Dimensions: wing spar 30.37 m 199 ft 3 in); length 35.61 m(1 to ft 10 in); height 10.27 m
{33 ft 8/in)
Weights: empty 27330 kg (61.491 o), maximum take-off 64410 kg (142,000 lb) Performance: maximum level speed 7S1 knh (473 mph), patrol spaed 381 kmh (237 mph); sendee ceiling 8625 m (28.300 ft): maximum mission radius 3835 km (2.333 miies): mission endurance 17 hours 12 minutes Itwo engines) Armament: maximum expendable oad 6072 kg (20,0001Ы on 10 stores stations and in internal weapons bay