Dassault Rafale Advanced multi-role combat aircraft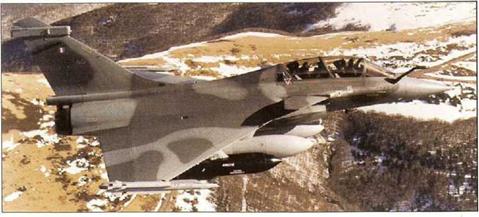 The two-seat Rafale В has evolved into a combat – capable long-range attack aircraft, and will be numerically the most important version for France.
assault's Avion de Combat Experimentale
(ACX), evolved s$ an early 1980s technology demonstrator for a national combat aircraft programme even before France's withdrawal from the~EFA (Eurofighter) project in August 1985. The Rafale A ACX testbed was first flown on 4 July 1986. It established and proved the basic design, configuration ard performance of the defirr – tive'Rafale, or ACT (Avion de Combat Tactique: as well as Its fly-by-wire cont'ol system and mainly composite structure. Rafale is powered by a pair of SNECMA M88-2 turbofans, with the more powerful M88-3 now under development. Rafale's RBE2 mum-mode electronically-scanned radar is one of the first phased-array fighter radars to be developed in the west, and will be fully-integrated with the OSF IRST/FLIR sensor package above the nose. Ra'ale will also be fitted with tne Spectra RF/laser/ IR self-protect:on system.
The Armee de I'Air's generic "Rafale D' (discret, 'stealth') family is four per cent smaller than the prototype Rafale A. and uses 'low-observable' (stealthy) elements in its airframe. In addition to these design techniques, Dassault may also have developed a classifieo 'active stealth' system to further reduce the aircraft's radar-cross section.
The Rafale C is the Armee de I'Air's production – standard single-seat multi-role combat version, and a prototype first flew on 19 May 1991. Rafale M is the Aeronavale's single-seat carrierborne hghter, modified for carr'er operations w'th an arrester hook, a 'jumo strut' nosewheel eg and no forward centreline pylon. The prototype Rafale M flew on 12 December 1991. The Rafale В was originally planned as a straightforward dual-contro trainer, but :s now neinc developed into a fully operational version. The first prototype flew on 30 April 1993.
Rafale's deve opment and acquisition plans have been very badly hampered by budget restrictions. The first aircraft to enter service wi I be the Aeronavale's 60 Rafale Ms – the first production – standard example flew on 6 July 1999. Rafale M wili be fully operational in 2002, The two-seat Rafale BM will enter service in 2007. The initial Rafale M-F1 si' defence a'rcrsft will be reolacec oy the mult-role Rafale IVI-F2 in 2004/05. Deliver'es of the full-standard Rafale M-F3 will begin in 2007, and all 60 Rafale Ms will oe in service by 2012
The Armee de ҐAir Is acquiring a total of 212 Rafales, with the first to be de ivered in 2003. The air force is splitting its Rafales 60:40 between the fully combat-capable Ra'ale В and Rafale C aircraft,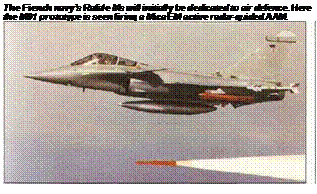 Specification: Dassault Rafale C Powerplant: two 86.Э8 kM (19,555-le) SNECMA M88-2 turbofans Dimensions: wing span 10 fi m (35 ft 9/ in) with tip-mounted AAMs: ength 15.30 n (5C ft I/. in!: height' 5.34 m (17 ft 6 A ir) Weights: empty, equipped 9060 kg (19.973 lb); maximum ta<e off 21530 kg (47,399 !b) Performance: maximum level speed 'dean' 2125 krli {1,321 mph), combat radius 1055 km (655 m les) or an air-to-air miss on with eight Mica 'Missiles and lour IjuI tanks Armament: one 30-mn GIATCITA 791В cannon in port engine intake trunking; 14 stores stations Icr maximum о: 8C0C kg (17,637 lb) af ordnance