SECOND EDITION FULLY REVISED, EXPANDED AND UPDATED


From the experience gained by nearly 800 of its successful MB-326 jet trainers, Aermacchi went on to develop a more modern replacement, the MB-339 This retained the MB-326's licence-buiit (by Piaggio) Viper 632-43 turbojet and the basic airframe aft of the rear cockpit, but introduced a pressurised cockpit in a revised, deeper forward fuselage, an extended canopy with improved all-round view, a larger fin and more advanced avionics. Two prototypes preceded Italian air force (AMI) orders for 100 production MB-339A trainers, with the first making its maiden flight on 12 August 1976,
The MB-339 entered AMI service in August 1979. Variants for Italy included 19 MB-339 PA lis for the 'Frecce Tricolors aerobatic team and eight specially-equipped MB-339RMs for radio calibration duties. Export customers for the MB-339A included the Argentine navy (10), Dubai air wing (5), and the air forces of Ghana (2), Malaysia (13), Nigeria (12), and Peru (16), Italy has now instigated a mid-life update of its remaining MB-339As, which were boosted by a small batch of attrition replacement aircraft in 1999.
Aermacchi explored several approaches to enhancing the small trainer's light attack potential. A single-seat variant was built in 1980 as The
No. 14 Sqn, RNZAF, was the first operator of the advanced MB-339C, which entered service in 1991. Note the 30-mm gun pod on the port wing.
M. B.339K Veltro 2, but no orders were forthcoming This was followed by the improveo MB-339B, which introduced the uprated 19.57-kN (4,400-lb) Viper 680 engine and enlarged wingtrp tanks. This version remained as a 'one off demonstrator, but paved the way for the MB-339C, which first flew in December 1985. This version introduced a digital nav/attack system and other advanced avionics. Eighteen aircraft were acquired, as M. B.339CBs by the Royal New Zealand Air Force.
Aermacchi is now delivering 15 upgraded MB-339CD (C Digital) aircraft to the Italian air force. This version will serve as a lead-in fighter trainer and adds new all-digital cockp t avionics to the basic MB-339C airframe. The first example (a con­verted МВ-339АІ made its maiden flight on 24 April 1936. Italy's MB-339CDs are powered by the Viper Mk 632-43 engine, as fitted to the MB-339A, A new Sextant mission computer and MIL-STD 15b3B databus have beer added, and the cockpit is equipped with a IIUD, three multi-function displays and HOTAS controls. A variant of the MB-339CD, the MB-339CE, was sold to Eritrea in 1995, with six aircraft delivered in 1997. The definitive export version of the upgraded MB-339CD, the MB-339FD (Full Digital) has been ordered by Venezuela.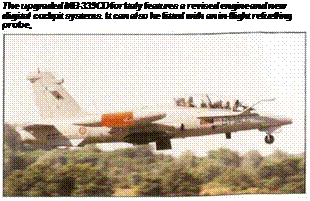 Specification: Aermacchi MB-339C Powerplant: one 19.570-kN (4,400-lb) Rolls – Royce Viper Mk 680-43 turbojet Dimensions: wing span, over tip tanks 11 22 m (36 ft 9/ in): length n.24 m (36 ft m in); height 3.99 m (13 (ПИ in)
Weights: empty equipped 3414 kg 17,527 lb), maximum take-off 8350 kg (14,000 lb] Performance: maximum level speed 'clean' at sea level 919 kmh (571 mph); service ceiling 14020 m 146,000 ft); standard range 1965 km (1,221 milesl: combat radius 472 km (293 miles) 'hi io-hi' profile with four 500-11) bombs Armament: maximum load of 1814 kg (4,000 lb) on six underwing hardpoints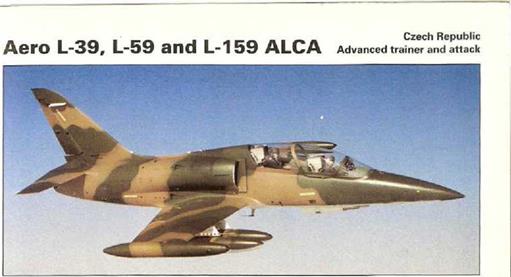 This aircraft is one of the 12 L-59Ts delivered to the Tunisian airforce in 1995. The L-59 is outwardly similar to the L-39ZA and L-39MS.
he Aero L-39 Albatros was developed in close co-operation with the USSR as the successor to Aero's L-29 Delfin. It became the Warsaw Pact's standard jet trainer, and has beer ouilt in greater numbers than all its Western rivals combined. Powered by an Ivchenko (now Progress) AI-25 turbofen, the L-39 used a conventional configuration with modular construction – using only three major sub-assemblies. The L-39 first flew on 4 November 1968 and it entered Czech service in 1974.
More than 2,800 L-39s have been produced, including the L-39C unarmed trainer, L-39V target tug, L-39ZO weapons trainer with lour underwing pylons, and the L-39ZA ground attack and recon­naissance aircraft, fitted with a 23-mm Gsh-23 twin barelled underfuselage cannon.
Large numbers of these 'first-generation aircraft' remain in service in Russ;a and the other CIS republics. Other users include Afghanistan, Algeria, Bangladesh, Bulgaria, Cambodia, Congo, Cuba, Czech Republic, Egypt, Ethiopia. Ghana, Hungary, Iraq, Libya, Lithuania. Nicaragua, Nigeria, North Korea, Romania, Slovakia, Syria, Ukraine Uganda, and Vietnam.
An improved version of the multi-role L-39ZA, the L-39ZA/ARTL was acquired by Thailand between 1993-97. The 50 aircraft delivered to date serve as lead-in Trainers but also have a target-tow­ing capability. They have been fitted with a revised avionics fit, with systems supplied by Israel's Elbit.
In the early 1990s Aero integrated a new weapons delivery and navigation system to produce the L-39M Super Albatros This had a host of new avionics and was powered by the uprated PS/ZfvlK DV-2 engine. Eight were acquired by the Czech air force as the L-39MS. The export version became the L-59, The first customer was Egypt – ordering 48 aircraft as L-59Es, In 1995, 12 similar aircraft were supplied to Tunisia, as the L-59T Fennec
In May 1993 Aero flew the prototype L-139 Albatros 2000, a modernised vers on powered by a US-built Garrett TFE731-4 turbofan. This paved the way for the current L-159 ALCA (Advanced Light Combat Aircraft), which is now in production for the Czech air force. The ALCA comes in both single­seat (L-159A) and two-seat (L-159B) versions. All ALCAs are equipped with a Fiar Grifo-L radar, a much-modernised cockpit with an FV-3000 wide – angle HUD, twin multi-function colour displays and HOTAS controls, an Allied Signal F124-GA-100 turbofan, Sky Guardian 200 RWR and an expanded warload of NATO-standard weapons.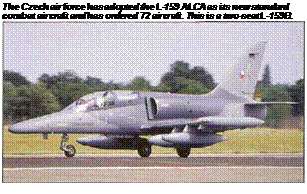 Specification: Aero L-159 ALCA Powerplant: one 6,300-lb (28-kN)
AlliedSignal F124-GA 100 turbofan Dimensions: wing span 9.54 m (31 ft 32 in)
including tip tanks; length 12.73 m (41 ft 92 in); height 4.77 m (15 It 74 in)
Weights: empty equipped 4160 kg 19,171 lb); maximum takE-off 8000 kg (17,537 lb) Performance: maximum level speed 936 kmh (581 mph). service ceiling 13200 m (43,300 ft); maximum mission radius (L159A) with two 500-lb bombs 705 km (438 miles)
Armament: centreline point for podded 23-mm GSh 23 twin-barrelled cannon with 180 rounds, and up to 2340 kg (5,159 lb) of stores on all seven hardpoints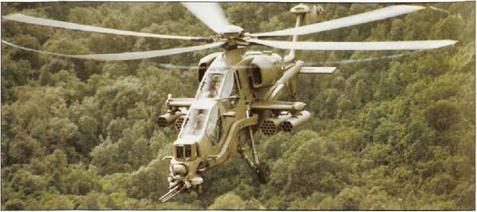 The A 129 Multiruio has the new M197 cannon and the five-bladed rotor of the A 129 International, but retains the Mangusta's Gem engines.
he Agusta A 129 Mangusta (Mongoose) was conceived to meet a 1972 Italian army require­ment for a modern anti-armour helicopter. It was the first combat helicopter lo incorporate a fully computerised, integrated mission system to min:mise crew workload The A 129 features a conventional gunship layout with stepped tandem cockpits (pilot to rear and gunner in front), stub wings for weapons carriage, fixed, crashworthy undercarriage and a slim fuselage for minimum visual signature, Composite materials account for 45 per cent of the fuselage weight.
The first of five prototype A 129s, powered by two Piaggio-built Rolls-Royce Gem Mk 2-1004D turboshafts, made its maiden flight on 11 September 1983, The first five production Mangustas entered Italian Army Aviation (AVES) service in October 1990, The first 15 'Batch One' production-standard aircraft were fitted with the daytime-only Hughes M65 sight for the helicopter's primary anti-tank weapon, the BGM-71 TOW missile. Deliveries were completed in 1994 and were followed by the 30 aircraft of Batch Two, which were all delivered by 1996. The improved Batch Two A 129s were fitted with the Saab HeliTOW sight and all A 129s have since been upgraded with this system.
Italy deployed its Mangustas on UN-led peace­keeping operations in Somalia between 1992 and 1994. This combat experience led to a revision of the AVES requirement for the A 129. Instead of a dedicated anti-tank helicopter, the service decided it now needed a more flexible multi-role combat helicopter. As a result, Agusta is offering a new version of the A 129 that brings together a range of improvements that have been separately developed for the Mangusta in recent years.
For the export market Agusta is now offering the A 129 International. This aircraft has an all-new five-bladed rotor, AlliedSignal LHTEC CTS800-2 turboshafts, a completely modernised cockpit with a new mission computer and multi-function dis­plays, a nose-mounted IVI197 20-mm cannon and provision for Stinger air-to-air missiles. A new FLIR/EO targeting system will be fitted and the A 129 International can be armed with laser-guided AGM-114 Hellfire missiles – just such an aircraft offered to the Australian Army was dubbed the A 129 Scorpion. The Italian army will acquire 15 new-build A 129s to a similar standard, but retaining the original Gem engine of the basic Mangusta. These aircraft will be known as the A 129 Multiruio, or the Da Combattimento (combat).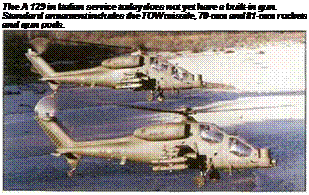 Specification; Agusta A 129 Mangusta Powerplant: two 615-kW (825-hp) Rolls – Royce Gem 7 Mk 1004D turtrashafts Dimensions: main imor diameter 11.90 m (ЗЭ ft 0.5 in); wing span 3.20 m Г 0 ft 6 in); length overall 14,29 m (46 ft 105 in); height overall 3.35 m [11 ft 0 in)
Weights: empty equipped 2529 kg (5,575 lb); maximum take-off 4100 kg (9,039 lb) Performance: max level speed at sea level 250 kmh [155 mph): hovering ceiling 3140 m (10,300 ft) in ground effect, and 1890 m (6,200 ft) out of ground effect; combat radius 100 km (52 miles) for a 90-minute patrol Armament up to 1200 kg (2.645 !b) of stores on four stub-wing pylons