Russians became hostages in Antalia because of debts of Transaero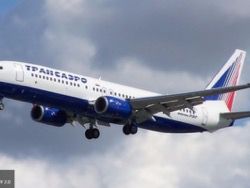 The airport of the Turkish city of Antalia does not let out three charter flights of the Russian carrier of "Transaero" to Moscow, Omsk and Yekaterinburg. They already should take off, however registration on one of them was not declared.
Flight to Omsk should go at 10.30, to Yekaterinburg – at 11.30, to Moscow – at 10.55. Flights expect about 500 people as told a source in the airport, reports "Interfax". The representative of the airport declared that, possibly, the delay is caused by debts on service of aircrafts.
«The question is solved with service. The airline tries to find a compromise as because of debt at the airport of Antalia there were difficulties with we serve "Transaero" boards, – informed a source. Official statements from "Transaero" did not arrive.
Earlier, on Tuesday, Rosturizm declared that demands performance of all paid flights of the Transaero company. Head of department Oleg Safonov declared that «considers absolutely necessary implementation of all flight programs of the Transaero airline prepaid by the Russian tour operators which are creditors of airline».