AgustaWestland the aircraft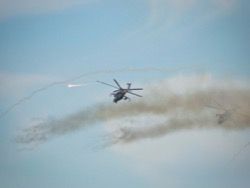 AgustaWestland finished demonstration of the pilotless PZL-Swidnik SW-4 helicopter for the Ministry of Defence of Great Britain.
Development was conducted since 2013 when AgustaWestland tested the rotary-wing pilotless flying systems in Llanbedr airfield in Wales.
Testing took in total 27 hours of flying tests of PZL-Swidnik SW-4 of the helicopter. During tests 22 landings to the moving truck used on tests for imitation of landing to a frigate of the deck were carried out to show ability of the helicopter to landing to shaking surfaces.
Testing passed in three stages, from the earth the aircraft coped the pilot. During the first stage the first start was carried out, management of helicopter and its possibility to work in difficult conditions was checked.
The second stage included landing to specially simulated decks. At the third final stage pilotless systems of the helicopter and possibility of its application in prospecting missions were tested.
AgustaWestland also studied flying devices of other size to track how the size of the device influences its landing, operation, survival rate, carrying out prospecting missions, search of mines and hydrographic shooting.
The head of marketing department of AgustaWestland Tony Dati reported that the company will continue to develop the pilotless technology during 2016.
«There is a variety of reasons, forcing us to move forward. Testing of pilotless Joint Warrior is planned for 2016, and we resolved it to make», – Dati in interview to Flightglobal told.