Airlines cancel flights to the Russian Federation because of decline in demand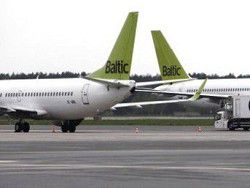 The German airline Lufthansa since August 31 cancels flight to the capital airport Vnukovo, and since September 6 and 7 stops flights from Frankfurt to Samara and Nizhny Novgorod. About it reports LifeNews.
Thus, Lufthansa will carry out flights only in the capital airport of Domodedovo and to St. Petersburg. Its affiliated loukoster of GermanWings since November will cancel flights from Moscow – Cologne and St. Petersburg – Dusseldorf and will move to Domodedovo for support of one flight in day from Moscow to Berlin.
As reports "Interfax", since September 1 the Finnish Finnair cancels flights from Helsinki to Nizhny Novgorod, since January – to Samara and Kazan. Since December 1 stops flights to Moscow one of the largest American carriers – Delta Airlines airline.
The main reason of leaving of the foreign companies from the market of air transportation is falling of a rouble exchange rate and, as a result, refusal of Russians of rest abroad and passenger traffic reduction.
According to Rosaviation, from January to August, 2015 from Moscow about 22 million people – for 10 %, than abroad took off before year. Besides the number of clients of the Russian airlines decreased for 6 %, and foreign – for 20 %. It is noted that demand for trips to Turkey, Montenegro and Bulgaria remains stable.
At the end of January, 2015 the loukoster of Niki stopped flights on a route Moscow – Vienna. In March the Thai air carrier of Thai Airways stopped the flight Bangkok – Moscow. On June 1 Hong Kong Cathay Pacific airlines ceased to fly to Moscow.
Alexander Sergeyev