Poroshenko did some flying on the repaired fighter Su-27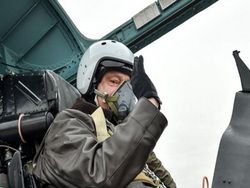 The president visited the Zaporozhye airport and tested the fighter Su-27.
President Peter Poroshenko arrived today to Zaporozhye within working visit and tested the fighter SU-27.
As reports Interfax Ukraine, before flight the president thanked directors "The Zaporozhye state aircraft repair plant "Migremont" for repair of two fighting fighters interceptors Su-27, and also handed over to crews the forms confirming readiness of the plane to performance of fighting tasks.
As the director of the Migremont enterprise Sergey Furdylo noted, the plant carried out and upgraded fighters interceptors at the expense of own current assets, repair was carried out 5 years.
According to him, the fighters which have been let out in 1991 gained new technical qualities and decisions. In particular, the monitoring system is replaced, aiming and navigation systems are modernized.
The first two fighters interceptors will be sent soon for work as a part of Armed forces of Ukraine.
As it was reported, Ukraine today for the first time celebrates Day of the defender of the fatherland. This day, on October 14, is officially declared day off.