The Russian Federation the aircraft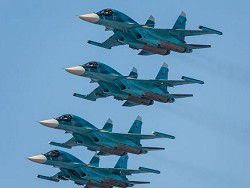 The Ministry of Defence of Russia received the next party of the modern Su-34 bombers on state defense order-2015, the press service of the producer of planes – the "Sukhoi" companies reports.
"Today the "Sukhoi" company transferred the Ministry of Defence of the Russian Federation the next party of the front Su-34 bombers provided by state defense order of 2015", – is told in release.
Planes rose in air from airfield of Novosibirsk aircraft factory of Tchkalov's Accusative and went to a place of the dislocation which is not specified yet.
Features of Su-34, in particular, are: the range of flight increased to 4000 kilometers, the maximum speed to 1900 kilometers per hour, fighting loading to 8 tons.
By planes the newest system of arms and filling system in air are established. Now planes are successfully used in armies, including in VKS Russian Federation aviagroup in Syria.