The Swiss fighter broke in France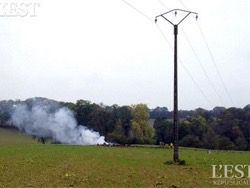 In France the Swiss military plane broke. About it reports Reuters.
The single fighter F/A-18 attributed to air base of Payern, carried out training flight over not occupied areas in the east of France. The car broke to the East from the French city of Bezanson, the pilot got wounds. Causes of accident are not known yet.
In total in the Air Force of Switzerland draws duty 31 multi-purpose fighters F/A-18 "Hornet". These cars are a basis of fighting aircraft of confederation. Their purchase is carried out by results of a national referendum of 1993.