Olland: France destroyed the YOKES training camp in Syria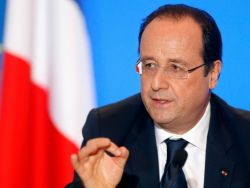 The president of France Francois Olland declared that six French planes put airstrikes and killed camp of fighters of terrorist group «Islamic state», transfers to Reuters.
«France in Syria put airstrikes on training camp «Islamic state» which threatened safety of our country» this morning, – the head of state declared.
Olland added that France will strike new blows to positions of terrorists.
The representative the Ministry of Foreign Affairs of Russia Maria Zakharova called airstrikes of France on positions of YOKES without the sanction of UNSF «destruction of international law», quotes it "Gazeta.Ru".