Belavia can become the bridge between Russia and Ukraine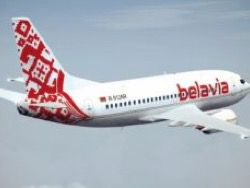 Russia since October 25, 2015 imposes a reciprocal ban on flights over the territory for the Ukrainian airlines.
As reported Ministry of Transport of the Russian Federation, this measure becomes reciprocal and mirror on a similar ban from Ukraine. The ministry also charged to Federal agency of air transport to send the corresponding notice to the Ukrainian airlines.
Earlier, the state aviaservice of Ukraine "notified a number of the Russian air carriers that since the beginning of winter navigation, namely since October 25, imposes a ban on performance of air flights between Russia and Ukraine". Notices already received a row Russian the companies, including "Aeroflot" and "Transaero".
Besides, transit flights of the Russian airlines through the territory of Ukraine if they carry the military-oriented goods, a dual purpose or the Russian military personnel are forbidden.
It is good news to the Belarusian national airline "Belavia" since now it can take away a part of a flow of passengers on herself, "The Belarusian guerrilla" writes.